September 5, 2019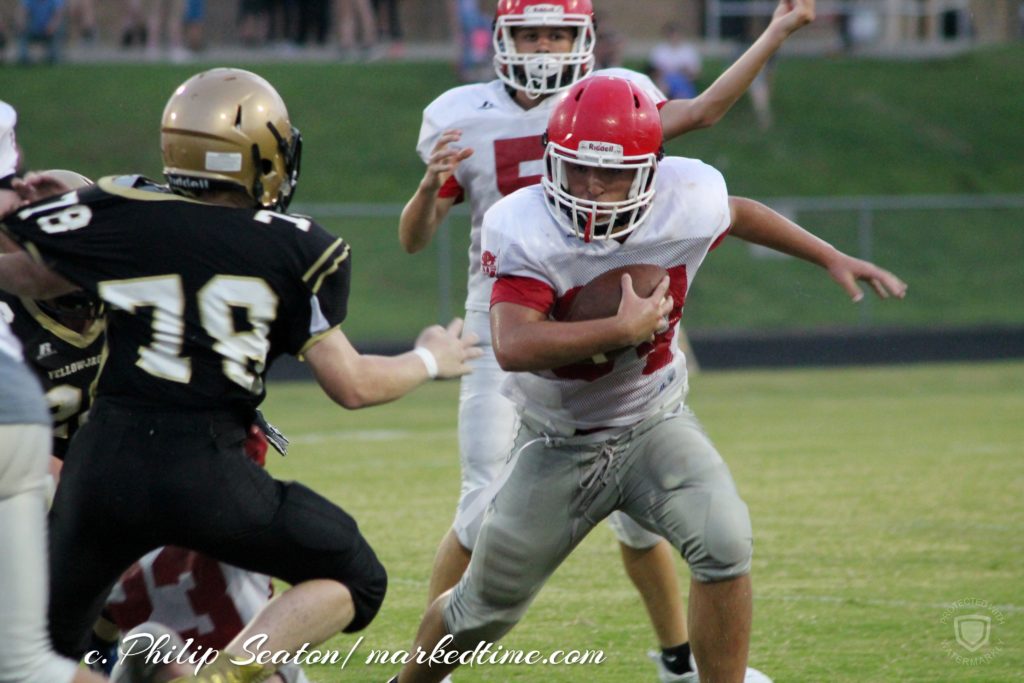 By PHILIP SEATON
CLINTON – It wasn't the result that new Heber Springs junior high football coach Chase Roberts wanted, but the improvement was there from benefit game scrimmage against Vilonia almost two weeks ago.
However, that improvement was not quite enough as Heber Springs (0-1) fell to Clinton (1-0), 30-0, Thursday night at Tumlison Field.
The Panthers best chance to break the shutout ended at the Clinton 27 with a fourth-down interception late in the contest. After a 24-yard kickoff return by Conner Riddle, Heber Springs took over on their own 49. The drive appeared stalled before Peyton Talbert converted on fourth-and-1 from Clinton 42. After Wyatt Winchester completed a five-yard pass Hud Haggard, Talbert carried for 13 to push the ball to the Clinton 21. A six-yard run by Winchester moved the ball to the 15, before an incomplete pass, fumbled snap for a 12-yard loss led to the fourth-down play.
Heber Springs will be at Harding Academy on Thursday. Kickoff is set for 7 p.m.
Junior Panther Coach Chase Roberts

Improvement was there. Obviously getting beat 30-0 is never okay, but I think we did some positive things converting fourth downs, and tackling better. We did some silly stuff too, but did some good things. I thought we were more physical on both sides of the ball. We got a lot of work to do but definitely got better in the last week and a half. Offensively, we stopped ourselves. Only time we did anything negative (on offense), we either dropped a snap or had a penalty and you stall out when you do silly stuff. Defensively, we played more physically and had some guys step and make some big plays. Overall, improvement, but we have to keep working.


Scoring
First Quarter: Clinton, Harley Tobin to Zane Widener 49-yard pass (Vincent Ervin run), 6:11
Second Quarter: Clinton, Vincent Ervin 2-yard run (Tobin to Widener pass), 6:02
Third Quarter: Clinton, Tobin 5-yard run (Tobin to Dalton Lewis pass), 5:16
Fourth Quarter: Clinton, Landon Rose 4-yard run (Pass failed), 6:08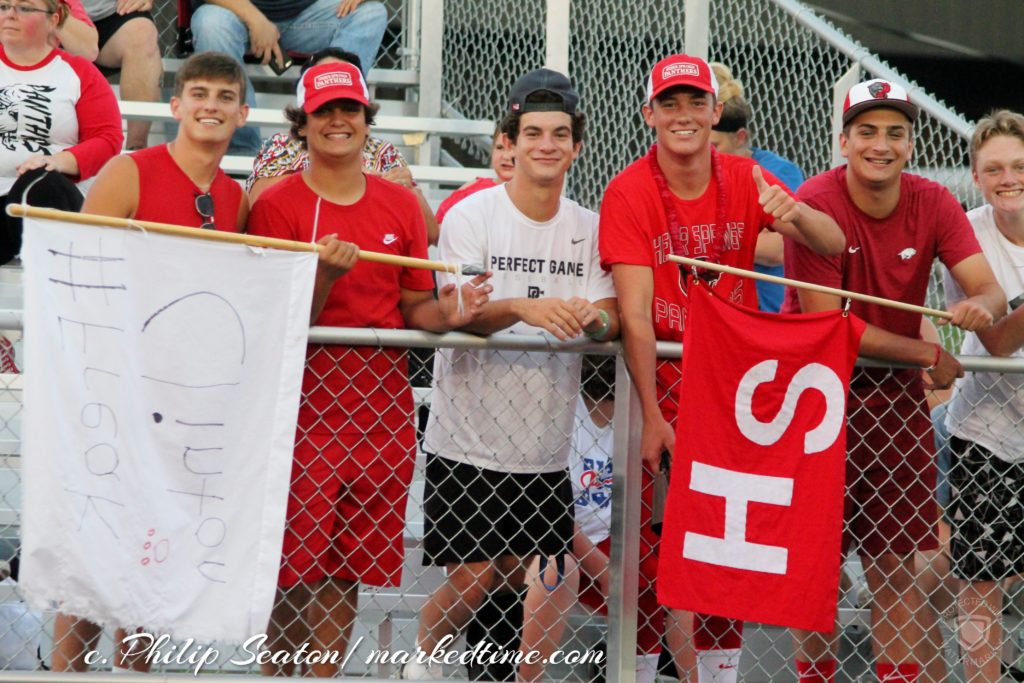 Heber Springs vs. Clinton Stats
Team
First Downs: Clinton 12, Heber Springs 5
Rushing: Clinton 25/140/5.6; Heber Springs 16/47/2.9
Passing: Clinton 4/4-77-1/0; Heber Springs 6/14-29-0/1
Third-Conversions: Clinton 3/4; Heber Springs 1/6
Fourth-Conversions: Clinton 1/1; Heber Springs 2/4
Penalties: Clinton 5/35; Heber Springs 4/25
Fumbles/Lost: Clinton 0/0; Heber Springs 3/1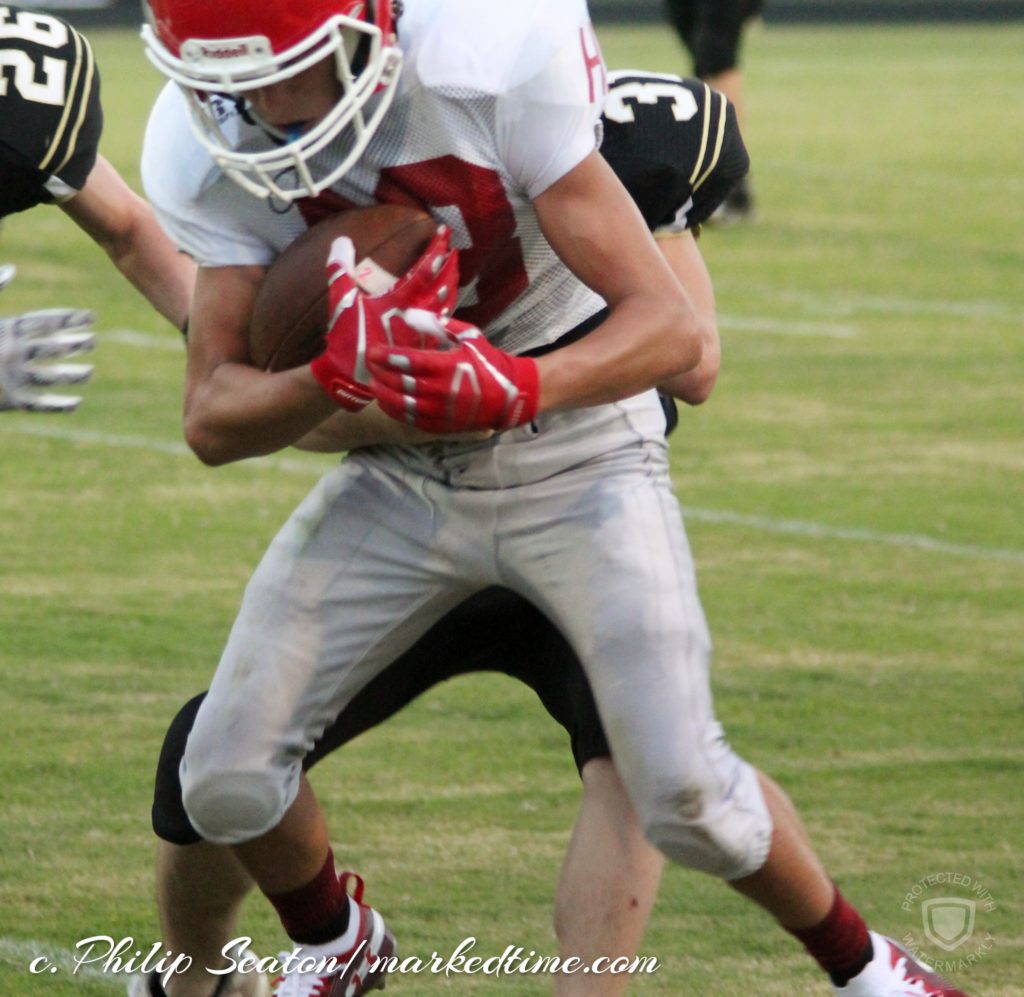 Individual
Rushing: Heber Springs – Peyton Talbert 3/21; Channer Smith 4/20; Conner Riddle 1/4; Bauer Pruitt 1/4; Xander Lindley 5/4; Wyatt Winchester 2/(-6). Clinton – Brody Emberton 4/35; Zane Widener 2/31; Landon Rose 4/25; Vicent Ervin 5/25; Ricardo Solis-Garcia 4/21; Alex Longshore 3/6; Caleb Ward 1/1; Team 2/(-4).
Passing: Heber Springs – Xander Lindley 5/10-34-0/0; Wyatt Winchester 1/4-5-0/1; Clinton – Alex Longshore 4/4-77-1/0
Receiving: Heber Springs – Conner Riddle 3/14; Dalton Yancey 2/20; Hud Haggard 1/5. Clinton – Zane Widener 1/49; Brody Emberton 1/10; Spencer Banister 1/10; Dalton Lewis 1/8.
Kickoff Retuns: Heber Springs – Chandler Webber 3/29; Conner Riddle 2/24; Ricardo Solis-Garcia 1/20.
Punt Returns: Heber Springs – None. Clinton – Spencer Banister 1/13.
Punts: Heber Springs – Xander Lindley 2/64/32 avg. Clinton – None.