Panthers are coming off a program first state tournament appearance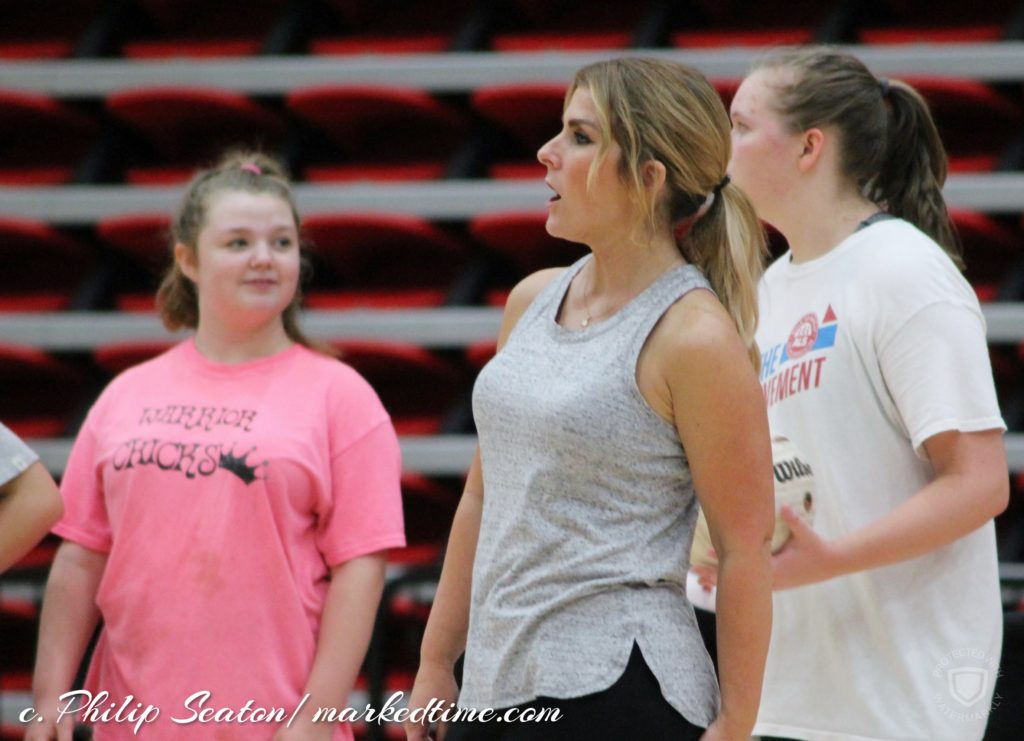 By Philip Seaton
HEBER SPRINGS – Last season was a year of firsts for the young Heber Springs volleyball program.
The Panthers had their first winning season in the program's history which also resulted with their first state tournament berth.
Heber Springs will look to repeat on that 2018 performance when they open play today with a nonconference match with Little Rock Hall at the Panther Den beginning at 4:30 p.m.
Despite a three-set loss to the host Mena in the 4A state tournament in 2018, coach Andrea Riggs' squad finished with a 13-8 overall record and a fourth-place finish in the 4A-Central conference in the seventh season of the sport at the Heber Springs.
"They have already said that (reaching the state tournament) has helped them and they know what to expect," Riggs said. "That level of play helps any team.
"We lost two big front row players (from last year), and replacing with two inexperienced players, that's tough but we are going to try some things."
One of the things that will be tried this year for the program is another first — a junior high team.
"We had been starting in the ninth grade," Riggs said. "We've been behind the curve, some teams we play actually start volleyball in the fourth grade."
She added that will help in building the program over the long term.
"We are always rebuilding, there hasn't been a year where we haven't been in this situation," Riggs said. "Until we get something established where we have a good competitive group of junior high kids that we can move up, and maybe have some 10th-graders getting some varsity play, like you see with a traditional basketball program, then those things will help us long term."
Though the junior high team will not compete in a conference this season because of the lateness of declaring the program, Riggs said that junior high team has potential.
"It will hands down be the best we've had at that age," she said.
While the future of the program looks bright, Heber Springs returns four players from last season that saw significant varsity action.
Seniors McKenzie Becerra, Katelyn Vanlandingham and Zoe Monroe, and junior Ellie Skelton.
"Ellie is a setter, and she pretty much runs the court," Riggs said. "McKenzie is the libero and she is pretty much our best defensive player. Katelyn is a super strong hitter, sees the court well and has great volleyball knowledge, while Zoey is a good all-around player that is going to work hard."
Riggs credited all four varsity returners with being good servers and said overall that serving will be one of the strengths of the team.
"We will be shallow on our hitting," she said. "Hopefully that will progress as the year goes."
Several seniors will be moving up from the junior varsity squad and are expected to see significant playing time this season.
"Cheyenne Kent does a good job blocking the ball which is nice, and we'll be looking for her hitting game to improve," Riggs said. "Mayra Leal and Abi Finkbeiner are (also) both moving up from junior varsity."
She said that is typical for her team with seniors seeing their first significant varsity experience their senior season.
"That's when most are ready to play," Riggs said.
A couple of underclassmen may be the exception to that rule as Riggs said that sophomore Kiley Wilson may see some varsity action, "if I have to pull another hitter, might have to go to her." Junior Felicia Wildmon may also see varsity of action according to Riggs.
The Panthers will most likely go with a nine-player rotation.
"That is more than in years past," Riggs said. "We are having to play on different strengths, having to move some things around and shift some things.
"There some things we haven't necessarily run in the past that we are running this year to try to play on the different strengths we do have."
Morrillton, which was undefeated in conference play last season, and Pulaski Academy, a 4A state semifinalist team in 2018, are expected to be the teams to beat in 4A-Central play according to Riggs. Other teams in the blended 5A-4A conference are Lonoke (a state tournament team last year), Joe T. Robinson, Clarksville, Dover and Forrest City.
When asked what it will take for Heber Springs to make it back to the state tournament, Riggs said, "work hard on every single play."
She continued, "Are they playing the ball smart? They are going to have to think and be smart. We are not going to have the tallest girls on the court, so we are going to have to outwork them. If they go out and work, we'll do fine. If they don't, we'll get beat."
The 2019 Heber Springs Panther Volleyball Team