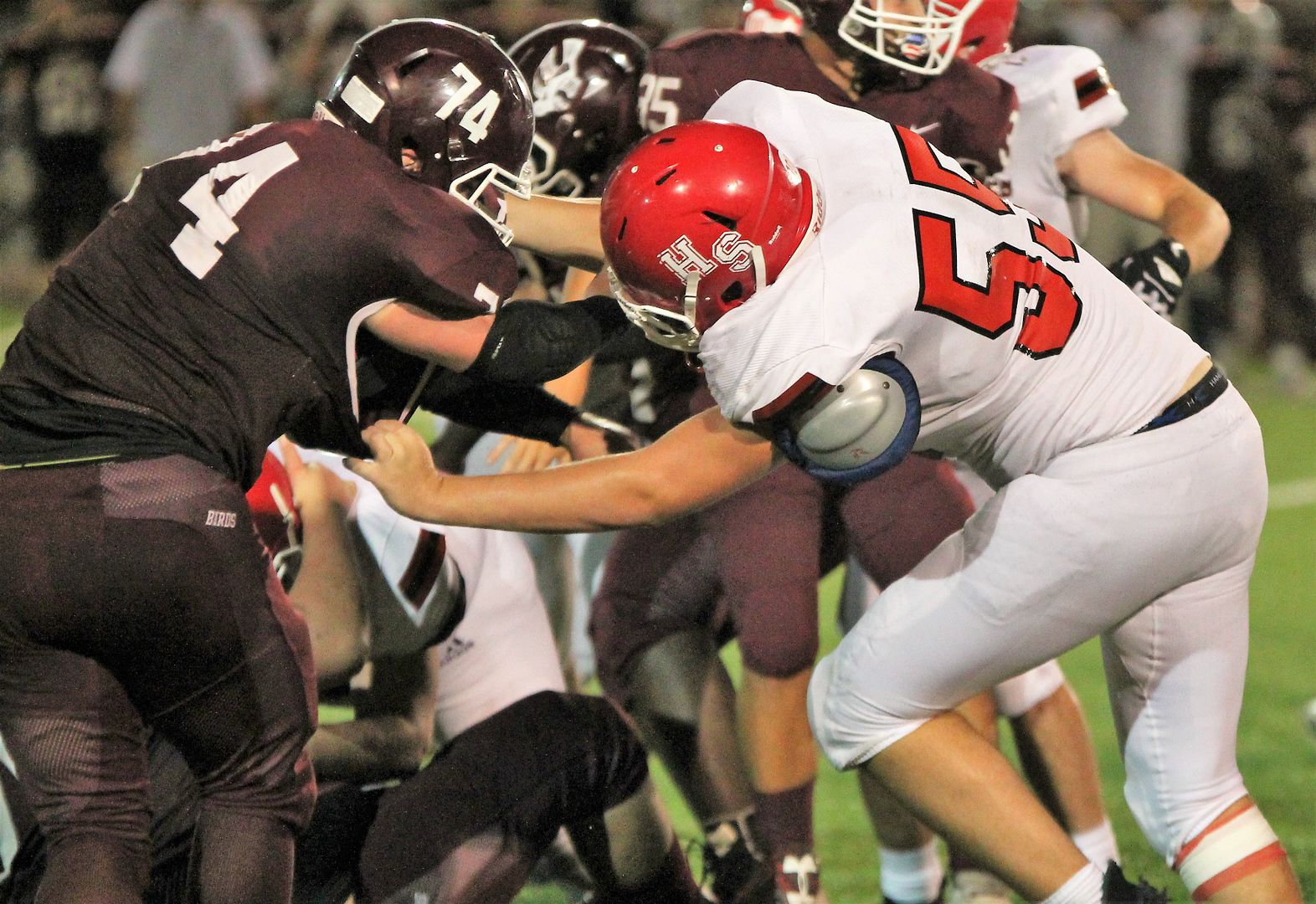 By LARRY "SCOOP" McCARTY
STUTTGART – A rough start in the 2-4A Conference football chase didn't damper the spirit of the Heber Springs Panthers.
The Panthers (0-2 in conference, 1-3 overall) returned with a new determination for Friday's practice following Thursday's 42-0 loss to Stuttgart (2-0 in conference, 4-1), which advanced to last year's state semifinals and the favorite to win the conference championship, at Ned Moseley.
Stuttgart stopped Heber Springs' school-record streak of avoiding a shutout at 87 games. The last time the Panthers' were shutout came on Oct. 18, 2013, at Newport (35-0).
After playing the two teams projected to finish one-two in preseason rankings, Heber Springs will play three of the next four games at Panther Stadium, starting with Central Arkansas Christian on Friday. After a road game against Bald Knob, Heber Springs will face Southside Batesville for homecoming and Clinton. The Panthers will finish the regular season at Little Rock Mills.
"I told the players we were in a similar situation last year," Heber Springs coach Todd Wood said. "We need to focus on it is not the end of the road, but we have an opportunity at getting into the playoffs in the remaining games. CAC will be our first opportunity. Our goal is to make the playoffs."
Stuttgart rushed 25 times for 219 yards, an average of 8.8 yards per attempt.
The Ricebirds completed 4-of-8 passes for 86 yards and finished with 300 yards of offense.
Heber Springs had 66 yards on 31 carries, an average of 2.1 yards per carry. The Panthers connected on 3-of-9 passes for 15 yards and compiled 81 yards of total offense.
Sophomore Parker Brown rushed 11 times for 41 yards, plus 53 yards on kickoff returns. Junior Easton Cusick had 51 yards on kickoff returns. Sophomore Dalton Yancey caught two passes.
"We made mistakes on offense and defense," Wood said. "We couldn't control the ball, which put more pressure on our defense. We never clicked on offense, and the defense could not get going."
Wood knew before Thursday's game that the Panthers faced a major challenge.
"You can't give a good team like Stuttgart that many opportunities and momentum, especially early in the game," Wood said. "It's hard to get out that deep of the hole during the first quarter (28-0). We couldn't recover from the slow start."
Stuttgart received an onside kickoff and drove 54 yards on five plays to start the game. Cedric Hawkins ran 38 yards for the touchdown with 9:32 left in the first quarter. Jack Hosman kicked the extra point for the 7-0 lead.
After forcing a Heber Springs punt, the Ricebirds needed nine plays on a 59-yard drive for their second touchdown. Kameron Harper's 34-yard catch of a Tymir Coppins pass started the series. Coppins finished the drive by throwing a 7-yard touchdown pass to Jack Ledbetter. The try for the conversion kick was unsuccessful.
Stuttgart's defense was able to put points on the board too. Bryer West scooped up a Heber Springs fumble and returned 25 yards for a score with 3:26 left. Coppins passed to Ledbetter for a 2-point conversion, increasing the lead to 21-0.
The Ricebirds reached the end zone again before the end of the first quarter. Coppins passed 40 yards to Hawkins for a score with 41 seconds left. Hosman kicked the extra point for the 28-0 lead.
Stuttgart added two touchdowns during the second quarter. Daniel Poole had a 66-yard scoring run with 8:01 to go, and Higgins scored on a 1-yard plunge to cap a 56-yard drive with 2:37 remaining in the first half. Hosman kicked the extra points.
Kickoff for Friday's game against CAC is 7 p.m. Senior players, along with senior cheerleaders and the band, will be recognized in a pregame ceremony.
HEBER SPRINGS AT STUTTGART
SEPTEMBER 30, 2021 
Heber Springs (1-3, 0-2)   0   0   0   0 -  0
Stuttgart (4-1, 2-0)      21  21   0   0 - 42 
FIRST QUARTER 
S - Cedric Hawkins 39-yard run (Jack Hosman kick), 9:32
S - Tymir Coppins to Joel Ledbetter 7-yard pass (kick failed), 4:31
S - Bryer West 25-yard fumble return (Coppins to Ledbetter pass), 3:26
S - Coppins to Hawkins 40-yard pass (Hosman kick), :41
SECOND QUARTER 
S - Daniel Poole 61-yard run (Hosman kick), 8:01
S - A.J. Higgins 1-yard run (Hosman kick), 2:27
TEAM STATISTICS 
FIRST DOWNS: HS 6, S 11
RUSHES-YARDS: HS 31/66, S 25/219
PASSING YARDS: HS 15, S 86
COMP-ATT-INT: HS 3/-0, S 4/8-0
TOTAL OFFENSE: HS 81, S 305
FUMBLES: HS 2, S 0
PENALITIES-YARDS: HS 5/25, S 6/50
PUNTS-AVERAGE: HS 4/28.3, S 1/49
INDIVIDUAL STATISTICS 
RUSHING: HS, Parker Brown 11/41, Gideon Tate 6/12, Jackson West 5/10, Easton Cusick 1/6, Xander Lindley 8/(-3). S, Daniel Poole 3/72, Cedric Hawkins 5/62, Landon Melynchuk 3/31, A.J. Higgins 6/29, Prince O'Neal 2/12, Tymir Coppins 1/12, Kemarion Pickett 3/3, Team 1/2, Matthew Luster 1/0, Jaxson Robinson 1/(-4).
PASSING: HS, Lindley 2/6-4-0/0, Cusick 1/3-11-0/0. Lonoke, Coppins 3/6-52-2/0, Melynchuk 1/2-34-0/0
RECEVING: HS, Dalton Yancey 2/4, Austin Winchester 1/11. S, Hawkins 1/40, Kameron Harper 1/34, Jack Ledbetter 1/7, O'Neal 1/5.
KICKOFF RETURNS: HS, Brown 3/53, Cusick 3/51, West 1/9. 
PUNT RETURNS: S, Coppins 1/2, Chance Rabeneck 1/1.
INTERCEPTION RETURNS: None
FUMBLE RETURNS: Bryer West 1/25
PUNTS: Heber Springs, Lindley 4/113, S, Jack Hosman 1/49