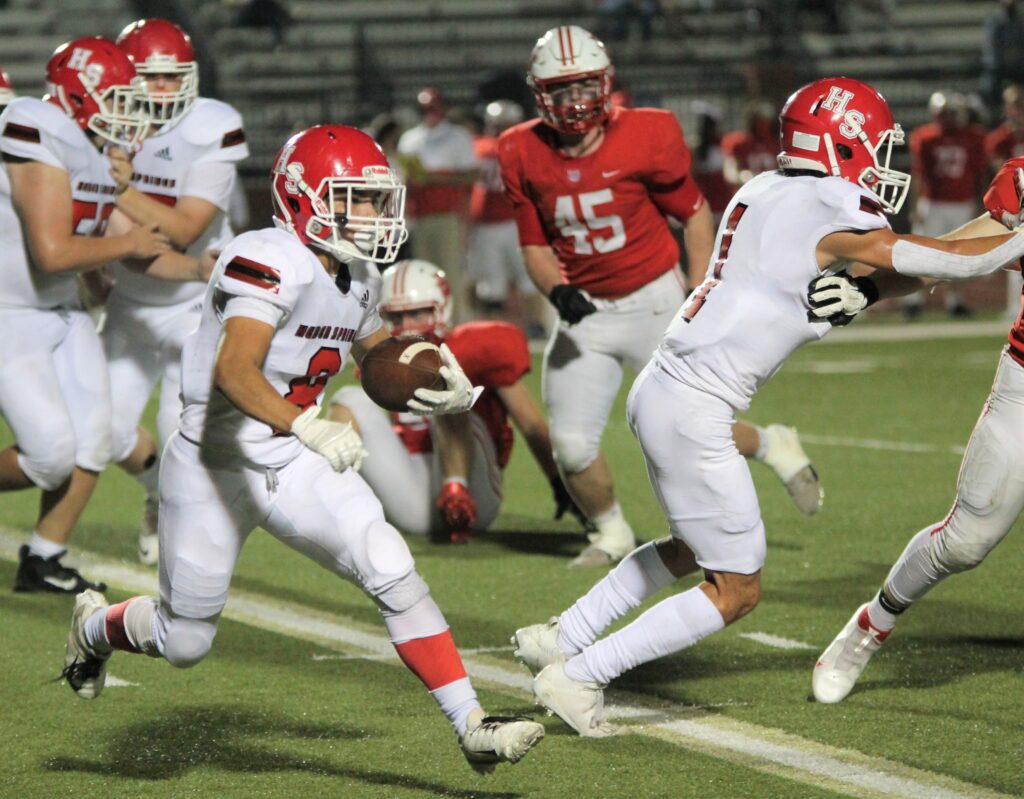 BY LARRY "SCOOP" McCARTY
It's not a one-game football season, but Friday's nonconference finale may set the tone going into conference play.
Heber Springs hopes to take a step forward and build momentum for the 2-4A Conference opener with a win against Dover at Panther Field. Kickoff is scheduled at 7 p.m.
The Panthers (0-2) played two of the top ranked Class 3A teams in the first two games — No. 1 Harding Academy and No. 4 Newport.
Dover (0-3) lost its first three games by a combined score of 126-22 to Hector, Atkins and Salem.
"We will be looking for growth against Dover," Heber Springs head coach Todd Wood said. "We want to settle into the way we want to play on offense and defense during the conference games. We want a win and also show improvement in all areas."
Dover head coach Will Cox said it was mixed emotions coming back to Panther Stadium. Cox coached the last two years at Heber Springs and was the interim head coach last season.
"Three coaches I worked with closely are still on staff," Cox said. "I was very close to coach (Drew) Lawrence, (E.G.) Dew and (Hunter) Davis. It will be different being on the other side of the field. But it's going to be exciting to be back in Heber."
Cox said emphasis is on the game against the Panthers.
"Our focus will be on ourselves and building the Dover program in the right way," he said. "It probably helped with preparation because I coached some of Heber's players in the past. Those guys can make plays. I've got a lot of respect for all of those guys and know what they are capable of doing."
Heber Springs is averaging 150 yards of offense and four turnovers through two games. Wood plans more personnel changes for Friday's game, in an attempt fore more production.
"We must have better execution," Wood said. "We have not had it for an entire game yet. You can't give up the ball as many times we did in the last two games (eight turnovers) and win."
Wood noticed more positives in practice and hope it carries over to the game.
"We had good practices," he said. "We are continuing to learn and trying to figure everything out. It was a positive week."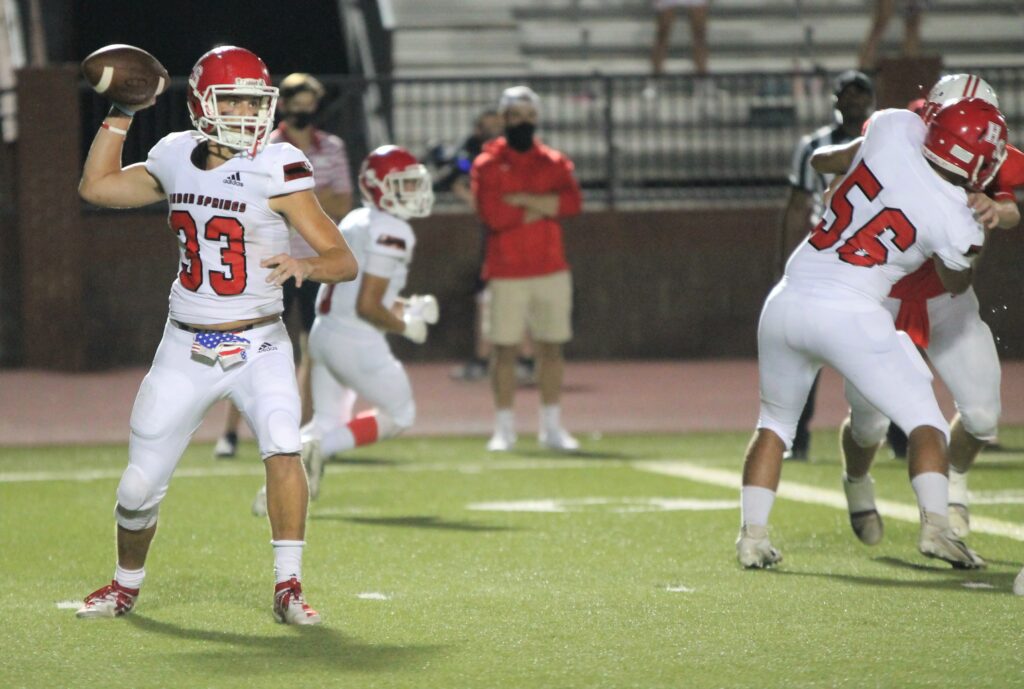 Wood said Matthew Cook, who was the backup for the first two games, will start at quarterback. Sophomore Conner Riddle, who completed 6-of-7 passes for 47 yards against Harding Academy in the second half, also is expected to play.
"Conner played well, but he still has a long way to go," Wood said. "He is still learning the offense."
Sophomore Isaac King, who started at safety, played receiver in the second half and may play a bigger role against Dover.
"Isaac stepped in for Nathan McKee at safety and also caught passes (6-47)," Wood said. "He will probably start again at safety and at receiver."
Wood said changes are planned for the offensive and defensive line.
"We don't have much depth and the injuries are affecting us," he said. "(Preston) Roberson will probably not play because of a bad back for the second straight week."
The injury list increased with the loss of Gus Hannah, and Wood said Chris Smith is questionable on the line. Payton Owens is expected to play against Dover, along with the return of McKee.
Dover will depend on Dawson Branch and Brantley Craig from its version of a winged offense. Craig is expected to start at quarterback. The Pirates also will utilize the talents of Jon Greathouse.
"It has been a juggling act," Cox said when asked about Dover's offense. "Dawson and Branley have played quarterback. Branley is a dynamic player with speed and settling into the offense."
Cox said one of the keys to the game will be the play of Dover's defense.
"We need to tackle well and create turnovers," he said. "We need to do what is necessary to pick up a win."
Wood said the Panthers played balanced offenses in the first two games, but Dover will be a different challenge with emphasis on the running game.
"Dover established its running game," Wood said. "We must do a better job of going to the ball and play more aggressive on defense."
NOTEBOOK
RADIO/VIDEO STREAMING: 101.9 The Lake. Billy Morgan will handle play-by-play with Lance Hamilton providing the color commentary. Pregame begins at 6:45 with kickoff at 7 p.m. 

Heber Springs vs. Dover 
The Series 
Dover leads 6-3
LAST MEETING: 1997 in Heber Springs, Heber Springs 32, Dover 7
LAST WEEK: Heber Springs lost to Harding Academy, 45-6; Dover lost to Salem, 46-0
TONIGHT: This will be the 10th time these two teams have played each other. The first meeting was in 1987, a 20-14 nonconference victory for Heber Springs. The teams would split four nonconference games from 1987-90, with Dover winning in 1988 (13-7) and 1989 (14-6) and the Panthers winning in 1990, 40-0.
OLD CONFERENCE FOES: The next time Dover and Heber Springs would meet on the gridiron would come in the 1993 season when the Panthers and Pirates meet as members of the 4AA-East conference for three seasons, with Dover winning all three. The two teams would remained paired in the new 5AA-North conference for two seasons (1996-1997) with the teams splitting those two games. 
HIATUS: Tonight's game is the final nonconference contest for the Panthers and Pirates. Newport and Dover replaced Greenbrier and Clinton (now in the same conference). Heber Springs has lost to Newport (45-6) and Harding Academy (45-6) while Dover has lost to Hector, 30-8 in week 0; Atkins, 48-14, in week 1; and Salem, 46-0 in week 2. Dover is idle next week after conference-foe Subiaco Academy opted to play 8-man football this season giving the Pirates the opportunity to play four nonconference games.  
NONCONFERENCE WOES: Heber Springs has lost eight consecutive regular-season nonconference games. The Panthers last regular season nonconference win came on Sept. 15, 2017, at Panther Stadium against Harding Academy, 35-14. 
LOSING STREAK: Dover has lost 13 consecutive games. The Pirates last win came on Nov. 1, 2018 with a 46-42 victory over Waldron.  

-- Notes by Philip Seaton