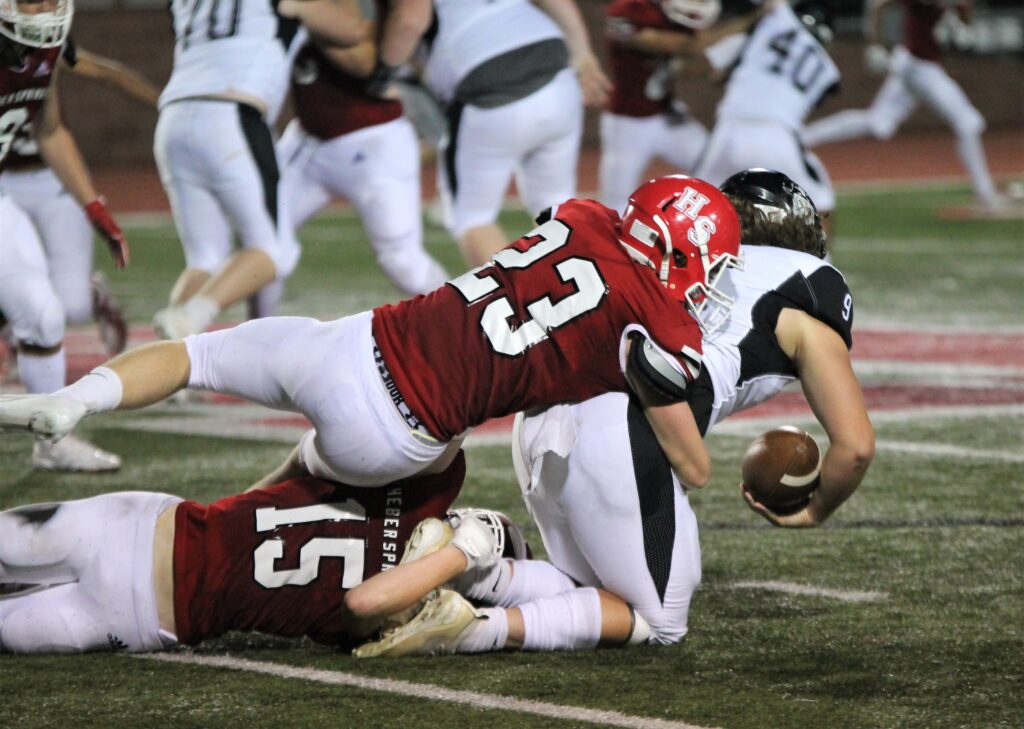 BY LARRY "SCOOP" McCARTY
Heber Springs followed a formula of good execution with no turnovers and opened the door for success.
The Panthers doubled the total offense of the first two games and committed no turnovers in a 42-6 win against Dover at Panther Stadium on Friday and in the process ended an eight game, regular season nonconference losing streak.
Heber Springs (1-2) completed the nonconference schedule and will switch its focus to the 2-4A Conference opener at Lonoke next weekend.
"Good execution has been our goal every game," Panther head coach Todd Wood said. "We can be a good team when putting things together. We wanted to play a complete game and answered the call. Sometimes when a team is 0-2, it will shut down, but we didn't do that against Dover."
Heber Springs gained 444 yards — 134 rushing and 310 passing — and converted 7-of-8 third-down plays.
"We have not done anything on first drives in the first two games and that was important to start this game," Wood said. "It was a big relief for the team when we did that. We also learned what can happen when you hang onto the ball."
Wood decided early last week to give senior Matthew Cook his first start at quarterback. Cook had been the backup for the first two games. He completed 16-of-22 passes for 310 yards and three touchdowns against the Pirates.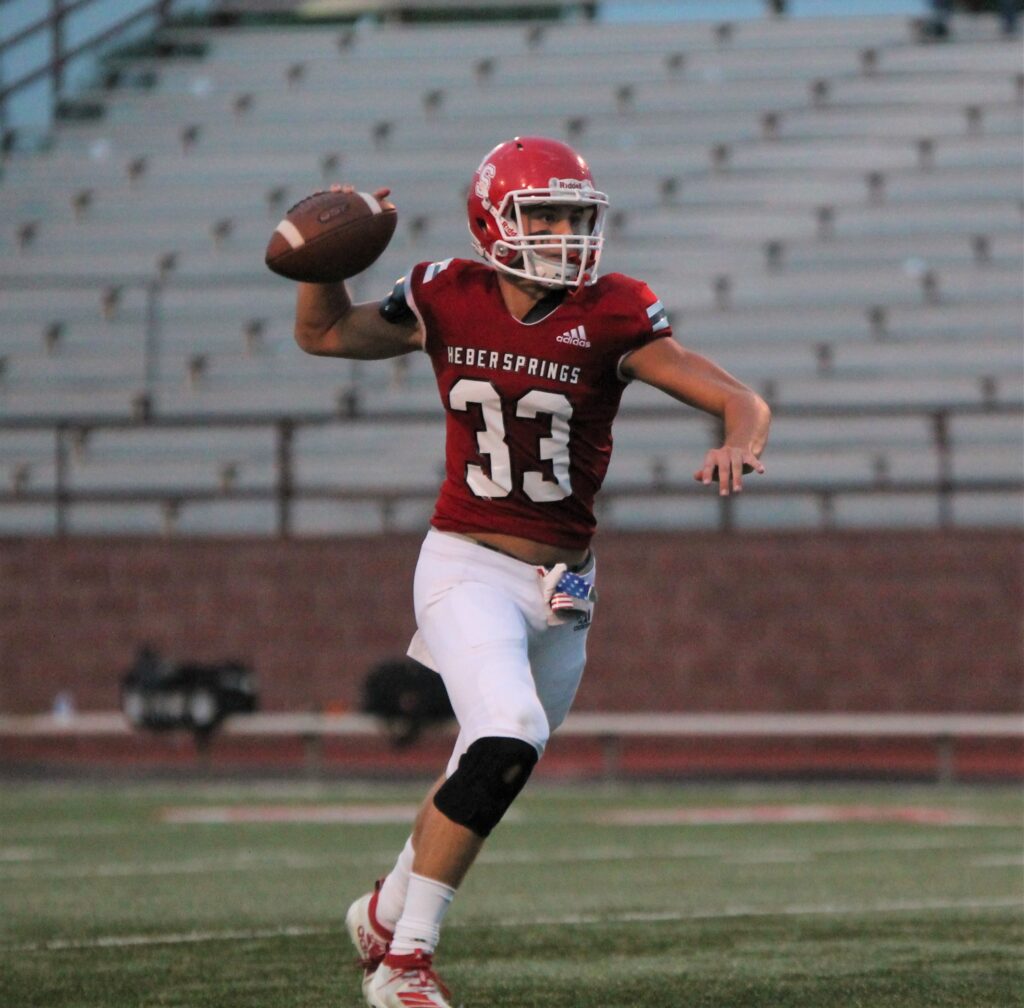 "I challenged Matthew," Wood said. "We put him in there and proud of his efforts. He gave our offense a different look."
Cook admitted a case of the nerves in the beginning, but but he said it went away quickly.
"I never started at quarterback before, but I knew I was ready after a good week of practice," Cook said. "All of the credit goes to my offensive line and the receivers."
Six Heber Springs receivers caught passes (Hunter Kent 6-44, Nathan McKee 5-80, Diego Rubio 3-66, Isaac Smith 3-29, Easton Cusick 2-79 and Kenan Sneed 1-12).
"It was nice to spread the ball around and not just throw to one or two players," Wood said. "We want to spread the joy around and be balanced. We wanted to make the defense defend the entire field."
Cook said the short-range passing game helped him to be more comfortable and sent the offense in motion.
"Scoring on the first drive showed what we can do when we stick together," he said. "I was looking to throw to all of my receivers."
Wood also said he was pleased with the play of the defense.
"We played more aggressive on," he said. "We started the game too flat, and I challenged them to become hitters and take it to Dover."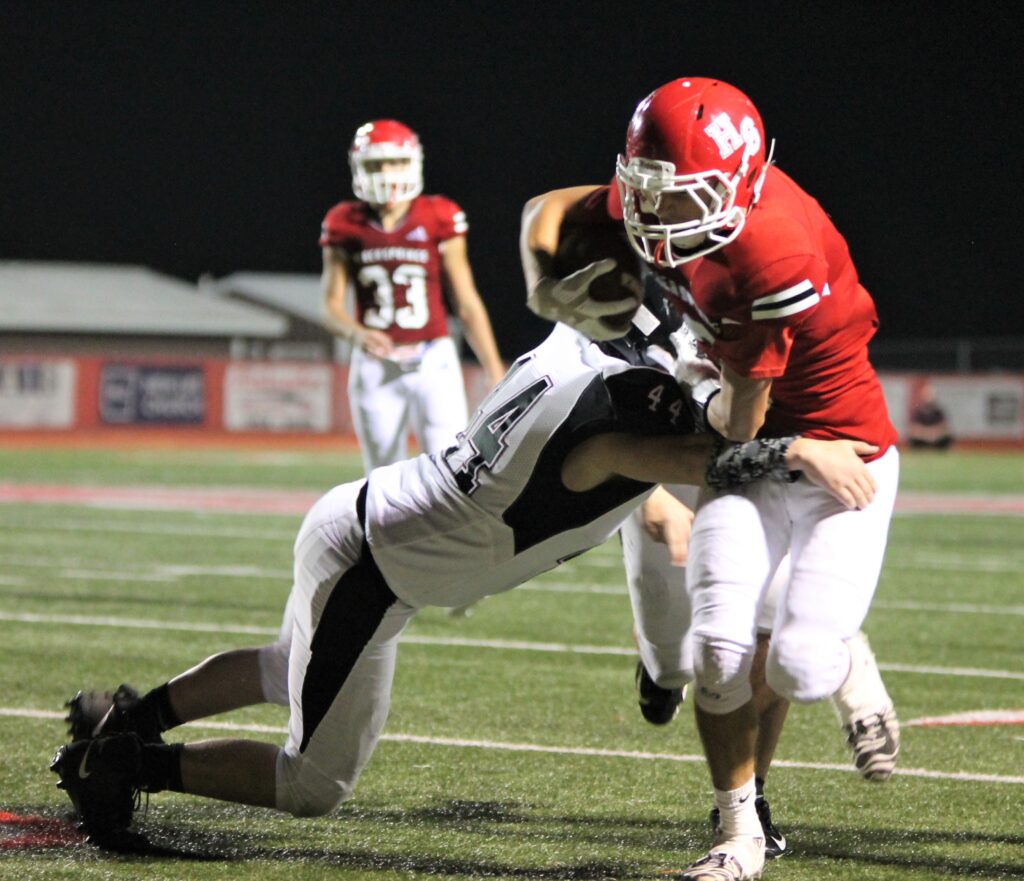 Heber Springs took the lead with an 11-play, 90-yard drive for its first touchdown. The Panthers overcame two holding penalties as Kent scored on a 14-yard run with 4:37 left in the first quarter.
A fourth-down stop set up another touchdown before the end of the quarter. Isaac King caught a 10-yard scoring pass and Cook ran for a 2-point conversion, increasing the Panthers' lead to 14-0 going into the second quarter.
Heber Springs struck again as Cook scored on a 2-yard carry with 6:27 left in the first half. Cook's touchdown capped a 5-play, 80-yard drive. Chandler Webber kicked the conversion for a 21-0 lead.
The Panthers finished the second quarter with a 10-play, 78-yard touchdown drive. Diego Rubio caught a 36-yard scoring pass from Cook as Heber Springs led 27-0 at halftime.
"It was better atmosphere at halftime than the first two games," Wood said. "I told them the game was not over. We didn't want to be satisfied by playing only well only in the first half."
Heber Springs sent the sportsmanship rule into motion by scoring on a 4-play, 64-yard drive following the second half kickoff. McKee caught a 17-yard touchdown pass with 10:46 remaining in the third quarter. Kent ran for a 2-point conversion.
Rubio's 19-yard scoring run provided the Panthers' fourth-quarter touchdown.
Dover avoided a shutout when Kenny Ketcherside scored on a 37-yard run with 3:41 to play.
Due to COVID restrictions, only 100 fans from Heber Springs will be allowed to attend. Those wanting to attend the game in Lonoke must pick up a voucher at the school and then pay at the gate in Lonoke.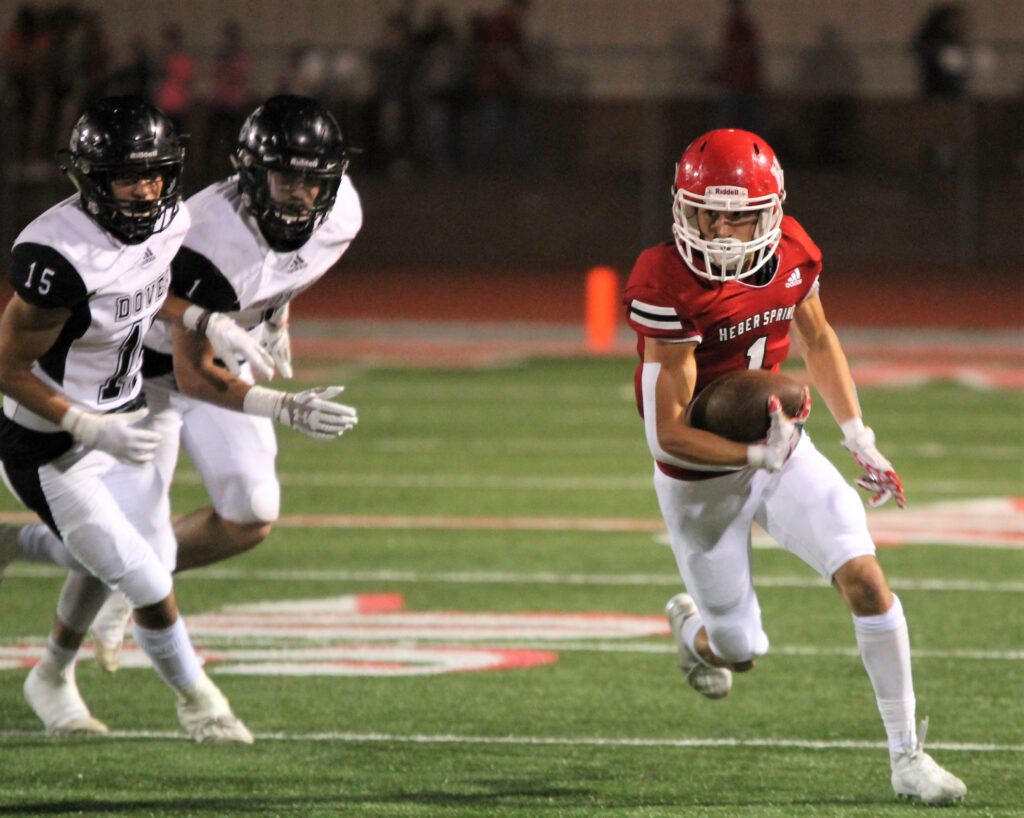 STATS
SCORING  
Dover (0-4)           0   0  0  6 -  6
Heber Springs (1-2)  14  13  8  7 - 42
FIRST QUARTER  
Heber Springs, Hunter Kent 14-yard run (pass failed), 4:37
Heber Springs, Matthew Cook to Isaac King 10-yard pass (Cook run), 7.4 
SECOND QUARTER  
Heber Springs, Cook 2-yard run (Chandler Webber kick), 6:27
Heber Springs, Cook to Diego Rubio 36-yard pass (kick blocked), 50.9
THIRD QUARTER  
Heber Springs - Cook to Nathan McKee 17-yard pass (Kent run), 10:46
FOURTH QUARTER
Heber Springs, Diego Rubio 19-yard run (Webber kick), 11:40
Dover, Kenny Ketcherside 37-yard run (run failed), 3:45

TEAM STATS  
First Downs by Rush: Heber Springs 6, Dover 5 
First Downs by Pass: Heber Springs 10, Dover 0 
First Downs by Penalty: Heber Springs 0, Dover 0
Total First Downs: Heber Springs 16, Dover 5 
Third-Down Conversions: Heber Springs 7/8, Dover 4/8
Fourth-Down Conversions: Heber Springs 1/1, Dover 0/1
Red-Zone Conversions: Heber Springs 5/5, Dover 0/0 
Time of Possession: Heber Springs 23:57, Dover 24:03 
Fumbles/Lost: Heber Springs 0/0, Dover 1/0 
Turnovers: Heber Springs 0, Dover 0      
Points Off Turnovers: Heber Springs 0, Dover 0  
Penalties: Heber Springs 7/70, Dover 5/55  
Plays/Total Offense/YPP: Heber Springs 44/444/10.1, Dover 29/110/3.8
Rushing: Heber Springs 22/134/6.1, Dover 25/113/4.5
Passing: Heber Springs 16/22-310-3/0, Dover 2/4-(-3)-0/0
Sacks/Yards Lost: Heber Springs 0/0, Dover 0/0 
Punts: Heber Springs 0/0, Dover 4/171/42.8 
Inside 20: Heber Springs 0, Dover 2

INDIVIDUAL STATS  
OFFENSE    
RUSHING: Heber Springs, Diego Rubio 9/42/4.7, Hunter Kent 3/32/10.7,  Matthew Cook 5/23, Nathan McKee 2/19, Jackson West 2/15, Isaac King 1/3. Dover, Kaleb Williams 15/55/3.7, Kenny Ketcherside 5/45/9, Dawson Branch 5/13.  
RUSHING RUNS OF 30+: Dover, Kenny Ketcherside (1)
RUSHING RUNS OF 20+: Dover, Kaleb Williams (1)
RUSHING RUNS OF 10+: Heber Springs, Hunter Kent (2), Diego Rubio (1) 
PASSING: Heber Springs, Matthew Cook 16/22-310-3/0. Dover, Kaleb Williams 2/4-(-3)-0/0
RECEIVING: Heber Springs, Nathan McKee 5/80, Diego Rubio 3/66, Isaac King 3/29, Easton Cusick 2/79, Hunter Kent 2/44, Kenan Sneed 1/12. Dover, Dawson Branch 2/(-3)  
TOTAL OFFENSE: Heber Springs, Matthew Cook 333, Diego Rubio 42, Hunter Kent 32, Nathan McKee 19, Jackson West 15, Isaac King 3. Dover, Kaleb Williams 52, Kenny Ketcherside 45, Dawson Branch 10.
PUNT RETURNS: Heber Springs, Hunter Kent 2/35.   
KICK RETURNS: Heber Springs, Hunter Kent 1/40, Easton Cusick 1/0. Dover, Jon Greathouse 4/27, Brantley Craig 1/12, Jeremiah Mercer 1/7, Kaleb Williams 1/7  
FUMBLE RETURNS: None  
INTERCEPTION RETURNS: None
ALL-PURPOSE YARDS: Heber Springs, Hunter Kent 151, Diego Rubio 108, Nathan McKee 99, Easton Cusick 79, Isaac King 32, Matthew Cook 23, Jackson West 15, Kenan Sneed 12. Dover, Kaleb Williams 62, Kenny Ketcherside 45, Jon Greathouse 27, Brantley Craig 12, Dawson Branch 10, Jeremiah Mercer 7.  
SCORING: Heber Springs, Diego Rubio 12, Matthew Cook 8, Hunter Kent 8, Nathan McKee 6, Isaac King 6, Chandler Webber 2 (2/3 XP/XPA). Dover, Kenny Ketcherside 6
DEFENSE   
PUNTS/YARDS/AVERAGE/INSIDE THE 20: Heber Springs, None. Dover, Kaleb Williams 4/171/42.8/2