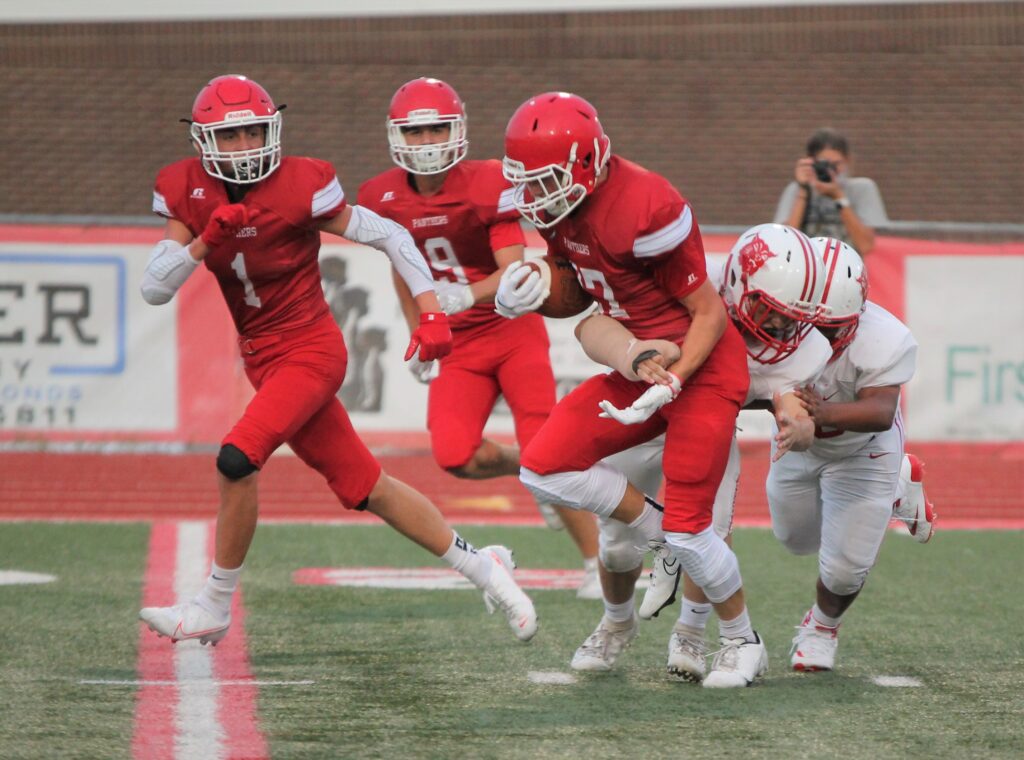 By PHILIP SEATON
Heber Springs took advantage of four Harding Academy turnovers and cruised to a 23-6 win over Harding Academy in junior high football action at Panther Stadium Thursday night.
Heber Springs junior high coach James Ortiz was concerned about Harding Academy after the Panthers "week zero" game at Clinton was canceled because of the remnants of Hurricane Laura.
"We didn't have a game one like a lot of others did, I know other schools are in the same boat, but I can't worry about them," he said. "I worry about me. So that was one thing that I kind of worried about is that we didn't have something to prepare us for Harding as much as I wanted us to."
His worries were put to ease by ease by eighth-grader Liam Buffalo, who was 17 of 33 passing for 230 yards and two touchdowns, and ninth-grader Parker Brown, who had three receptions for 83 yards and a touchdown and also picked off two Wildcat passes — including returning one 46 yards for a score.
"He's unbelievable," Ortiz said of Brown who moved back into the district after spending the last two seasons in Texas. "He's just an athlete. He has great hands, great feet. He can run and he's a great kid. We are fortunate to have him. He definitely makes our team better."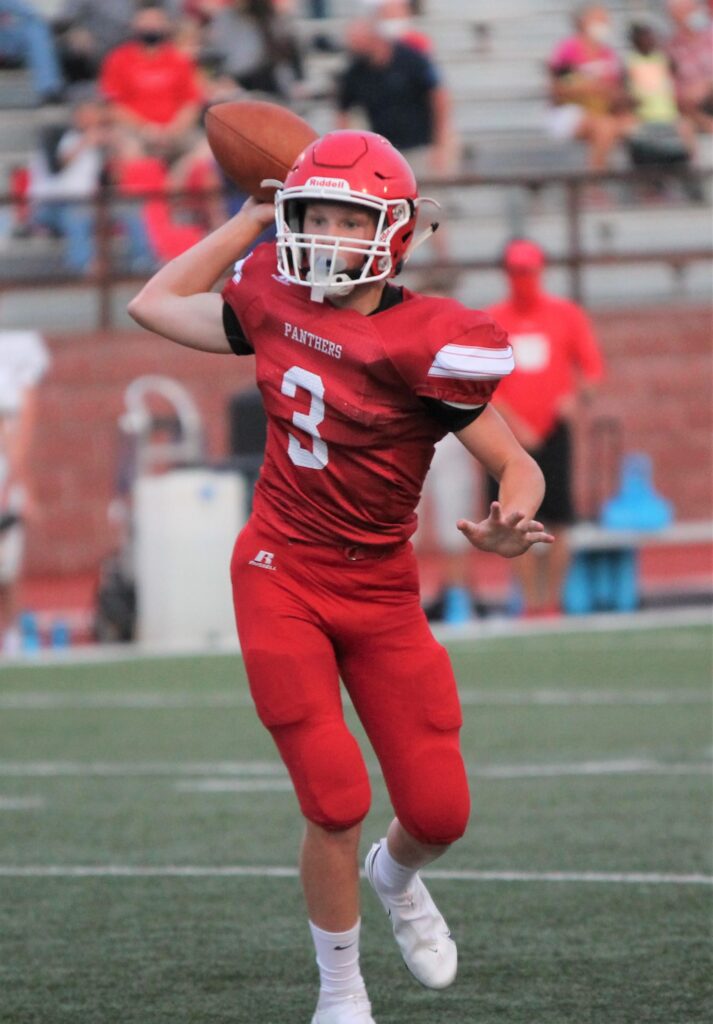 Buffalo had a slow start, completing only three of his first 10 passes for 20 yards, as the game remained scoreless until late in the first quarter when Brown picked off the Miller Owen pass attempt and returned it for a score. Xander Lindley ran in the 2-point conversion to make it 8-0 in favor of Heber Springs with 2:13 to play.
The Heber Springs defense held Harding Academy to 113 total yards of offense — with 52 of those coming on one pass play- and three first downs, and it was after a defensive stop that Buffalo found his rhythm completing three passes for 75 yards — including a 33-yarder to Hud Haggard and a 35-yard scoring strike to Brown — to make the score 14-0 in favor of the Panthers with 7:12 left in the first half.
"I can't say enough good things about him," Ortiz said of Buffalo. "I could be nit picky about one or two things … but overall I can't ask for anything else for my quarterback."
The Wildcats got on the board on their next possession as Owen connected with Kyler Hoover for a 52-yard scoring strike to make it 14-6 with 5:02 left in the first half. The 2-point conversion failed.
The score remained that way until the Panthers first possession of the second half. After Brown picked off an Owen pass attempt in the end zone, Heber Springs marched 72 yards on 12 plays before the 5:57 drive stalled at the Wildcat 8 on fourth down. Freshman Gideon Tate connected on the 25-yard field goal attempt to make it 17-6 in favor of the Panthers with 7:11 left in the contest.
Heber Springs added another score less than three minutes later. Haggard recovered a Wildcat fumble on the Harding Academy 19 and three plays later Buffalo connected with Haggard for the 4-yard touchdown to make it 23-6. The PAT was no good.
Haggard finished the night with six receptions for 65 yards for Heber Springs while Dalton Yancey (for 23 yards), Lindley (for 21 yards) and Ty West (for 3 yards) each had a pair of receptions.
The Panther defense limited Harding Academy to 21 yards rushing on 16 attempts. Heber Springs which finished with 279 yards of total offense and 14 first downs.
Heber Springs will look to improve to 2-0 on the season Thursday when they travel to Dover for a 7 p.m. kickoff.