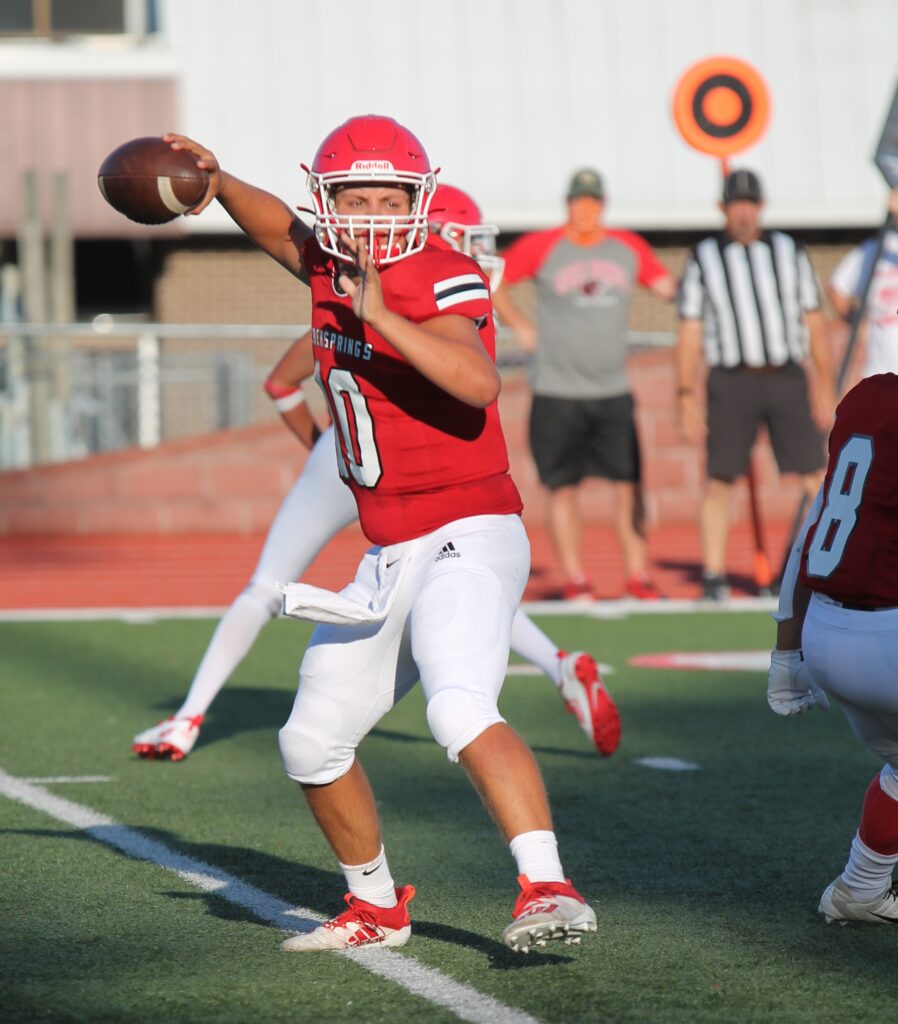 September 4, 2020
By LARRY "SCOOP" McCARTY
Heber Springs received a passing grade for its performance in last week's benefit game against Johnson County West Side and hope for a higher grade when the Panthers will host the Newport Greyhounds at 7 p.m. tonight in the 2020 football season opener.
Newport opened its season last week by defeating Little Rock Mills, 47-22.
"It was nice to play the benefit game, but there is nothing like Friday night and playing in front of your fans," first-year head coach Todd Wood said. "It's a different level of excitement."
The Panthers scored 29 of its 42 points against Johnson County Westside in the first of two quarters during the benefit game. Wood said the game came at a good time.
"We went into the (benefit) game looking to see what we could do against a different team," Wood said. "We learned a lot from our mistakes. That is the purpose of a benefit game. Every player got in the game and that gave them an opportunity to gain experience going into the season."
Nathan McKee, who was sidelined by an ankle injury for most of the preseason, will be available in Friday's opener. Linemen Jayden Bremmon, who didn't play in the benefit game, also will be in the starting lineup.
"They will give us a big boost," Wood said. "I told the team again this week it is not how we start the season, but how we finish the season. We worked on a lot of things in practice and hope to click against Newport. The first three games are to prepare us for the conference games."
Wood said John McBroome will start at quarterback, but Matthew Cook and Conner Riddle could see action at that position.
"We worked with John this week about making his reads and throwing the ball quicker to the receivers," Wood said. "Cook will start at one of the receivers, but we have plays that he could be used at quarterback. Matthew will help us at receiver and quarterback. Conner was the junior high starter last season and also will be another option."
Diego Rubio will get the nod at running back, with Jackson West, Kenan Sneed and Cook possibly playing in the backfield.
"I was impressed by Diego with his hard work and determination from the first day of practice. "Jackson is not only a good runner, but a good receiver. Kenan is not as fast as those two players, but he me makes up with his ability of how the defense is playing. Cook also is an option."
McKee's return to the lineup will strengthen the receiving corps. He and Hunter Kent were two of the team's leading receivers in 2019.
"Nathan was one of our better returning receivers," Wood said. "Hunter has speed with good hands and can help us stretch the defense. Cook and West also are good receivers."
The coach said two newcomers have potential to balance the receiving corps.
"Gus Hannah was one of the most impressive receivers during summer camp," Wood said. "He runs good routes and takes care of the ball. Easton Cusick is a sophomore and proved to be a reliable receiver. We won't have to depend on one or two receivers to carry the load."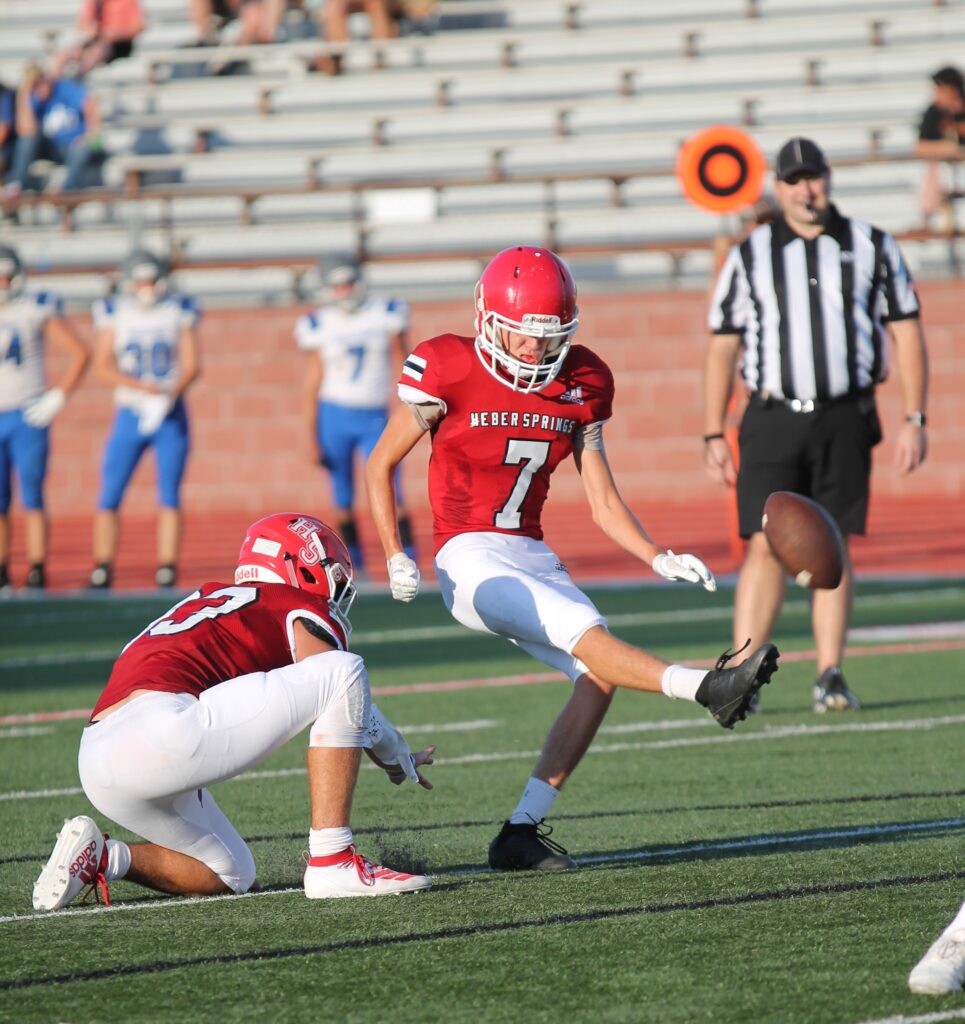 Wood said the offensive line quickly learned the new blocking schemes. Zach Thomas anchors the line at center, with tackle Bremmon and guard Preston Roberson on the left side. Thad Bray, Payton Owens and Trevor Weathers will alternate on the right side.
"They played with a lot of confidence in the benefit game," Wood said. "We have the guys who can do the job. They are improving with their run game blocking. I'm pleased with their work."
Heber Springs will also play a different defense than previous seasons. The Panthers will line up in a 3-4 alignment, but occasionally play a four-player front.
Bray, Bremmon, Owens and Weathers will be the players to watch on the front line. Roberson, who will start at inside linebacker, will be the fourth lineman.
"The play on the defensive line is very important," Wood said. "We must control the line of scrimmage and take away the other team's running game."
Sneed will start at inside linebacker opposite Roberson, with Rubio and West at the outside linebackers. Dakota Farmer and Cook will provide depth at inside and outside linebacker.
McGee and Cook will start at the safeties. Kent and Farmer will be the cornerbacks. Hannah will provide depth at safety and cornerback, and Riddle will see playing time at safety.
Wood said he is ready to start the season and play one of the top-ranked teams in Class 3A.
"Newport is very quick with a lot of speed," Wood said. "They have a very good running back and quarterback. The quarterback played well against Mills and makes good decisions. They also like to pass and have two tall (6-foot-5) receivers. Newport will put you in bad situations and take advantage of your mistakes."
Wood said execution will decide who wins Friday's game.
"We must stop Newport's big plays, limit our turnovers and create turnovers on defense," Wood said. "We must execute on offense and defense, especially doing the little things right. On defense, we need 11 guys going to the ball and make things happen. If we can do all of that, we will have a good night."
NOTEBOOK

NEWPORT (1-0) AT HEBER SPRINGS (0-0)
KICKOFF: 7 p.m.
WHERE: Panther Stadium, Heber Springs
RADIO: 101.9 The Lake. Billy Morgan will handle play-by-play with Lance Hamilton providing color. Panther Pregame begins at 6:45. 
STREAMING: 101.9 The Lake will also be providing live streaming of the game.
LAST WEEK: Newport 47, Little Rock Mills 22; Heber Springs was idle
SERIES: Newport leads 10-4
LAST MEETING: Heber Springs 33, Newport 20, 2015
NOTES: The two teams were scheduled to meet in the first season of football for Heber Springs in 1913, but as was the case in the early decades of high school football, the game was not played. The two teams would finally meet for the first time on November 5, 1937 at Newport (a 45-0 win for the Greyhounds) ... Newport claimed another win in the series in 1945 before the two teams would meet again 57 years later when Newport moved down in classification and was placed in the 2AAA conference with Heber Springs in 2002. The Greyhounds would win the first four games by a combined 169-47 before the Panthers claimed their first win in the series with a 24-14 win at Newport in 2006. After a Newport win in 2007, the two teams were placed in separate conferences but would meet again in the 4A quarterfinals in 2008 where the Greyhounds ended Heber Springs' season with a 46-14 victory. In 2010, Newport was placed in the 2-4A with Heber Springs and the two teams split the six meetings before the Greyhounds dropped down to class 3A starting in the 2016 cycle ... Though the two teams took a 57-year hiatus, after the Panther football program returned from a two-year absence 1949, the Heber Springs varsity team would play Newport's "B" team. The Greyhound second-teamers would win the first contest, 13-6, in Heber Springs, but Heber Springs' would claim victories over Newport's "B" in 1958, 1960 and 1963 -- the 1960 win over Newport "B" was the Panthers lone victory of the season ... Newport running back Tharon Davis has been offered by North Alabama ... Newport sophomore quarterback Dejai Marshall was 22 of 27 passing for 183 yards and two touchdowns last week against Little Rock Mills ... Senior Night festivities began at 6:15 p.m.

-- By PHILIP SEATON