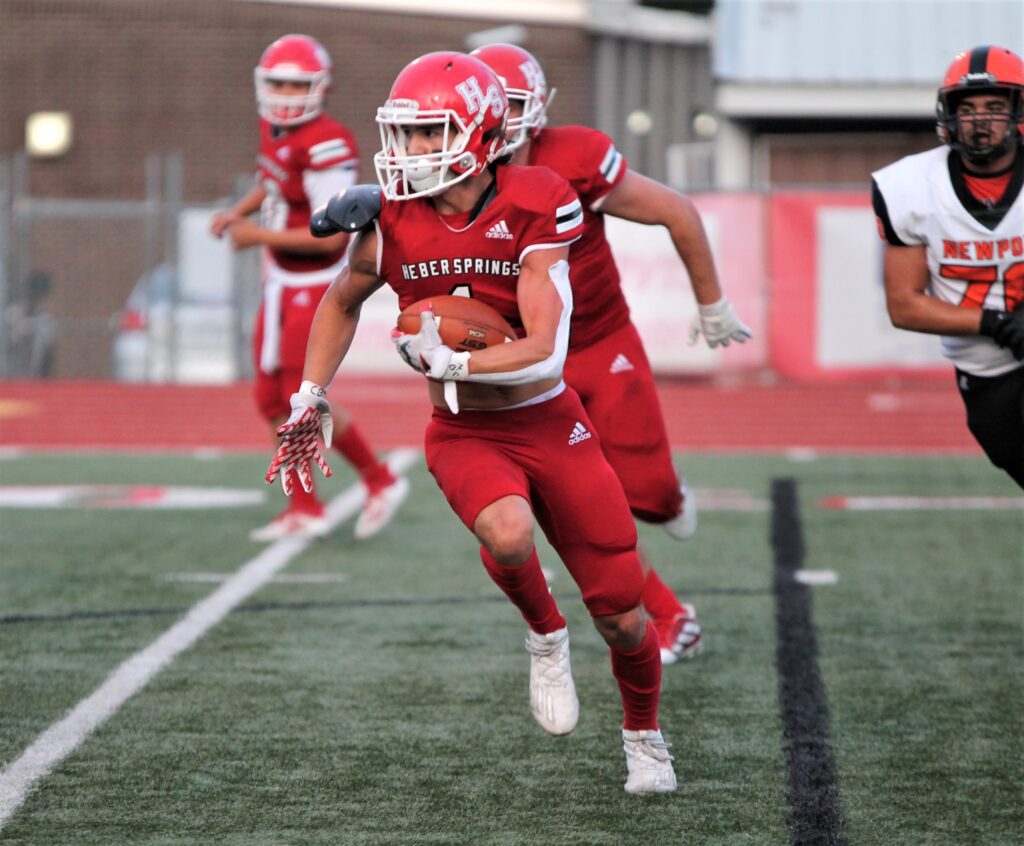 September 4, 2020
By LARRY "SCOOP" McCARTY
First-half turnovers quickly put the Heber Springs Panthers in a bind during Friday's football season opener against Newport at Panther Stadium.
Newport turned two interceptions and two fumble recoveries into touchdowns, drove for three more scores and defeated the Panthers 45-6, spoiling the coaching debut of new head coach Todd Wood.
The Greyhounds, who held a 321-121 advantage in total offense, built a 19-0 lead by the end of the first quarter. Newport increased its advantage to 45-0 by halftime.
"Newport is a very good team with a lot of speed and size," Wood said. "That is the kind of a team I want o play early in the season because it will help prepare us for conference play."
Heber Springs received the opening kickoff and lost possession on the game's second play on an interception, giving Newport a first down at the Panther 20. Tharon Davis scored on a 2-yard carry, putting the Greyhounds ahead 6-0 with 10:04 left in the opening quarter.
Newport didn't wait long to regain possession and extend the lead. Newport recovered a fumble at the Panther 10 and Chris Reynolds caught a touchdown pass from Dejai Marshall with 9:02 left in the quarter.
The Greyhounds didn't let up. After a short punt, Newport drove 65 yards on six plays with Davis scoring on a 6-yard run for an 19-0 lead with 3:23 remaining in the first quarter. Mark Chavez kicked the extra point.
"You don't want to give a lot of gifts to a team like Newport early in the game," Wood said. "They scored after two turnovers and then scored again before the end of the quarter. We looked at the scoreboard and saw we trailed 19-0."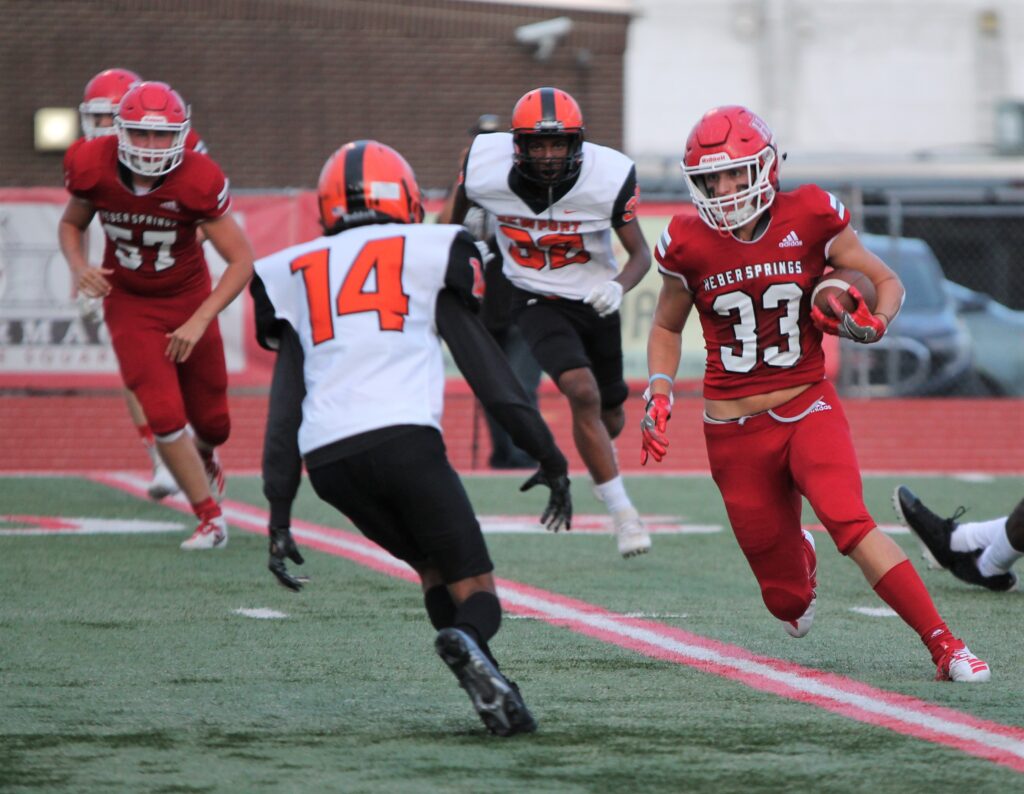 Newport added four touchdowns during the second quarter with two scores set up by turnovers.
Jamarriel Balentine finished a 5-play, 31-yard drive following a short punt by scoring on a 2-yard run with 11:12 left in the first half. Marshall ran for a 2-point conversion, increasing Newport's lead to 27-0.
Turnovers set up the Greyhounds' next two touchdowns. Davis broke free and rushed 41 yards for a touchdown. Marshall connected on a 10-yard scoring pass to Reynold with 9:13 left in the first half.
Marshall threw his third touchdown pass of the opening half, a 39-yard strike to Tristan Griffen, late in the second quarter for the 45-0 halftime lead.
Davis finished the night with 114 yards rushing and three touchdown on nine carries for Newport, all coming in the first half.
"Newport played good defense," Wood said. "We must recognize what they are doing and find a way to overcome it. The game snowballed on us and it's hard to dig out of a hole like we had in the first half."
Heber Springs began the second half by forcing a Newport punt and drove 76 yards on eight plays for its touchdown. Matthew Cook, who moved to quarterback, dashed into the clear and ran 62 yards for a first-and-goal at the Greyhound 1-yard line. Newport pushed the Panthers back to a fourth-and-goal at the 4 when Cook connected with Hunter Kent on a touchdown pass in the back of the end zone.
"We did better in the second half and moved the ball at times, but Newport was playing backups," Wood said. "We need to fix everything for next week's game and move forward."
Wood said the players, especially the underclassmen, learned during the second half and that will benefit the team in the future.
"We have only eight seniors on a 38-player roster and our inexperience shows," he said. "Some of the young guys learned new things and by the time we get to conference play. Those players will be more seasoned and that will help us out in the long run"
Heber Springs will play Harding Academy at First Security Stadium in Searcy starting at 7 p.m. Friday.
STATS
SCORING
Newport (2-0)       19  26  0  0 - 45
Heber Springs (0-1)  0   0  6  0 -  6

FIRST QUARTER
Newport - Tharon Davis 2-yard run (kick failed), 10:04
Newport - Dejai Marshall to Chris Reynolds 10-yard pass (kick failed), 9:02
Newport - Davis 6-yard run (Mark Chavez kick), 3:26
SECOND QUARTER
Newport - Jamarriel Balentine 2-yard run (Marshall run), 11:12
Newport - Davis 41-yard run (run failed), 10:42
Newport - Marshall to Isiah Kendall 10-yard pass (kick failed), 9:13
Newport - Marshall to Tristan Griffen 39-yard pass (run failed), 1:14
THIRD QUARTER
Heber Springs - Matthew Cook to Hunter Kent 1-yard pass (pass failed), 4:36

TEAM STATS
First Downs by Rush: Heber Springs 4, Newport 6 
First Downs by Pass: Heber Springs 2, Newport 8 
First Downs by Penalty: Heber Springs 0, Newport 0 
Total First Downs: Heber Springs 6, Newport 14 
Third-Down Conversions: Heber Springs 3/11, Newport 3/6 
Fourth-Down Conversions: Heber Springs 2/5, Newport 3/6
Red-Zone Conversions: Heber Springs 2/5, Newport 0/0 
Time of Possession: Heber Springs 23:24, Newport 24:36 
Fumbles/Lost: Heber Springs 2/2, Newport 1/1
Turnovers: Heber Springs 4, Newport 1    
Points Off Turnovers: Heber Springs 0, Newport 25
Penalties: Heber Springs 2/10, Newport 3/25 
Plays/Total Offense/YPP: Heber Springs 48/121/2.5, Newport 41/321/7.8
Rushing: Heber Springs 26/68/2.6, Newport 26/185/7.1
Passing: Heber Springs 10/22-53-1/2, Newport 12/15-136-3/0
Sacks/Yards Lost: Heber Springs 0/0, Newport 4/22
Punts: Heber Springs 3/63/21, Newport 3/108/36 
Inside 20: Heber Springs 0, Newport 1 
INDIVIDUAL STATS
OFFENSE  
RUSHING: Heber Springs,  Matthew Cook 9/48/5.3, Diego Rubio 10/36/3.6, Gus Hannah 1/8, Nathan McKee 1/2, Hunter Kent 1/(-4), John McBroome 4/(-22)/(-5.5). Newport, Tharon Davis 9/114/12.7, Keyron Childress 2/49, Jamarriel Balentine 9/43/4.8, Devin Braxton 1/6, Team 1/(-3),  Cayden Johnson 3/(-12)/(-4), Dejai Marshall 1/(-12).
RUSHING RUNS OF 50+: Heber Springs, Matthew Cook (1). Newport, Keyron Childress (1). 
RUSHING RUNS OF 40+: Newport, Tharon Davis (1).
RUSHING RUNS OF 20+: Newport, Tharon Davis (2).
RUSHING RUNS OF 10+: Heber Springs, Diego Rubio (1). Newport, Jamarriel Balentine (2), Tharon Davis (1).
PASSING: Heber Springs, John McBroome 7/14-43-0/2, Matthew Cook 3/8-10-1/0. Newport, Dejai Marshall 12/12-136-3/0, Isiah Kendall 0/3-0-0/0.
RECEIVING: Heber Springs, Hunter Kent 3/6, Austin Winchester 2/10, Diego Rubio 2/5, Nathan McKee 1/17, Gus Hannah 1/8, Kenan Sneed 1/7. Newport, Isiah Kendall 3/41, Tristan Griffen 3/37, Chris Reynolds 3/32, Jadarius Reed 1/11, Tharon Davis 1/10, Cayden Johnson 1/5.
TOTAL OFFENSE: Heber Springs, Matthew Cook 58, Diego Rubio 36, John McBroome 21, Gus Hannah 8, Nathan McKee 2, Hunter Kent (-4). Newport, Dejai Marshall 124, Tharon Davis 114, Keyron Childress 49, Jamarriel Balentine 43, Devin Braxton 6, Team (-3), Cayden Johnson (-12), 
PUNT RETURNS: None. 
KICK RETURNS: Heber Springs, Diego Rubio 3/42, Matthew Cook 3/15. Newport, Chris Reynolds 1/2.  
FUMBLE RETURNS: None
INTERCEPTION RETURNS: Newport, Chris Reynolds 1/5, Kiland Ellis 1/0.
ALL-PURPOSE YARDS: Heber Springs, Matthew Cook 106, Diego Rubio 83, Nathan McKee 19, Gus Hannah 16, Austin Winchester 10, Kenan Sneed 7, Hunter Kent 2, John McBroome (-22). Newport, Tharon Davis 124, Keyron Childress 49, Jamarriel Balentine 43, Chris Reynolds 42, Isiah Kendall 41, Tristan Griffen 37, Jadarius Reed 11, Devin Braxton 6, Team (-3), Cayden Johnson (-7), Dejai Marshall (-12).
SCORING: Heber Springs, Hunter Kent 6. Newport, Tharon Davis 18, Jamarriel Balentine 6, Chris Reynolds 6, Isiah Kendall 6, Tristan Griffen 6, Dajai Marshall 2, Mark Chavez 1 (1-4 PAT kicks).
DEFENSE
INTERCEPTIONS: Newport, Chris Reynolds 1/5, Kiland Ellis 1/0.
FUMBLE RECOVERIES: Heber Springs, Kenan Sneed 1. Newport, Tristan Griffen 1, Jaden Godair 1.
SACKS/YARDS LOST: Newport, Aabel Robinson 2/11, Jaden Godair 1/6, Tyler Johnson 1/5.
PUNTS/YARDS/AVERAGE/INSIDE THE 20: Heber Springs, John McBroome 2/39/19.5/0, Matthew Cook 1/24/24/0. Newport, Dejai Marshall 3/108/36/1

(Stats compiled by Philip Seaton)