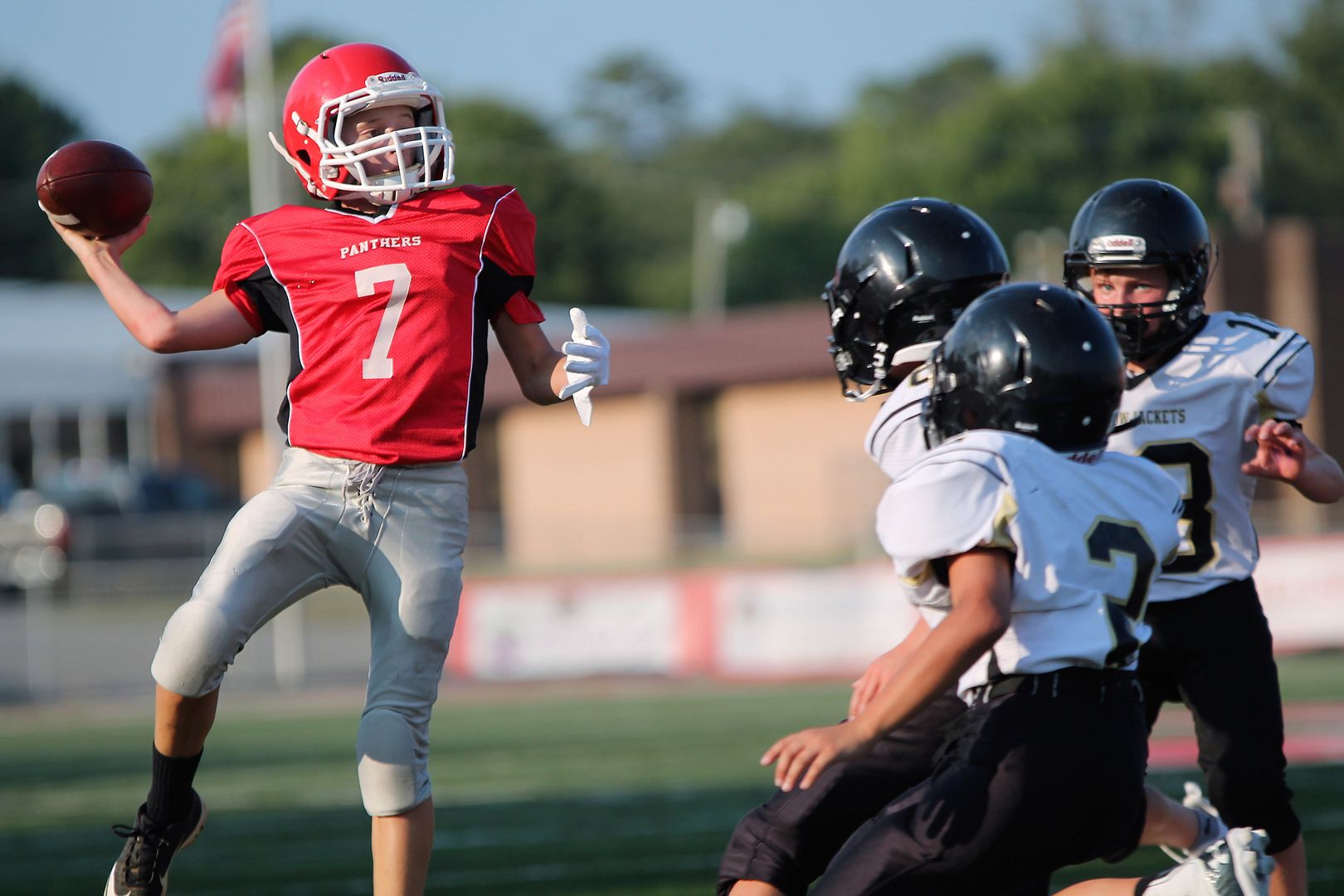 HEBER SPRINGS – The Heber Springs seventh-grade Panthers came up short as Clinton defeated the Cubs, 16-14.
Heber Springs struck first with Samuel Bush touchdown, but Clinton responded on a Dereck Infante touchdown run and a Keegan Rose 2-point conversion to lead 8-6 with just over seven minutes to play in the first half.
The Panthers moved the ball deep into Clinton territory before halftime after a long run by Landon Brown, a Lachlan Tubbs to Rhett Herring pass and a nice run by Bush, but Heber Springs couldn't push the ball in the end zone and turned the ball over on downs. The Panthers trailed 8-6 at the break.
Clinton took a a 16-6 advantage after another Infante touchdown run and successful 2-point conversion.
Heber Springs pulled to within two late in the contest when Tubbs connected with Josiah Riggs for the score. Bush added the 2-point conversion to make it 16-14 in favor of Clinton.
The Panthers wouldn't get the ball back as Clinton ran out the clock to end the game and earn the win. The two teams will meet again in Clinton in the season finalee.
Heber Springs will return to action on Sept. 9 at Harding Academy.
HEBER SPRINGS 7TH-GRADE SCHEDULE
(All Game Times are 5:30 p.m.)
Aug. 26 – Clinton 16, Heber Springs 14
Sep. 09 – at Harding Academy (Searcy)
Sep. 16 – Dover
Sep. 23 – at Lonoke
Sep. 30 – Stuttgart
Oct. 07 – at Central Arkansas Christian
Oct. 14 – Bald Knob
Oct. 21 – at Southside Batesville
Oct. 28 – at Clinton
HEBER SPRINGS 7TH-GRADE ROSTER
Coaches: Drew Lawrence, Jeff Bise and Hunter Davis
Players (in jersey number order)
Conner Underwood
Cade Burger
Jayden James
Tanner Graham
Samuel Bush
Lachlan Tubbs
Kayden Rimmer
Hayden Williams
Tripp Johnston
Rhett Herring
Landon Brown
Brayden Inman
Josiah Riggs
Walker Robinson
Carson Robitaille
Kayd Williams
Casey Pearce
Brody Loethen
Gavin Willis
Hayden Andrews