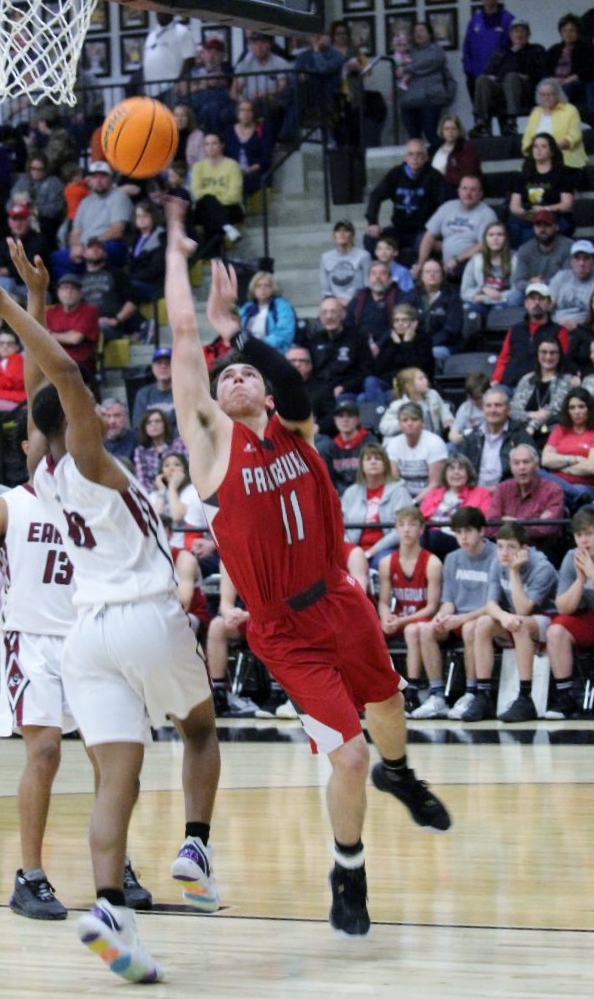 March 6, 2020
By LARRY "SCOOP" McCARTY
QUITMAN – Pangburn held the lead during most of the first half, but Earle's second-half scoring outburst became too much for the Tigers to overcome.
Earle (20-9) trailed 27-24 at halftime and returned with a 21-6 third-quarter scoring run and defeated Pangburn 73-42 in the Class 2A state tournament quarterfinals at the Bulldog Complex.
Luke Rolland scored 17 points for Pangburn, while Cade McKee finished with 10 points. Rholly Davis led Earle with a game-high 19 points. Jermayne Johnson scored 17 points, followed by Donnie Warren with 15 points and Donnie Cheers had 11 points.
McGee made 2-of-2 free throws and Alex Langley hit 1-of-2 free throws as Pangburn led 8-5 midway through the first quarter. Rolland tied the game at 8-8 with a 3-pointer, but the Tigers regained the lead on another 3-pointer by Rolland.
Cheers scored late in the quarter and reduced Pangburn's lead to 11-10 going into the second quarter.
The score was tied twice early in the second quarter before Pangburn regained the lead on Jadyn Ramsey's field goal. Earle rallied for a 20-19 lead before back-to-back 3- pointers by Rolland and Brenden Grayum, giving the Tigers a 25-20 lead.
Pangburn maintained the lead and held a 27-24 advantage at halftime.
The tide turned midway through the third quarter with the game tied at 31-31. Earle had a 14-2 scoring run and pulled away to a 45-33 lead going into the fourth quarter.
Earle outscored the Tigers 28-6 during the fourth quarter.
Pangburn finished the season with a record of 24-15.
PANGBURN-EARLE BOXSCORE
Class 2A Quarterfinals
at QUITMAN
Pangburn  11 16  6  9 - 42
Earle     10 14 21 28 - 73
PANGBURN SCORING (42): Luke Rolland 17, Cade McKee 10, Tanner Galyan 8, Brenden Grayum 3, Jadyn Ramsey 3, Alex Langley 1.
EARLE SCORING (73): Rholly Davis 19, Jermayne Johnson 17, Donnie Warren 15, Donnie Cheers 11, Nick Mathis 6, Devin Johnson 5.