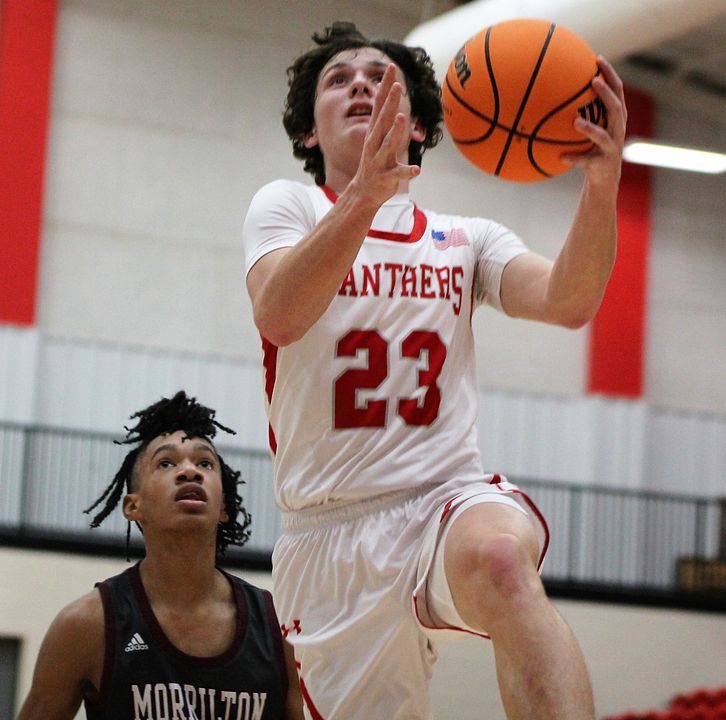 By LARRY "SCOOP" McCARTY
Morrilton's dominance on the offensive boards wore down the Heber Springs Panthers in Tuesday's Conference 4-4A basketball game at the Panther Den.
The Devil Dogs (1-1 in Conference 4-4A, 8-6 overall) seized control with a 10-3 scoring run during the second quarter and defeated the Panthers 60-38 and stopped a four-game losing streak.
Heber Springs (1-2 in Conference 4-4A, 10-6 overall) started its latest win streak with a win at Des Arc before sweeping three games and claiming the Mount Vernon-Enola Holiday Tournament championship.
"We played hard for most of the game and did a good job of taking away some of the things they wanted to do with Pinion," said Heber Springs coach Jordan Riley, referring to Razorback signee Joseph Pinion said. "The name of the game was offensive rebounds. We gave up too many. No. 11 (Ja Corey Mosley) crashed the offensive boards hard and probably had his career high scoring game. We must do a better job rebounding and play more physical."
Mosley, who made 12-of-15 shots, scored a game high 26 points for Morrilton, mostly off offensive rebounds. Pinion had 15 points, eight rebounds and five assists. Julian Brockman grabbed eight rebounds.
Gavin Vaughn, who had three 3-pointers, led the Panthers with 13 points. Ryan Crocker had 12 points. One of Vaughn's 3-pointers was the only team's points during the second quarter.
"We need to get Ryan going earlier in the game," Riley said. "We need players to play more aggressive on offense. It looked like we were intimidated at times. We must learn it doesn't matter the name on the back of the jersey or where he might be going to college."
After a couple of lead changes during the opening minutes, Ladd Choate hit a 3-pointer and started a 7-0 scoring run. Crocker and Parker Brown each made field goals as the Panthers pulled ahead, 9-4.
Morrilton responded with an 8-0 run to regain the lead. Roderick Fordren began the charge with a field goal, followed by Dylan Fondren's free throw. Mosley then scored off an offensive rebound to tie the game at 9-9. The Devil Dogs took the lead on Brockman's 3-pointer. Morrilton increased lead to five points on Markel Swinton's field goal.
Heber Springs stayed close and pulled to within 18-16 by the end of the first quarter on Vaughn's 3-pointer.
The Panthers took the lead for the final time when Vaughn connected from behind the arc early in the second quarter. The Devil Dogs controlled the remainder of the first half by scoring 10 unanswered points for a 28-19 halftime lead.
Morrilton, who led by as much as 16 points, outscored Heber Springs 16-11 during the third quarter and built a 44-30 lead going into the fourth quarter.
The Panthers will play their next two games on the road, beginning with Dardanelle on Friday. Heber Springs will travel to Clarksville on Tuesday.
"Dardanelle is going to be a very tough game," Riley said. "They beat Morrilton (in overtime at Dardanelle). We need to bring our 'A' game. We will do our best to play at our pace and move forward."
Heber Springs' next home game will be against Pottsville on Jan. 14.
Morrilton           18 10 16 16-60
Heber Springs  16   3  11  8 -38
MORRILTON SCORING (60):  Ja Corey Mosley 26, Joseph Pinion 15, Julian Brockman 8, Markel Swinton 8, Roderick Fordren 2, Dylan Fondren 1.
HEBER SPRINGS SCORING (38): Gavin Vaughn 13, Ryan Crocker 12, Parker Brown 8, Ladd Choate 3, Eli Riggs 2.