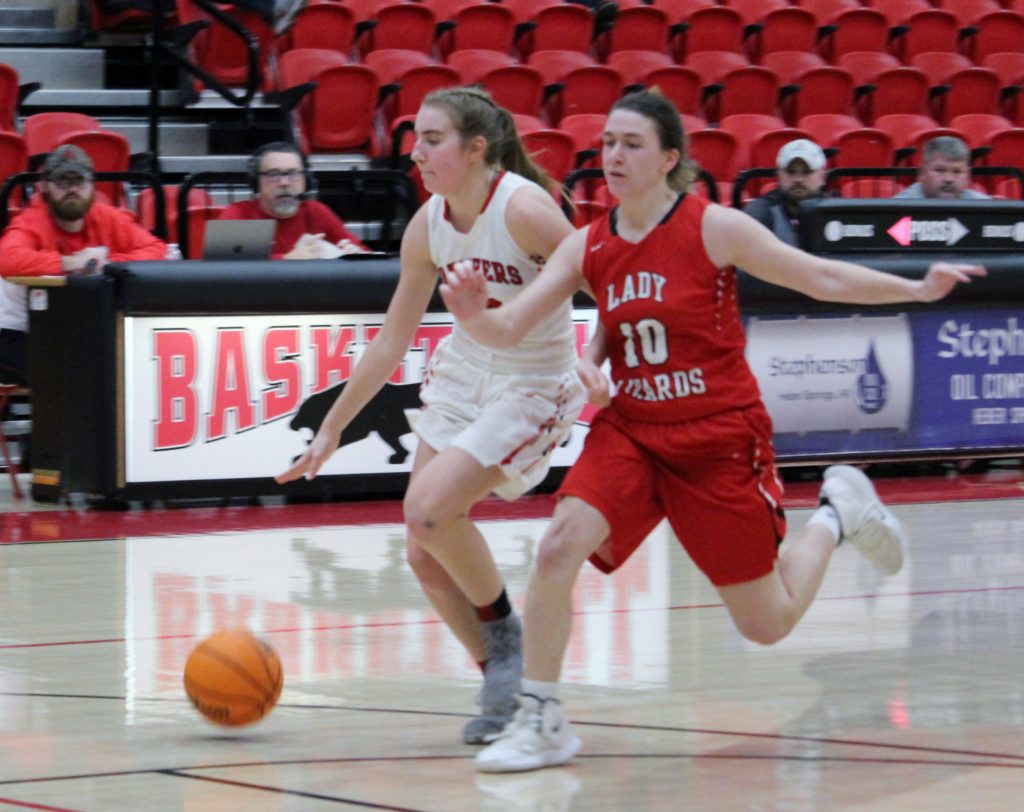 January 14, 2020
By LARRY "SCOOP" McCARTY
It didn't take long for the Heber Springs Lady Panthers to establish control against Dardanelle at the Panther Den Tuesday.
Libby Stutts and Ashley Spanel each made 3-pointers during the opening two minutes as the Lady Panthers coasted past Dardanelle 47-29 in a 4-4A Conference basketball game.
Heber Springs (3-1 in conference, 12-5 overall) built a 15-0 lead by the end of the first quarter.
Dardanelle (0-4 in conference, 2-16 overall) didn't score until 5:21 remaining in the first half.
The Lady Panthers led 29-8 at halftime and took a 38-14 lead into the fourth quarter.
Stutts paced a balanced Heber Springs attack with 13 points. Jillian Herring scored nine points and Spanel had eight points.
Abby Apple led Dardanelle with eight points.
"Dardanelle is not having a good year, but it can play and make the game ugly," Heber Springs coach Jamey Riddle said. "I'm glad we played with a lot of intensity to start the game. The players knew Dardenelle's record, but they didn't play that way against them. We made more shots than our last game. We did a good job of running our offenses."
Riddle said the team improved in two areas from previous games.
"We did a better job of rebounding and played good defense by holding them scoreless in the first quarter and eight points for the first half," he said. "We used different presses to speed the game up. We wanted to keep the ball from getting inside."
Riddle said Spanel's shooting was a pleasant surprise.
"We don't rely on Ashley to score a lot of points, but she is capable of making shots," he said. "It was good to see her do that."
Heber Springs will face one of its toughest challenges this season by playing conference leader Clarksville (5-0 in conference, 9-9 overall) on the road at 6 p.m. Friday.
"We welcome the opportunity to upset a team at the top of the conference standings," Riddle said. "We can do that if we will play with the same intensity against Dardanelle."
HEBER SPRINGS 47, DARDANELLE 29
Dardanelle     0  8 6 15 - 29
Heber Springs 15 14 9  9 - 47
DARDANELLE SCORING (29): Abby Apple 8, Grace Eidson 5, Anette Navarrete 4, Elizabeth Flores 4, Brooklyn Tidwell 3, Whitley Catlett 3, Ellie Stokes 1.
HEBER SPRINGS SCORING (47) Libby Stutts 13, Jillian Herring 9, Ashley Spanel 8, Mary Shearer 6, Ellie Riddle 4, Claudia Newberry 5, Lili Chaney 1, Brandy Meredith 1.

JANUARY 9 BOXSCORE
HEBER SPRINGS 70, NEWPORT 51
Heber Springs 25 12 15 18 - 70
Newport       11 12 16 12 - 51
HEBER SPRINGS SCORING (70): Jillian Herring 16, Libby Stutts 13, Ashley Spanel 10, Claudia Newberry 9, Ellie Riddle 8, Mary Sherear 6, Kylie Carr 4, Olivia Norton 4
NEWPORT SCORING (51): Jerikah Balentine 10, Kianna Fite 9, Maci Cagle 8, Alicia Neal 7, Hilda Price 5, Taniya Keener 4, Jakayla Dixon 2, Lindsey Marlar 2, Lucy Hernandez 2, Jiniekqua Rackley 2 
4A-4 STANDINGS
                 Conference Season
Clarksville          5-0      9-9
Morrilton            4-1     11-5
Heber Springs        3-1     12-5
Pottsvile            2-2      8-6
Dover                1-3     10-7  
Dardanelle           0-4      2-16
Ozark                0-4     12-5
HEBER SPRINGS SENIOR GIRLS 
2019-2020 SCHEDULE/RESULTS
RECORD: 12-5
4A-4 RECORD: 3-1
November 12 - Heber Springs 55, Nemo Vista 31
November 19 - Heber Springs 70, South Side Bee Branch 45
November 21 - Heber Springs 67, Riverview 27
November 26 - Heber Springs 56, Clinton 54 (OT)
December 3 - Conway St. Joseph 47, Heber Springs 44 #
December 5 - Heber Springs 53, South Side Bee Branch 34 #
December 7 - Heber Springs 44, Wonderview 43 #
December 10 - Heber Springs 59, Dover 56 ^
December 13 - Marshall 70, Heber Springs 52
December 16 - Heber Springs 51, White County Central 31
December 20 - Heber Springs 55, Ozark 42 ^
December 26 - Heber Springs 70, DeWitt 34 *
December 27 - Pea Ridge 49, Heber Springs 44 *
December 28 - Mayflower 58, Heber Springs 37 *
January 7 - Pottsville 49, Heber Springs 45 ^
January 9 - Heber Springs 70, Newport 51
January 14 - Heber Springs 47, Dardanelle 29 ^
January 17 - at Clarksville ^
January 21 - Morrilton ^
January 24 - Dover ^
January 28 - at Pottsville ^
January 31 - at Ozark ^
February 4 - at Dardanelle ^
February 11 - at Morrilton ^
February 14 - Clarksville (Senior Night) ^
February 17 - 4A-4 District at Dardanelle

(# - Denotes Conway St. Joseph Tournament)
(^ - Denotes 4A-4 conference contest)
(* - Denotes Steve Landers' Cowboy Chevrolet Holiday Tournament at Heber Springs)