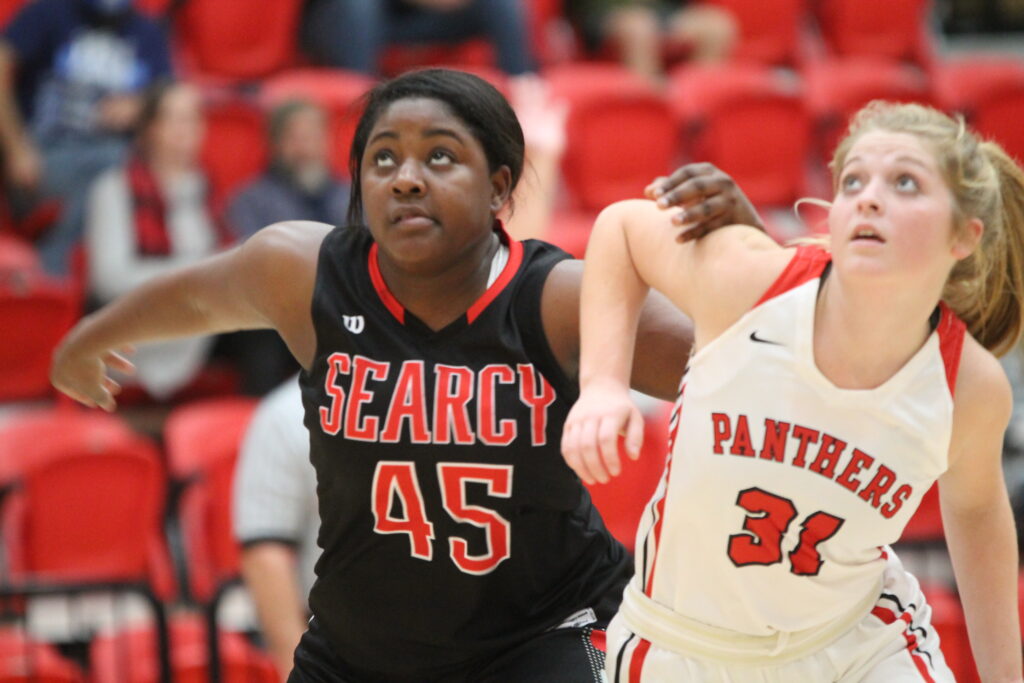 By LARRY "SCOOP" McCARTY
Trailing by 16 points midway through the second quarter didn't discourage the Heber Springs Lady Panthers for long.
The Lady Panthers trailed 28-12, reduced Searcy's lead to nine points by halftime and four points going into the fourth quarter. Heber Springs tied the game twice during the final minutes, but fell to the Lady Lions 58-54 in a non-conference basketball at the Panther Den Tuesday.
The loss ended a four-game win streak for the Lady Panthers.
Heber Springs' Ellie Riddle made two free throws and tied the game at 51-51 with 3:13 left. Madison Clemons made a 3-pointer and tied the game at 54-54 with 1:01 remaining. Ashria Brown put Searcy ahead to stay 55-54 with 39 seconds to play.
"We finally started to make shots," said Heber Springs coach Jamey Riddle when asked what triggered the second-quarter turnaround. "We capitalized on rebounds, slow down our offense and got better shots. We tied the game, but turnovers prevented us from taking the lead."
Naliyah Hadley led Searcy's attack by scoring 13 points. Ashria Brown had 11 points. Hailey Bresnahan came off the bench for the Lady Panthers and scored a game-high 17 points. Jaylee Hooten added 14 points.
"Searcy played more physical during the first half, and we came back and played more physical during the second half," Riddle said. We can't start games like that and win."
Searcy dominated the first quarter and built an 18-8 lead. The Lady Lions increased the lead to 16 points before Heber Springs started its comeback. The Lady Panthers went on a 12-5 scoring run and trailed 33-24 at halftime.
Heber Springs (6-4) closed the gap by outscoring Searcy 19-10 and trailed 47-43 going into the fourth quarter.
Riddle said Bresnahan, who missed the second half of last season with knee surgery, continues to play well off the bench, and she was a major part of the comeback.
"Hailey is finding her rhythm," Riddle said. "She could become our third or fourth scorer (behind Ellie Riddle and Hooten). It came down to making plays at the end of the game. We need to learn from this game and move on."
Searcy 18 15 14 11–58
Heber Springs 8 16 14 11–54
Searcy scorers — Naliyah Hadley 13, Ashria Brown 11, Kendricka Turner 9, Olivia Robertson 9, Ashley Brown 7, Chelsea. Johnson 5, Blair Henry 4.
Heber Springs scorers — Hailey Bresnahan 17, Jaylee Hooten 14, Ellie Riddle 8, Sophie Stone 7, Madison Clemons 6, Kylie Carr 2.