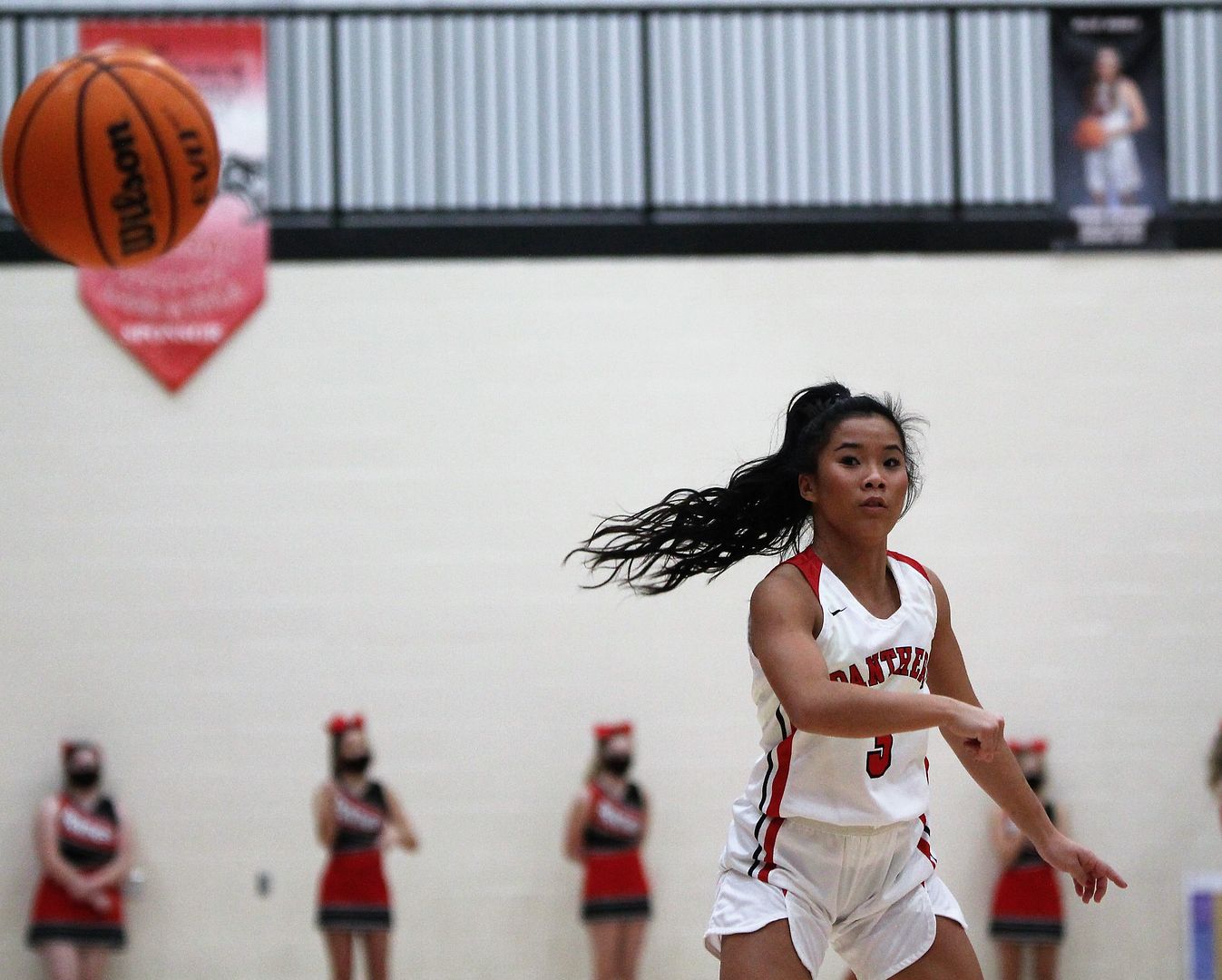 By LARRY "SCOOP" McCARTY
After a scoring marathon for 29 minutes, the Heber Springs Lady Panthers finally shut the door on Conway St. Joseph at the Panther Den Tuesday.
The Lady Panthers (5-3) went on an 11-2 run during the final three minutes and defeated St. Joseph 71-62 in a nonconference basketball game for their third straight win.
Heber Springs started the fourth quarter trailing 51-49 as the lead changed three times during the next five minutes. St. Joseph tied the game at 60-60 on Savannah Mooney's 3-pointer before the Lady Panthers made their move. Hailey Bresnahan broke the deadlock by hitting a jumper and seconds later, she made two free throws, and Heber Springs never trailed again.
"I knew the first team that got a couple of defensive stops was going to win," Heber Springs coach Jamey Riddle said. "We got deflections, rebounds and made shots. Our defense came through in a big way."
Jaylee Hooten scored a game-high 29 points for the Lady Panthers, followed by Sophie Stone with 14 points and Ellie Riddle had 12 points. Stone and Bresnahan, who combined for 23 points, led the charge late in the game.
"They (Stone and Bresnahan) are capable scorers and understand their roles," Riddle said. "They helped out the team in that situation."
Savannah Mooney led St. Joseph with 22 points. Lilly Hill contributed 15 points and Livi Williams added 12 points. Maggie Mooney scored 11 points.
"St. Joseph's shooting surprised us, but our defense didn't rotate quick enough to the right spot," Riddle said. "We didn't slow down their passes."
The two teams exchanged field goals during most of the first quarter. St. Joseph took a 16-14 before Hooten scored on an inside move and Riddle's jumper put the Lady Panthers ahead 18-16 with 1:11 left in the quarter.
Hill made 1-of-2 free throws and made a short jumper, giving the Lady Bulldogs a 19-18 lead going into the second quarter.
Heber Springs rallied for a 28-23 lead midway through the second quarter. The Lady Panthers maintained that margin and took a 35-30 lead into the dressing room at halftime.
St. Joseph took a 49-44 lead midway through the third quarter. The Lady Bulldogs survived Heber Springs' rally and led 51-49 going into the fourth quarter.
The Lady Panthers hope to continue the momentum from the win against Riverview in Searcy at 6 p.m. Friday.
"We have played a lot of homes games and Friday will be an opportunity to show we can win on the road," Riddle said. "Conference play is coming, and we need to learn how to win on the road. It will be a good test in preparing for the conference opener against Ozark, which had a great run late last season and returns experienced players."
Conway St. Joseph 19 11 21 11–62
Heber Springs 18 17 14 22–71
Conway St. Joseph scorers — Savannah Mooney 22, Lilly Hill 15, Livi Williams 12, Maggie Mooney 11, Chloe Skinner 2.
Heber Springs scorers — Jaylee Hooten 29, Sophie Stone 14, Ellie Riddle 12, Hailey Bresnahan 9, Melissa Clemons 4, Hope Turney 3.