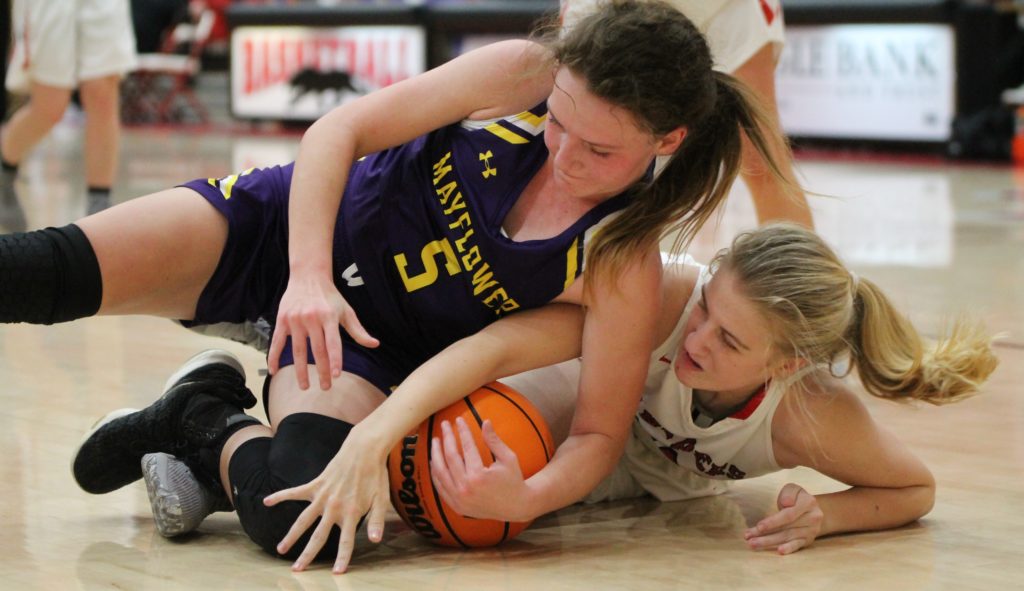 December 28, 2019
By LARRY "SCOOP" McCARTY
A week of no games may be coming at the right times for the Heber Springs Lady Panthers.
The Lady Panthers finished the Steve Landers Cowboy Chevrolet-Heber Springs Holiday Basketball Classic with a 58-37 loss in the third-place game to Mayflower at the Panther Den Saturday.
Heber Springs (10-4) started the tournament with a win against DeWitt before Friday's loss to Pea Ridge in the semifinals. The Lady Panthers will not play again until resuming 4-4A Conference play by hosting Pottsville on Tuesday.
"We played fairly well in the first tournament game, played well in the second game until a bad fourth quarter," Heber Springs coach Jamey Riddle said. "It seemed we didn't get over Friday's loss."
Heber Springs had a good start and stayed close throughout the first quarter. The Panthers trailed 8-7 midway through the quarter and took a 9-8 lead on Libby Stutts' field goal. Mayflower then seized control and outscored Heber Springs 9-4 for a 17-13 lead going into the second quarter.
Ellie Riddle, who led the Lady Panthers with 21 points, made two jump shots and 1-of-2 free throws to reduce Mayflower's lead to 19-18.
Kamiah Turner, who also had 21 points for Mayflower and playing with a broken nose, scored on an inside move and the Lady Eagles followed with a 6-1 scoring run and increased their lead to 27-19 by halftime.
Mayflower returned for the third quarter and maintained control with a 13-9 scoring run and led 40-28 going into the fourth quarter.
"We didn't shoot well and forced a lot of shots," Jamey Riddle said. "Mayflower played well, especially the big post girls, and got good guard play. We didn't do that."
Shooting will become one of the areas the team will work on in practice, but Riddle said rebounding must improve.
"We need Ellie to play that way, but our rebounding must get better and that is one of her roles," he said.
Riddle believes the extra practice time will benefit the team as it prepares to resume conference play.
"Sometimes coming off a tough loss and a game you didn't play well, practices are what you need," he said. "We need to get back into the gym and work on things."
Heber Springs is 2-0 against conference teams and will play one of the contenders for its next game.
"It's conference games for the remainder of the season," Riddle said. "Pottsville is one of the top teams. We can't play this way against them. We need to play like the first three quarters against Pea Ridge."
HEBER SPRINGS SENIOR GIRLS 
2019-2020 SCHEDULE/RESULTS
RECORD: 10-4
4A-4 RECORD: 2-0
November 12 - Heber Springs 55, Nemo Vista 31
November 19 - Heber Springs 70, South Side Bee Branch 45
November 21 - Heber Springs 67, Riverview 27
November 26 - Heber Springs 56, Clinton 54 (OT)
December 3 - Conway St. Joseph 47, Heber Springs 44 #
December 5 - Heber Springs 53, South Side Bee Branch 34 #
December 7 - Heber Springs 44, Wonderview 43 #
December 10 - Heber Springs 59, Dover 56 ^
December 13 - Marshall 70, Heber Springs 52
December 16 - Heber Springs 51, White County Central 31
December 20 - Heber Springs 55, Ozark 42 ^
December 26 - Heber Springs 70, DeWitt 34 *
December 27 - Pea Ridge 49, Heber Springs 44 *
December 28 - Mayflower 58, Heber Springs 37 *
January 7 - Pottsville ^
January 9 - at Newport
January 14 - Dardanelle ^
January 17 - at Clarksville ^
January 21 - Morrilton ^
January 24 - Dover ^
January 28 - at Pottsville ^
January 31 - at Ozark ^
February 4 - at Dardanelle ^
February 11 - at Morrilton ^
February 14 - Clarksville (Senior Night) ^
February 17 - 4A-4 District at Dardanelle

(# - Denotes Conway St. Joseph Tournament)
(^ - Denotes 4A-4 conference contest)
(* - Denotes Steve Landers' Cowboy Chevrolet Holiday Tournament at Heber Springs)