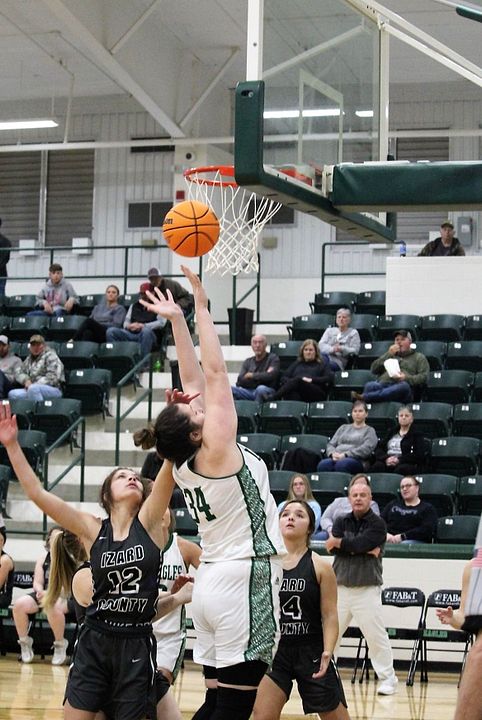 By LARRY "SCOOP" McCARTY
GREERS FERRY — The West Side Lady Eagles, playing without one starter, overcame a slow start before seizing control in a 52-15 win against Izard County Consolidated at Brady-Hipp Arena on Friday.
West Side (2-0 in 2-1A Conference, 4-3 overall) won its second conference game and hope to maintain the momentum. Shawna Carlton scored 13 points for the Lady Eagles, while Alyssa Smith had 10 points. Katie Orf led the Lady Cougars with six points.
"It was homecoming and they came out fired up and ready to play," West Side coach Megan Berry said. "We were nervous in the beginning with Ashtyn Knapp (ankle injury) out because of an injury. Once we got going, the girls played well."
Smith made two free throws and a three-point play by Carlton gave the Lady Eagles a 5-3 lead early during the first quarter. Orf made a 3-pointer for Izard County before West Side went on a 12-2 scoring run and took a 17-5 lead going into the second quarter.
The Lady Eagles held Izard County scoreless for the remainder of the first half. West Side scored 19 points and led 36-5 at halftime.
A 12-5 third-quarter run helped the Lady Eagles to a 48-10 lead going into the final eight minutes.
West Side is playing at the Clinton tournament this week.
Izard County 5 0 5 5–15
West Side 17 19 12 4–52
Izard County Consolidated scorers: Katie Orf 6, Ava Lewis 4, Paislee Hightower 3, Tess Savell 2.
West Side scorers: Shawna Carlton 13, Alyssa Smith 10, Kortnee Finch 6, McKenna Bittle 6, Sarah Carlton 5, Sam Carder 5, Sidney Seveins 4, Katie Davis 3.