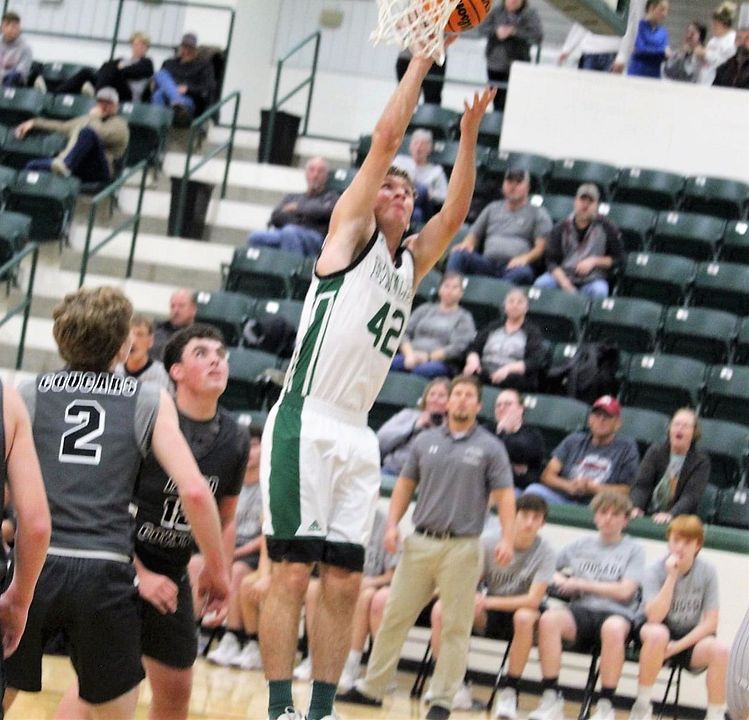 By LARRY "SCOOP" McCARTY
GREERS FERRY — The West Side Eagles kept its season record perfect and celebrated homecoming with an ugly win
Senior guard Travis Gentry scored a game-high 37 points and proved deadly at the free-throw line as the Eagles (2-0 in 2-1A Conference, 8-0 overall) defeated Izard County Consolidated 59-44 in a conference basketball game at Brady-Hipp Arena on Friday.
Gentry made four of West Side's 11 field goals (all 2-pointers) and sank 29-of-33 free throws. He missed his first four free throws during a foul-plagued fourth quarter and hit his next 15 attempts. Brenten Knapp scored 11 points.
Gunner Gleghorn led the Cougars with 14 points. Denton Reiley had 12 points while Jude Everett contributed 11 points.
"It's good to start the conference at 2-0, but we have not played our best yet," West Side head coach Keith Brown said. "You don't want to play your best during November. It was an ugly game, but both teams played hard. We will have to play much better in future games."
The game was marred by three technical fouls against Izard County, two assessed on Cougar head coach Kyle McCandlis. The first technical against McCandlis came during the second quarter and the second technical late in the third quarter that led to his ejection. A third technical foul was assessed to a player — an Izard County fan also was ejected by the officials following McCandlis' second technical foul.
The Eagles, who had struggled at the free-throw line this season, made 37-of-47 attempts. Izard County made 10-of-12 free throws. Three Cougars fouled out during the fourth quarter.
"I'm proud how we held our composure, especially during the fourth quarter," Brown said. "Izard County is a good team. We started the game slow, but later found a way to win the game like a good team does. We had been struggling at the free-throw line, but we made a lot of free throws during the fourth quarter."
Izard County held the lead during most of the first quarter. The Cougars maintained the momentum and took a 12-11 lead into the second quarter.
West Side claimed a 14-12 lead before the first technical foul against McCandlis. Gentry sank the two free throws and the Eagles never trailed again. West Side led 21-16 at halftime and outscored Izard County 14-6 during the third quarter for a 35-22 lead.
"It is going to be a tough conference race again with good teams," Brown said. "Homecoming caused some distractions, but we played good enough to win."
The Eagles are participating at the Clinton tournament this week.
Izard County 12 4 6 22–44
West Side 11 10 14 24–59
Izard County Consolidated scorers: Gunner Gleghorn 14, Denton Reiley 13, Jude Everett 11, Landon McBride 6.
West Side scorers: Travis Gentry 37, Brenten Knapp 11, Zack Birmingham 7, Asa Carr 3, Kirby Cothren 1.
Help support local and independent journalism by donating today.