Quitman, Melbourne to tangle in Hot Springs for championship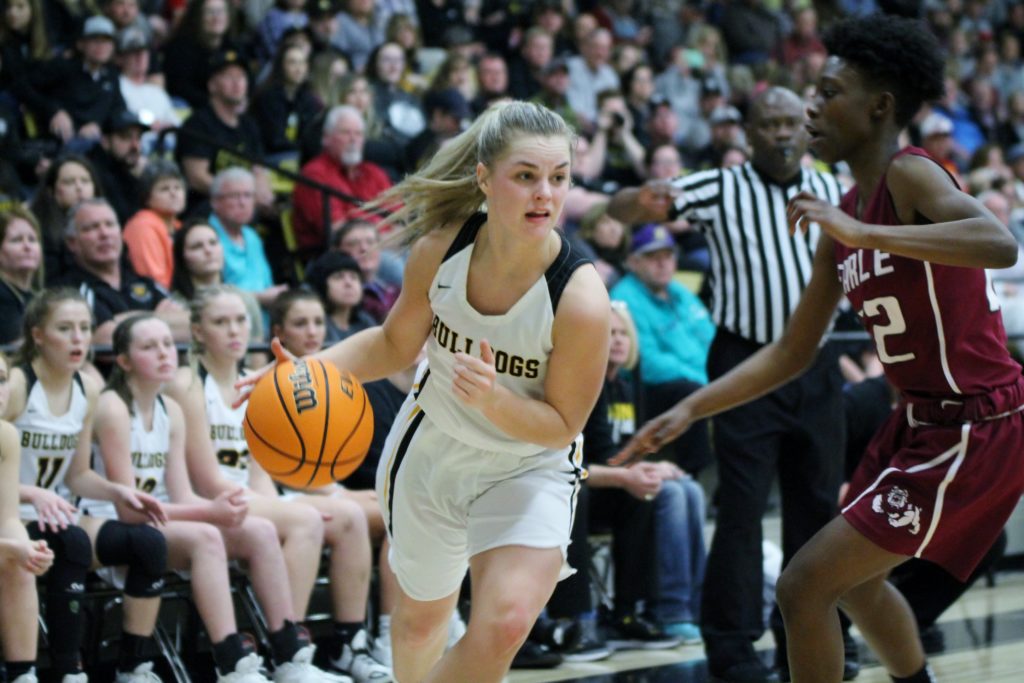 March 12, 2020
By LARRY "SCOOP" McCARTY
QUITMAN — Playing for the Class 2A state championship is becoming  an almost every year event for the Quitman Lady Bulldogs.
The Lady Bulldogs, who advanced for the third time in the last four seasons, will play defending state champion Melbourne at 6 p.m. Thursday in the state final at the Bank OZK Arena.
Quitman (30-3) defeated Hector in the 2017 final and lost to Earle in 2018. Melbourne (33-2) won last year's championship with a win against Riverside.
"This will be different from last week as we must wait almost a week to play," Lady Bulldog coach Tim Hooten said. "Sometimes, it's anticlimactic,  but we have to build back to last week's level of play."
Quitman lost to Melbourne 59-43 in November, but Hooten said that game will not affect Thursday's matchup.
"We are aware of how good Melbourne's posts are and they are two players deep at all five positions," Hooten said. "We have quickness and speed, and hope to take advantage of it. We are a different team and not look back at the last time we played Melbourne. Records are meaningless now. It's a one-game season."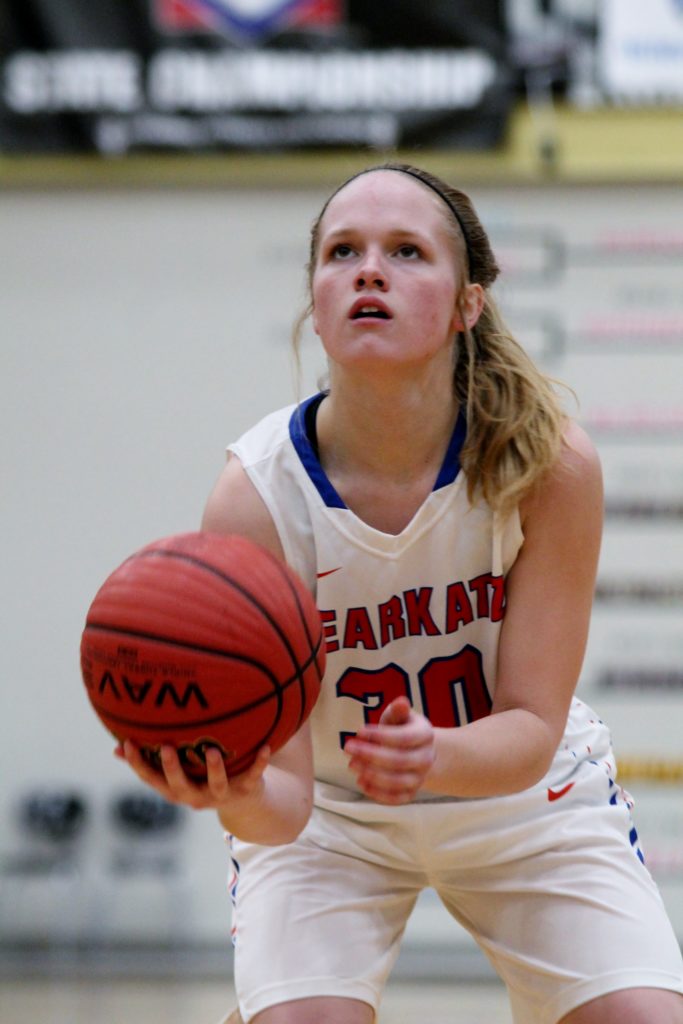 Sophomore Kenlee McCarn is one of the Melbourne players to watch, along with Jenna Lawrence. Kiley Webb runs the show at point guard. Josie Roark and Halle Weaver round out the starters.
"There is a lot of excitement," Melbourne head coach Eric Teague said when asked about the atmosphere since Saturday's semifinal win against Des Arc. "Winning the state tournament last year was exciting. It has been a tough year and we got every team's best shot. We are excited about Thursday's (today) game against Quitman."
Melbourne has won 23 consecutive games with the last loss to  Classen SAS from Oklahoma City in December. The Lady Bearkatz' other loss came to Class 6A Bentonville, also in December. Melbourne averages 59 points a game and held opponents to 37 points.
"Defense is the strongest part of our team," Hooten said. "We will use a full-court press and try and not let them get down the floor easily. We don't have the size to battle inside. We will rely on  our speed and quickness."
Teague expects a tough game and hopes playing for the second straight year in the state final will benefit the Lady Bearkatz.
"We hope to be more settled than last year," he said. "Quitman has a great team and is the hottest team right now in Class 2A."
Quitman, which has won five regional tournament titles, will put a nine-game winning streak on the line. The Lady Bulldogs' last loss came at home to Mount Vernon-Enola. Quitman lost to Melbourne and Mountain View in November.
Who wins the 2A Girls State Title
Melbourne (57%, 4 Votes)
Quitman (43%, 3 Votes)
Total Voters: 7

Loading ...
Senior guards Autumn Johnson and Halle Bennett start on the perimeter, with sophomore Taylor Hooten at point guard. Seniors Lucy Holland and Carson Rackley are the posts.
Holland said the team is confident and the earlier loss to Melbourne was forgotten a long time ago.
"You can't go into a game scare about what happened last time," she said. "Every game is new. "Our past state tournament experience will help because we know what it is like to win and also know what it is like to lose it. The nerves will still be there, but we don't want to lose again."
Rackley also agreed that the Lady Bulldogs will be ready for the matchup against Melbourne.
"I didn't even score in that game and expect to play better," she said. "Playing Melbourne once helped in preparation, but the disadvantage for them is we won't play the same way as last time. We know what we must do to win."
Quitman's team average almost mirror Melbourne. The Lady Bulldogs average 60 points and held their opponents to 38 points.
Hooten said one of the keys for Quitman will be how effective it can make outside shots.
"We must have a good outside shooting game," he said. "They are so big inside, but we are going have to score some on the inside. If we do that, it will help keep the game closer and puts us in position to win."
Teague agreed that the game will be determined the outcome of Quitman's speed against Melbourne's size.
"We must protect the ball and not turn it over against Quitman's fullcourt press," he said. "We also must limited Quitman to one shot. We need to slow them down and not let them overwhelm us with their speed."
Quitman won two championships in other sports last year, and Hooten hopes it carries over to the school's second basketball title.
"These girls work to win in every sport," he said. "We won the state cross country championship and the last two softball titles. Winning can become a habit. They know what it takes to win."
CLASS 2A SENIOR GIRLS STATE CHAMPIONSHIP CAPSULE
QUITMAN (30-3) VS MELBOURNE (33-2)
WHEN: 6 p.m. tonight 
WHERE: at Bank OZK Arena in Hot Springs
TELEVISION: PBS (Statewide over the air, cable). Pregame 5:57 p.m. Tipoff 6:05 p.m.
RADIO: KABZ 103.7 "The Buzz: (Statewide). Listen Live Link
MELBOURNE BEARKATZ
STATE TITLES (2): 1973, 2019
COACH: Eric Teague
PROBABLE STARTERS: Guard Kenley McCarn (5-9, Sophomore), Guard Kiley Webb (5-3, Junior), Guard Josie Roark (5-6, Junior), Guard Halle Weaver (5-6, Junior) Forward Dani Hardaway (5-7, Senior) and/or Post Jenna Lawrence (6-2, Freshman)
HOW THEY GOT HERE: Melbourne downed Fordyce (67-27), Bigelow (54-38) and Des Arc (68-54) at 2A state tournament in Quitman to advance to finals  
BEARKATZ NOTES: Melbourne is the defending 2A state champion and on a 23-game winning streak ... Lost three key players off last season's championship team in seniors Halle Cooper and Shelby Morris, and 2019 state title game most valuable player Reagan Rapert, who transferred to Union, Missouri, for her junior season ... Melbourne defeated Quitman, 59-43, in the semifinals of the Clinton First Service Bank Tournament on November 21. The Bearkatz would defeat 6A Springdale Har-Ber for the title ... Melbourne's only losses this season were at Bentonville (55-31) on  December 21 and to Oklahoma City Classen SAS (62-40) on December 28 on a neutral floor ... The Bearkatz are 90-13 over the past three season (87.4 percent) and 39-2 in conference play over that same period ... Melbourne competes in 3A for football and 2A for other sports ... Melbourne also won the state overall title in 1973 (until that tournament was discontinued in 1992) ... Melbourne won both the 2A-3 conference and district titles ... has only two seniors on roster.
QUITMAN BULLDOGS
STATE TITLES (1): 2017
COACH: Tim Hooten
PROBABLE STARTERS: Guard Halle Bennett (5-4, Senior), Guard Autumn Johnson (5-4, Senior), Guard Taylor Hooten (5-3, Sophomore), Post Lucy Holland (5-8, Senior) and Post Carson Rackley (5-8, Senior) 
HOW THEY GOT HERE: Quitman defeated Hector (84-45), Marmaduke (71-37) and Earle (40-28) to punch ticket to today's title game. 
BULLDOG NOTES: Quitman is on a nine-game winning streak ... The Bulldogs only losses this season are at Mount Vernon-Enola (57-51) on February 11 to Mountain View (54-24) on November 22 and to Melbourne (59-43) on November 21 ... Quitman has eight seniors on the roster ... Quitman defeated Earle, 49-44, in the semifinals on its way to claiming the 2017 state title while the Bulldogs punched their ticket to the finals this season with a 40-28 win on Saturday, both of those wins came at Quitman ... Over the past five seasons, Quitman has won 88.8 percent of the games it has played. The Bulldogs have a record of 155-20 over that stretch, an average of 31 wins per season. They have also have a record of 61-2 in conference play over that same stretch, and won five district and five regional championships. On the biggest stage, the state tournament, Quitman is 12-3 in the state tournament with a state title in 2017 and a runner-up finish in 2018 ... The track team has also won a state championship in 2017, the cross country team has state titles in three consecutive seasons while the softball team is coming off back-to-back state titles ... Quitman competes in the 2A-5 North conference ... The Bulldogs are 2A members of all sports.