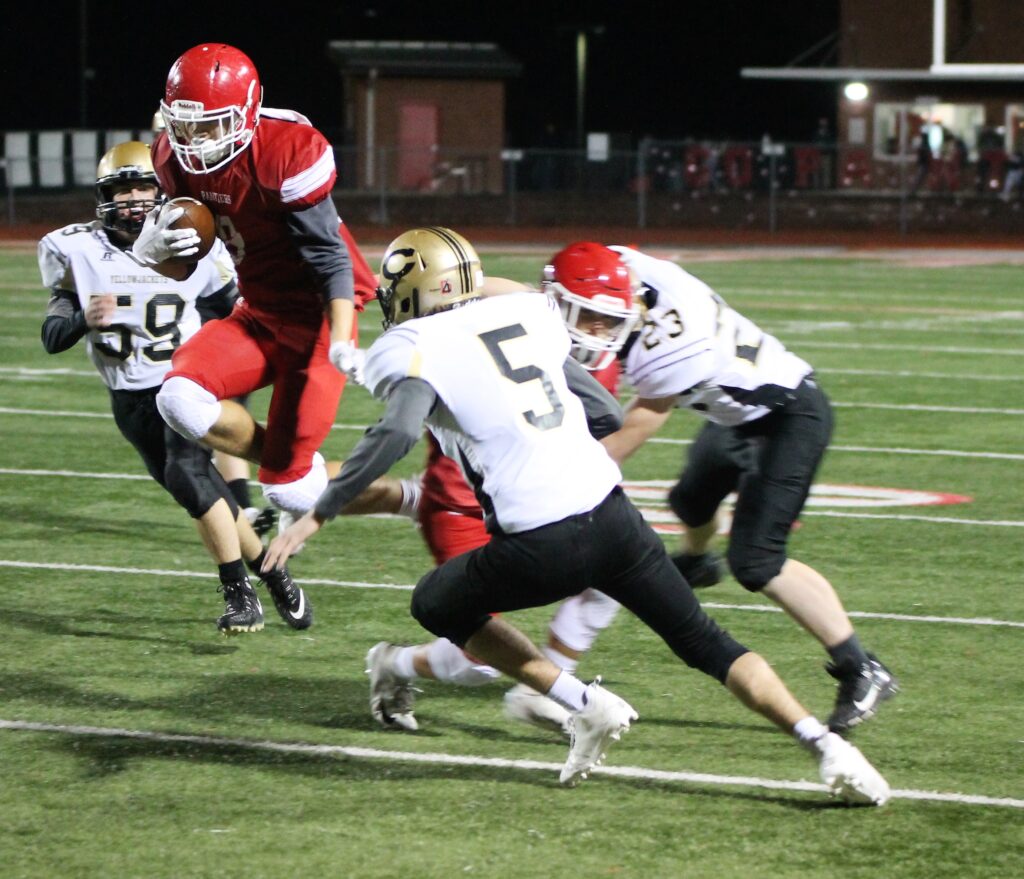 By PHILIP SEATON
Clinton scored 26 unanswered second-half points as Heber Springs fell to the Yellowjackets, 40-28, in the season finale for both teams at Panther Stadium on Thursday.
Heber Springs (6-2) led 21-14 at the half, and had appeared to stop Clinton (7-1) on a fourth-and-12 play from the Panther 38 on the Yellowjackets first possession of the second half, but a pass interference call went against the Panthers giving Clinton a fresh set of downs at the 23. Three plays later, Billy Standlee plunged in for a 2-yard score to make it 21-20 (the 2-point conversion was no good) with 4:10 left in the third quarter.
The Panthers were posed to respond with a score of their own after Liam Buffalo connected with Parker Brown on a 30-yard strike to move the ball to the Clinton 16. After a 13-yard run by Buffalo, the Panthers reached the Clinton 3 before two lost-yardage running plays and an incomplete pass forced a fourth-down play from the 8. Clinton's Zane Widener stepped in front of the Buffalo pass in the end zone and raced 101 yards to put Clinton up 26-21 with 1:51 to play in the third.
On the Panthers next possession, Widener again picked off Buffalo this time racing 65 yards for the score to make it 34-21 with 7:43 to play.
Buffalo, who passed for 1,787 yards and 22 touchdowns on the season, had another pass intercepted on Heber Springs' next possession by Standlee. Six plays later, Payton Sellers scored on a 23-yard run to push the Yellowjacket to 40-21.
On the ensuing kickoff, Brown — who has scored touchdowns by receiving, rush and interception return this season — added a kickoff return for a score when he raced 82 yards for the games final score.
Brown finished with 212 all-purpose yards while Widener had 277 all-purpose yards.
Buffalo was 21 of 34 passing for 239 yards and three touchdowns, all coming in the first half.
Buffalo's first strike to Weston Warden covered 14 yards and put Heber Springs up 7-0 with 4:48 remaining in the first quarter after Gideon Tate converted the PAT kick.
Heber Springs went up 13-6 when Buffalo connected with Dalton Yancey for 25-yard scoring strike with 6:05 left in the half.
Lindley's 18-yard scoring reception and Yancey's 2-point run put the Junior Panthers up 21-14 at the break.
CLINTON AT HEBER SPRINGS
Junior High Football
October 29, 2020
at Panther Stadium

Clinton          6   8  12  14 - 40
Heber Springs    7  14   0   7 - 28

FIRST QUARTER
Heber Springs, Liam Buffalo to Weston Warden 14-yard pass (Gideon Tate kick), 4:48
Clinton, Zane Widener 1-yard run (run failed), 40.9
SECOND QUARTER
Heber Springs, Buffalo to Dalton Yancey 25-yard pass (pass failed), 6:05
Clinton, Payton Sellers 3-yard run (Widener run), 2:29
Heber Springs, Buffalo to Xander Lindley 18-yard pass (Yancey run), 2:29
THIRD QUARTER
Clinton, Billy Standlee 2-yard run (run failed), 4:10
Clinton, Widener 101-yard interception return (run failed), 1:51
FOURTH QUARTER
Clinton, Widener 65-yard interception return (Widener run), 7:43
Clinton, Payton Sellers 23-yard run (pass failed), 3:25
Heber Springs, Parker Brown 82-yard kickoff return (Tate kick), 3:10

TEAM STATS
First Downs by Rush: Heber Springs 7, Clinton 11
First Downs by Pass: Heber Springs 11, Clinton 0
First Downs by Penalty: Heber Springs 1, Clinton 1
Total First Downs: Heber Springs 19, Clinton 12
Penalties: Heber Springs 8/70, Clinton 4/35
3rd-Down Conversions: Heber Springs 1/7, Clinton 6/9
4th-Down Conversions: Heber Springs 3/5, Clinton 2/2
Fumbles/Lost: Heber Springs 1/0, Clinton 1/0
Sacks/Yards Lost: Heber Springs 0/0, Clinton 0/0
Rush/Yards/Avg: Heber Springs 13/81/6.2, Clinton 38/222/5.8
Passing (A/C-Yards-TD/Int): Heber Springs 21/34-239-3/3, Clinton 2/2-20-0/0
Total Offense: Heber Springs 320, Clinton 242
Punts: Heber Springs 0/0, Clinton 1/26
INDIVIDUAL STATS
OFFENSE
Rushing: Heber Springs, Liam Buffalo 10/82, Xander Lindley 1/15, Weston Warden 1/(-5), Team 1/(-11). Clinton, Zane Widener 19/111/1, Payton Sellers 15/94/2, Billy Standlee 3/19/1, Dawson Maynard 1/(-2).
Passing: Heber Springs, Liam Buffalo 21/34-239-3/3. Clinton, Zane Widener 2/2-20-0/0.
Receiving: Heber Springs, Parker Brown 8/97, Xander Lindley 6/65/1, Weston Warden 3/36/1, Dalton Yancey 2/31/1, Hud Haggard 2/10. Clinton, Billy Standlee 2/20.
Kickoff Returns: Heber Springs, Parker Brown 3/115/1, Xander Lindley 1/14, Dalton Yancey 1/0, Chris Roberts 1/0. Clinton, Payton Sellers 1/0, Bryson Littell 1/0, Zayden Brainard 1/0.
Interceptions: Clinton, Zane Widener 2/166/2, Billy Standlee 1/0.
Total Offense: Heber Springs, Liam Buffalo 321, Xander Lindley 15, Weston Warden (-5), Team (-11). Clinton, Zane Widener 131, Payton Sellers 94, Billy Standlee 19, Dawson Maynard (-2).
All-Purpose Yards: Heber Springs, Parker Brown 212, Xander Lindley 94, Liam Buffalo 82, Weston Warden 31, Dalton Yancey 31, Hud Haggard 10. Clinton, Zane Widener 277, Payton Sellers 94, Billy Standlee 39, Dawson Maynard (-2).
DEFENSE
SACKS/YARDS LOST: None
PUNTS: Clinton, Zane Widener 1/26
INTERCEPTIONS: Clinton, Zane Widener 2, Billy Standlee 1
KICKING: Heber Springs, Gideon Tate (2/2 XP)