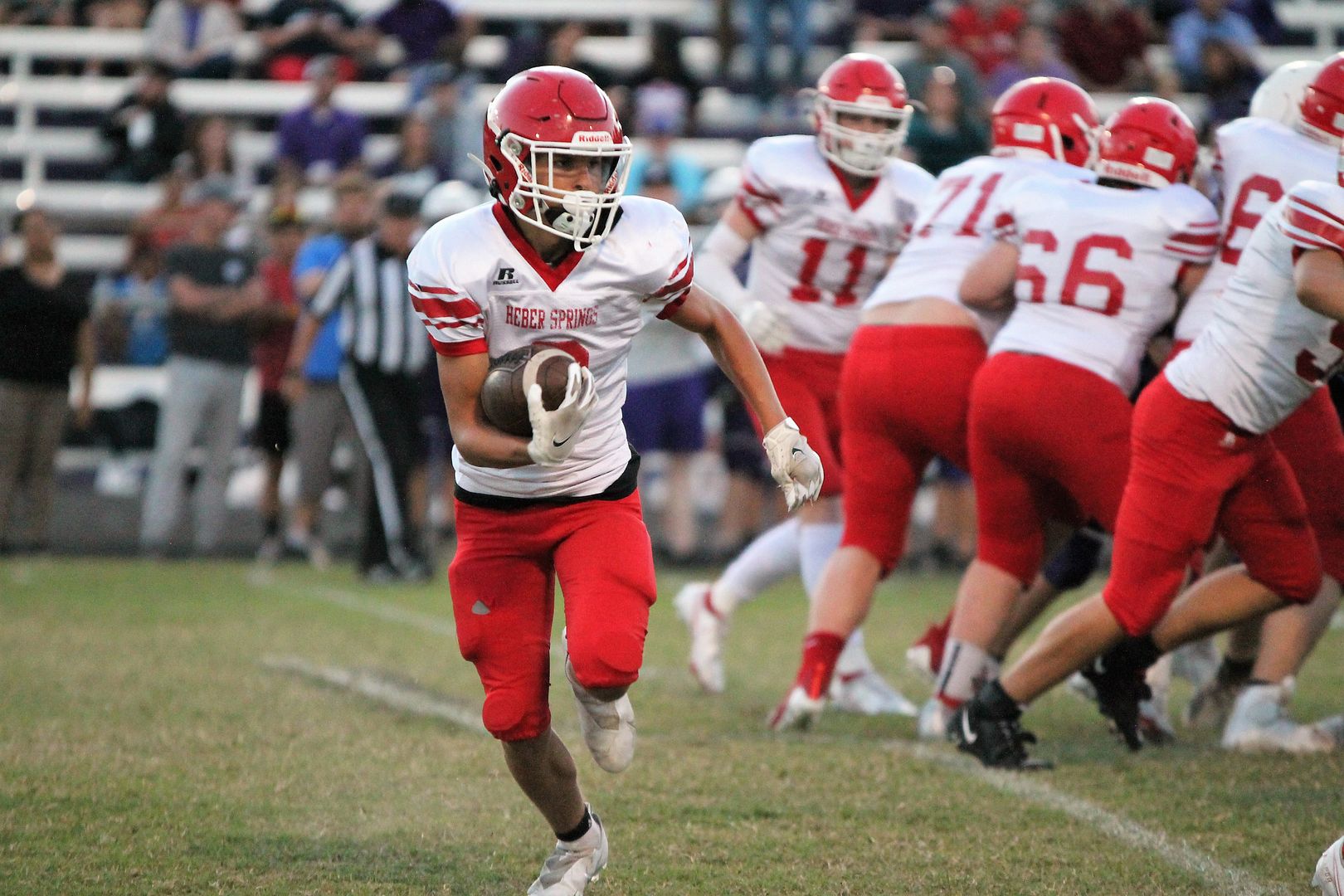 LONOKE – Heber Springs overcame a sluggish start to claim a 34-12 conference-opening victory over Lonoke Thursday night.
Liam Buffalo threw his first interception this season in more than 50 attempts, but that would be the only blemish for the ninth-grader on the night as he was 11 of 14 passing for 201 yards and two touchdowns. He also rushed for 95 yards and three touchdowns on seven attempts.
Weston Warden caught five passes for 124 yards and two touchdowns including a 23-yarder with 7:34 to play in the first half to tie the game at 6-6, and an 85-yarder on a screen pass that he took the distance to give the Panthers (3-1, 1-0) a 12-6 lead with 1:13 left in the half – a lead the Panthers wouldn't give up.
Lonoke (0-2, 0-1) struck first as Marquez Jackson took the opening kickoff 82 yards for a score to give the Jackrabbits an early 6-0 advantage.
The Panthers first drive was stalled thanks in part to a pair of 10-yard penalties and an interception by Lonoke's Tanner Starks.
Lonoke appeared to be driving for another score reaching the Heber Springs 28, but on third-and-3, Jacob McMullin threw Lonoke quarterback J.T. Stuart for a seven-yard loss to end the Jackrabbit momentum as a fourth-down pass play came up short.
The Panthers would then drive 74 yards on 10 plays to tie things up on the Buffalo to Warden 23-yard scoring pass.
Heber Springs held Lonoke on their next possession thanks in part to tackles for loss by Luke Elliott and Buffalo.
After a 33-yard punt by Stuart, Buffalo connected with Warden, who did the rest for the 85-yard score.
McMullin, who recovered three onside kick attempts on the night, covered the onside attempt at the Panther 48. Buffalo would race 52 yards for the score with 7:11 left in the third quarter. Buffalo would connect with Logan Rutledge for the 2-point conversion to make it 20-6.
On the ensuing kickoff, Jackson would strike again return the kickoff for 74 yards to make it 20-12.
Heber Springs would use a seven-play, 57-yard drive to respond as Buffalo capped the drive with a 13-yard scoring run to make it 26-12.
The Panthers added a fourth-quarter touchdown on a 5-yard run by Buffalo and a 2-point conversion by Buffalo to set the final score.
Heber Springs returns to action Tuesday night at Panther Stadium against Stuttgart.
HEBER SPRINGS AT LONOKE
SEPTEMBER 23, 2021 
Heber Springs   0  12  14   6 - 32 
Lonoke          6   0   6   0 - 12 
FIRST QUARTER 
L - Marquez Jackson 82-yard kickoff return (run failed), 7:47
SECOND QUARTER 
HS - Liam Buffalo to Weston Warden 23-yard pass (pass failed), 7:34
HS - Buffalo to Warden 85-yard pass (run failed), 1:13
THIRD QUARTER 
HS - Buffalo 52-yard run (Buffalo to Logan Rutledge pass), 7:11
L - Jackson 74-yard kickoff return (run failed), 6:59
HS - Buffalo 13-yard run (run failed), 3:45
FOURTH QUARTER 
HS - Buffalo 5-yard run (Buffalo run), 7:14
TEAM STATISTICS 
FIRST DOWNS: HS 15, L 5
RUSHES-YARDS: HS 21/161, L 21/33
PASSING YARDS: HS 201, L 34
TOTAL OFFENSE: HS 362, L 67
COMP-ATT-INT: HS 11-14-1, L 4-11-1
FUMBLES: HS 0, L 0
PENALITIES-YARDS: HS 6/40, L 0/0
PUNTS-AVERAGE: HS 0, L 1/33
INDIVIDUAL STATISTICS 
RUSHING: HS, Liam Buffalo 7/95, Lucas Garcia 6/49, Logan Rutledge 1/13, Carter Julian 1/7, Weston Warden 5/2, Team 1/(-5). Lonoke, D'Mar Eason 4/17, Marquez Jackson 5/14, J.T. Stuart 7/13, Will Payne 1/2, Alex Whiting 2/2, Dexter Rollason 1/(-4), Team 1/(-11).
PASSING: HS, Buffalo 11/14-201-2/1, Stuart 4/11-34-0/1
RECEVING: HS, Warden 5/124, Ty West 2/22, Julian 2/20, Seth Dudeck 1/27, Rutledge 1/8. L, Tanner Starks 1/22, Cameron Hooten 1/9, Jaden Mays 1/5, Payne 1/(-2).
KICKOFF RETURNS: L, Jackson 2/156, T.J. Terry 1/7.
PUNT RETURNS: None
INT RETURNS: HS, Caleb Carr 1/29. L, Starks 1/18
FUMBLE RETURNS: None
PUNTS: L, Stuart 1/33.
HEBER SPRINGS JUNIOR HIGH SCHEDULE
(All Games Start at 7 p.m.)
Aug. 26 – Heber Springs 32, Clinton 28
Sep. 09 – Harding Academy 36, Heber Springs 16
Sep. 16 – Heber Springs 26, Dover 12
Sep. 23 – Heber Springs 34, Lonoke 12 *
Sep. 28 – Stuttgart *
Oct. 07 – at Central Arkansas Christian *
Oct. 14 – Bald Knob *
Oct. 21 – at Southside Batesville *
Oct. 28 – at Clinton *
(* – Denotes Conference Contest)