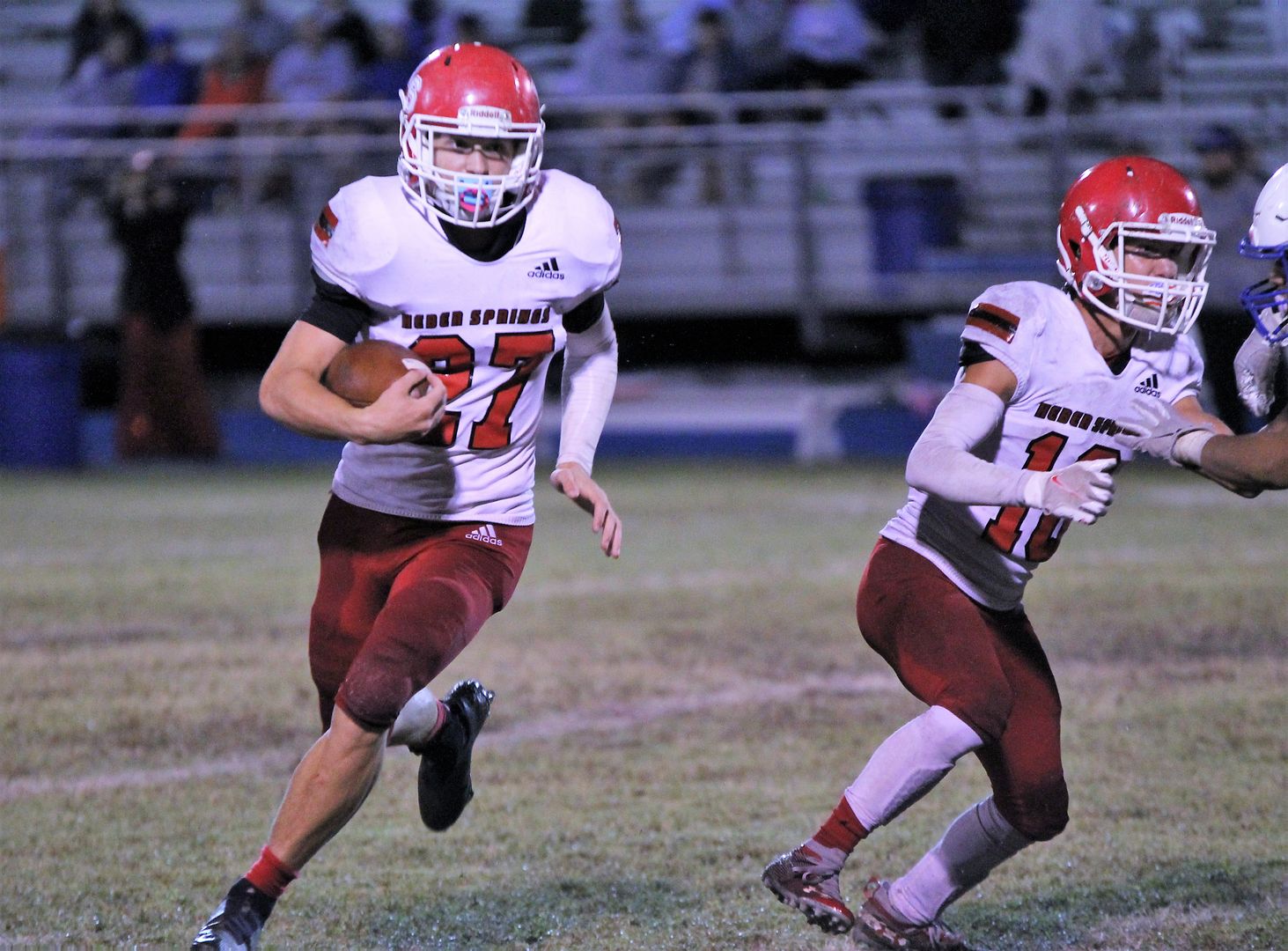 By LARRY "SCOOP" McCARTY
BALD KNOB — Sometimes the best play is not one in the playbook, and it worked for the Heber Springs Panthers against Bald Knob.
Parker Brown caught a 15-yard pass from backup quarterback Easton Cusick with 5.6 seconds left for a 14-7 win in a 2-4A Conference football game on the rain-soaked grass at Bulldog Stadium on Friday.
The touchdown completed a fourth-quarter rally and the first time Heber Springs won back-to-back games since the 2019 season.
The win moved the Panthers (2-2 in conference, 3-3) into a tie fourth place with Clinton and Little Rock Mills in the conference standings.
Bald Knob led 7-0 at the half and at the end of the third quarter.
The winning drive started at the Bulldog 38 with 2:19 left in the game. Bald Knob forced the Panthers into a fourth-and-2 at the 30-yard line. Cusick rolled to his left and connected on a 15-yard pass to Dalton Yancey for a first down at the 15-yard line.
After Cusick threw incomplete, he hit Brown in stride at the 1-yard line for the game winner.
"We wanted to spread the defense," Heber Springs coach Todd Wood said. "We decided not to try and kick a field goal because we were going into the wind. We made two adjustments on the play and asked Parker to run to the middle, and he did that perfectly. Cusick hit him in stride."
Parker caught the pass at the 1 and scored untouched.
"That was a great play call by coach Wood," Cusick said. "Parker cut inside and caught the ball. It was a beautiful play and worked out perfectly."
"We wanted to get it in the end zone," Brown said. "The coaches said we could do it by getting the ball to the middle of the defense."
Wood said Kenan Sneed's 48-yard interception return earlier in the fourth quarter switched the momentum. Sneed's score came with 10:02
"The game changed after Sneed's pick six," Wood said. "It gave energy to our team. We had turned the ball over on downs, but Sneed's pick turned the tide."
Bald Knob stopped Heber Springs on downs inside the Bulldog 30-yard line. Quarterback Leason Pierce's pass bounced off the chest of a Bald Knob receiver into the hands of Sneed.
"The (Bald Knob) offensive line stepped back and I read the play immediately," Sneed said. "The ball hit the player in the chest and popped into the air. I happened to be in the right place. I thought they would catch me and ran as fast as I could."
Cusick, who had been a starting wide receiver, completed 9-of-16 passes for 56 yards. He replaced Xander Lindley, who suffered a broken collarbone.
"Hats off to Easton," Wood said. "He took a few snaps in games and works at quarterback during practice. Easton came up to me on the sidelines and asked, 'Coach, let me have the ball and let me go.' I followed his lead, and he did a fantastic job."
Cusick, who was not sacked during the second half, admitted that he was nervous in the beginning, but felt more comfortable after halftime.
"It's more nerve wrecking in a game than in practice," he said. "The second half was more relaxing, and we were moving the ball. We pulled together, and I could not have done this without my teammates."
Sneed said the availability of a net helped Cusick and the team regroup at halftime.
"Easton kicked into a net during halftime inside the dressing room and also worked on passing. He was ready to play in the second half."
Bald Knob started in Heber Springs territory on all five first-half possessions — 43-, 18-, 19-, 30- and 29-yard lines. The Panthers, who had only one penalty for 5 yards, held the Bulldogs to 84 of its 191 yards of offense during the first half and forced three turnovers on the night.
Heber Springs was limited to 13 yards during the first half and 139 yards for the game.
Pierce, who rushed for a game-high 121 yards on 29 carries, needed only one play to put Bald Knob on the scoreboard. After a short punt into the wind, he scored on a 19-yard keeper with 9:01 left in the first half. Marcus McGahee kicked the extra point for the 7-0 lead.
The Bulldogs had an opportunity to increase the lead, but McGahee, with the wind at his back, missed a 45-yard field goal attempt with 52 seconds to go until halftime.
"Our defense kept us in the game during the first half," Wood said. "They understood the situation and did a fantastic job. We were in a situation when things were going against us and put our backs against the wall. But the players continued to fight."
Heber Springs will return home and play Southside Batesville, a 59-19 winner against Central Arkansas Christian, on Friday.
"It's a good feeling with back-to-back wins," Wood said. "Our guys understand we must take one game a time. Southside is very good team, and we will now focus on them."
HEBER SPRINGS AT BALD KNOB
October 15, 2021 
Heber Springs (3-3, 2-2)   0   0   0  14 - 14
Bald Knob (0-6, 0-4)       0   7   0   0 -  7 
SECOND QUARTER 
BK - Leason Pierce 20-yard run (Marcus McGahee kick), 9:07
FOURTH QUARTER 
HS - Kenan Sneed 48-yard interception return (Gideon Tate kick), 10:02
HS - Easton Cusick to Parker Brown 15-yard pass (Tate kick), :5.6
TEAM STATISTICS 
FIRST DOWNS: HS 11, BK 10
RUSHES-YARDS: HS 35/83, BK 44/177
PASSING YARDS: HS 56, BK 14
COMP-ATT-INT: HS 9-17-1, BK 2-7-2
TOTAL OFFENSE: HS 139, BK 191
FUMBLES: HS 1, BK 1
PENALITIES-YARDS: HS 1/5, BK 9/75
PUNTS-AVERAGE: HS 4/23, BK 2/37
INDIVIDUAL STATISTICS 
RUSHING: HS, Parker Brown 19/64, Easton Cusick 9/27, Kenan Sneed 1/4, Jackson West 1/3, Xander Lindley 4/(-5), Team 1/(-10). BK, Leason Pierce 29/121, Dane Lindsey 14/54, Team 1/2. 
PASSING: HS, Cusick 9/16-56-1/1, Lindley 0/1-0-0/0. BK, Pierce 2/7-14-0/2
RECEVING: HS, Austin Winchester 3/9, Dalton Yancey 2/24, Jackson West 2/11, Parker Brown 1/15, Chris Edwards 1/(-3). BK, Hunter Deflorian 1/13, Dane Lindsey 1/1. 
KICKOFF RETURNS: BK, Marcus McGahee 1/13, Langston Lindsey 1/7
PUNT RETURNS: None
INTERCEPTION RETURNS: HS, Kenan Sneed 1/48, Dalton Yancey 1/3. BK, Langston Lindsey 1/4
FUMBLE RETURNS: None
PUNTS: HS, Cusick 4/92, Chris Gomez 2/74.