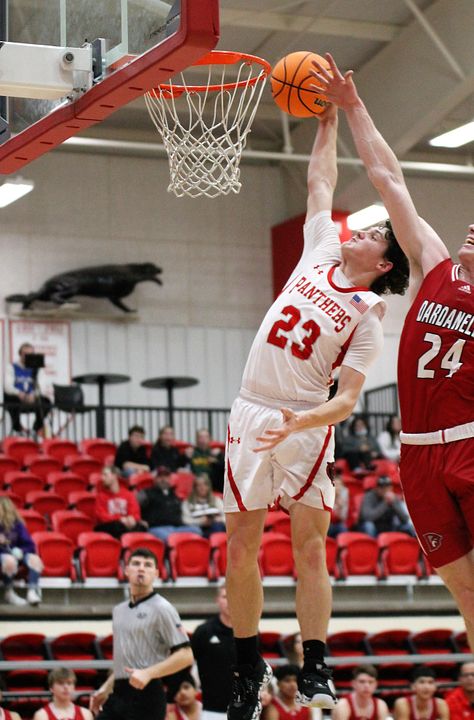 By LARRY "SCOOP" McCARTY
Heber Springs coach Jordan Riley issued a challenge to the Panthers minutes following Tuesday's 48-25 loss to Dardanelle at the Panther Den.
Despite the loss, the Panthers (3-7 in Conference 4-4A, 12-11 overall), trail fifth-place Pottsville (3-6 in Conference 4-4A, 9-12 overall) by one-half game. Heber Springs has two games remaining during the regular season, while the Apaches have three games left.
Heber Springs will host Clarksville (5-5 in Conference 4-4A, 10-11 overall) at 2 p.m. Saturday and play at Pottsville on Tuesday. Pottsville will play at Morrilton on Friday, with home games against Panthers on Feb. 8 and Ozark on Feb. 11.
The fifth-place team will avoid playing a play-in game at the conference tournament.
"We have a lot of basketball left to play," Riley said. "It's up to the players how this team will be defined after the season ends. The team already exceeded most expectations (of fans). They either will fizzle out or work hard and improve on offense and defense. Hopefully, we will fight, battle and finish the season strong."
Braden Tanner scored a game-high 21 points for Dardanelle (7-3 in Conference 4-4A, 14-7 overall). Robert Millard contributed 11 points. Gavin Vaughn led Heber Springs with seven points.
"Dardanelle did a good job of keeping us on the from the middle of the court," Riley said. "We were able to keep the ball in the middle of the floor and created more room for passes in the first game (a 45-42 loss at Dardanelle). We didn't do a very good job of protecting the ball in (Tuesday's) the game and shot poorly for the second straight game."
Parker Brown opened the game by converting a short jumper to give Heber Springs its only the lead during the game. Tanner made a 3-pointer and Chase Jordan's jumper and started a 17-4 run by the Sand Lizards. Brown scored again and Eli Riggs had a field goal, but Dardanelle maintained control and built a 17-6 lead going into the second quarter.
The Sand Lizards pulled away with a 10-3 second quarter scoring run and for a 27-9 halftime lead. Dardanelle took a 38-16 advantage into the fourth quarter.
Riley planned extra work on offense for Friday's game against Clarksville. The Panthers scored 46 points in two games this week.
"You can't win games when scoring in the 20s," he said. "We were taking good shots, but didn't make many. We will work on improving what we had been doing on offense.
Riley said the plan was to put pressure on Dardanelle's two shooters (Tanner and Millard, who combined for six 3-pointers 32 of the 48 points.
"We let those two guys loose on the perimeter and make multiple 3's," Riley said. "We dug a deep hole for ourselves. We played better defense during the second half, but it's tough when you are down by 18 points."
Riley expects his team to accept his challenge, starting with Clarksville.
"Clarksville is playing well," he said. "We will be ready to defend the Den and win. We need to win the next two games for a better tournament seed. I hope that is how the team will be defined during the remainder of the season, a team which fought until the end."
Dardanelle         17 10 11 10 -48
Heber Springs    6   3   7  9 -25
DARDANELLE SCORING (48): Braden Tanner 21, Robert Millard 11, Chase Jordan 7, Chris Wrinkle 6, Noah Weisenbach 2, Tyler Spencer 1.
HEBER SPRINGS SCORING (25): Gavin Vaughn 7, Hud Haggard 6, Parker Brown 4, Ladd Choate 3, Austin Winchester 3, Eli Riggs 2.