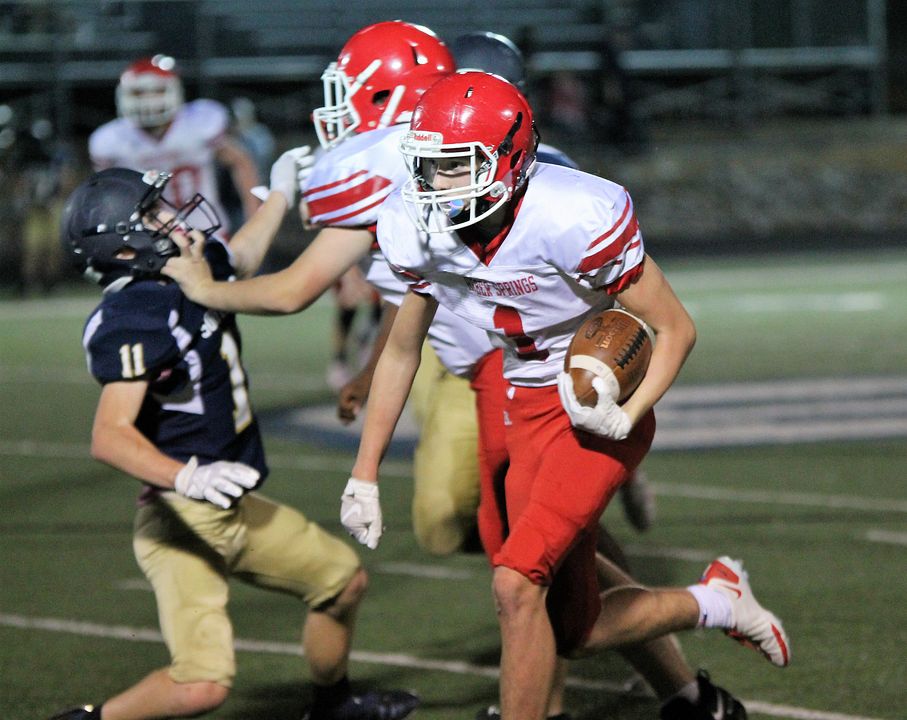 SOUTHSIDE BATESVILLE – Liam Buffalo passed for 231 yards and two touchdowns in helping lead the Heber Springs junior Panthers to their sixth win of the season Thursday night, 22-14.
Logan Rutledge had a career-high eight receptions for 114 yards and a touchdown and finished with 182 all-purpose yards, while Weston Warden had four receptions for 122 yards and a score for the Panthers.
Warden's score came on Heber Springs' second possession of the game when he took a pass from Buffalo and raced 55 yards for a touchdown. The score capped off a five-play, 95-yard drive, after the Panther defense held the Southerners on a fourth-down play on the Heber Springs 5-yard line.
Rutledge recovered a fumble on the ensuing onside-kick attempt by Heber Springs, but the Panthers' drive stalled at the Southside 24.
The Panther defense had another fourth-down stop, this time at the Heber Springs 1, but the Panthers couldn't muster a drive before punting it back to the Southerners.
Southside Batesville took over on the Panther 49 and four plays later, Cameron Foree connected with Brayden Simpson for a 24-yard touchdown. Foree scored on  the 2-point conversion to take an 8-6 lead with 1:23 left in the half.
Two plays later, Heber Springs responded when Buffalo found Rutledge for a 44-yard touchdown pass. Warden caught the 2-point pass from Buffalo to make it 14-8 with 50 seconds left in the half.
In the second half, the two teams traded possessions before Rutledge picked off a Foree pass and returned it 45 yards with 33 seconds to go in the third quarter.
Five plays later, Buffalo rambled 13 yards to for a insurance score for the Panthers. Seth Dudeck's 2-point pass reception made it 22-8 with 6:51 left.
Southside Batesville responded to the score by using a methodical time-consuming, 12-play, 68-yard drive to close the gap to 22-14 with 1:05 to play.
The Panthers recovered the onside-kick attempts and killed the clock to earn the win.
Heber Springs will close out its season Thursday night at Clinton. A win would give the Panthers the runner-up spot in the 2-4A behind Central Arkansas Christian.
HEBER SPRINGS AT SOUTHSIDE BATESVILLE
OCTOBER 21, 2021 
Southside Batesville      0   8   0   6 - 14 
Heber Springs             6   8   0   8 - 22
FIRST QUARTER 
HS - Liam Buffalo to Weston Warden 55-yard pass (pass failed), 4:03
SECOND QUARTER 
SS - Cameron Foree to Brayden Simpson 24-yard pass (Foree run), 1:23
HS - Buffalo to Logan Rutledge 44-yard pass (Buffalo to Warden run), :50
FOURTH QUARTER 
HS - Buffalo 13-yard run (Buffalo to Seth Dudeck pass), 6:51
SS - Louis Calhoun 4-yard run (run failed), 1:05
TEAM STATISTICS 
FIRST DOWNS: HS 11, SS 12
RUSHES-YARDS: HS 13/25, SS 33/197
PASSING YARDS: HS 231, SS 70
TOTAL OFFENSE: HS 256, SS 267
COMP-ATT-INT: HS 15-25-0, SS 4-11-1
FUMBLES: HS 0, SS 1
PENALITIES-YARDS: HS 5/46, SS 3/15
PUNTS-AVERAGE: HS 1/18, SS 1/35
INDIVIDUAL STATISTICS 
RUSHING: HS, Liam Buffalo 7/53, Carter Julian 1/4, Weston Warden 1/2, Cooper Holmes 2/(-2), Team 3/(-32). SS, Louis Calhoun 18/100, Caden Rowlett 4/42, Jonathan Powell 3/41, Brodee Vanwinkle 3/13, Andrew Plumber 2/3, Cameron Foree 3/(-2).
PASSING: HS, Buffalo 15/25-231-2/0. SS, Foree 4/11-70-1/1.
RECEVING: HS, Logan Rutledge 8/114, Warden 4/122, Holmes 3/(-5). SS, Rowlett 2/40, Brayden Simpson 1/24, Rowlett 1/6.
KICKOFF RETURNS: HS, Rutledge 1/23
PUNT RETURNS: None
INT RETURNS: HS, Rutledge 1/45
FUMBLE RETURNS: None
PUNTS: HS, Buffalo 1/18. SS, Payton Barnes 1/35
HEBER SPRINGS JUNIOR HIGH SCHEDULE
(All Games Start at 7 p.m.)
Aug. 26 – Heber Springs 32, Clinton 28
Sep. 09 – Harding Academy 36, Heber Springs 16
Sep. 16 – Heber Springs 26, Dover 12
Sep. 23 – Heber Springs 34, Lonoke 12 *
Sep. 28 – Heber Springs 42, Stuttgart 32 *
Oct. 07 – Central Arkansas Christian 30, Heber Springs 14 *
Oct. 14 – Heber Springs 26, Bald Knob 8 *
Oct. 21 – Heber Springs 22, Southside Batesville 14 *
Oct. 28 – at Clinton *
(* – Denotes Conference Contest)