4A Panthers battle 5A Eagles; Heber Springs opens with Clinton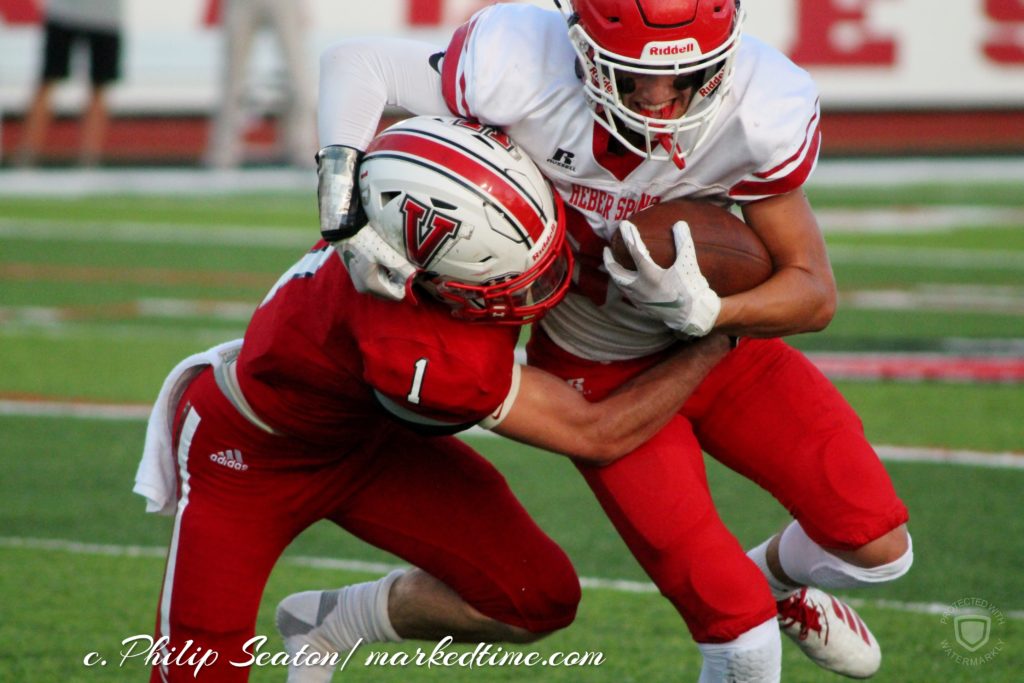 August 27, 2019
By Philip Seaton
VILONIA – Unofficially it was a 21-7 first-team loss to Vilonia in an Arkansas Activities Association benefit scrimmage on Tuesday at Phillip D. Weaver Stadium, but for Heber Springs coach Will Cox, he saw enough to come away happy with his teams performance.
"I thought there were some bright spots," Cox said. "We saw some guys step up and play."
Heber Springs finished with 202 yards of total offense in an abbreviated first half of play that saw the teams start at the 30-yard line without any kickoffs or punts.
Panther senior quarterback Adam Martin was 14-of-24 passing for 155 yards including a 7-yard touchdown pass to junior Matthew Cook right before the half to put the Panthers on the board. Returning all-conference performer Tri Johnson was Martin's favorite target with five receptions for 84 yards.
With all-state running back Blaze Nelson and his 2,000 yards plus rushing gone from last season, senior Landon Johnson took on the bulk of the load rushing eight times for 40 yards.
"You know what you are going to get with Landon," Cox said. "The effort you get on game day is the same effort you get every day. He's a guy that worked out twice every day during the offseason. You know what you are going to get with him. He's really reliable and he showed everybody else what we know about him."
While there were some bright spots, there were some things that Cox said his team needed to work on before they open their season against Clinton on Sept. 6 at home in the Battle of the Little Red.
Among those were some dropped passes that could have led to touchdowns and missed blocks on offense, and some missed tackles and bad angles on defense that lead to Vilonia pilling up 319 yards of total offense with the majority of those coming on a screen pass that turned into a 97-yard touchdown.
"It was a lot of first opponent mistakes, but that is stuff that we can clean up" Cox said. "I told the guys that this is going to be great film for us.We are going to learn a lot from this film. It was a great opportunity to learn tonight."
Vilonia sophomore quarterback Austin Myers was 9-of-10 passing for 266 yards and three touchdowns.
"That's a very good Vilonia team," Cox said of the 5A Eagles. "They are deep. They are big. They are going to have a good season. Our guys competed against them."
SECOND HALF: The two teams played a 10 minute second-half period with the second teams. Vilonia outscored Heber Springs, 20-0, over that stretch, but senior running back Levy Phillips did show some promise during that stretch.
"(He) came in and got some good runs for us," Cox said, "that shows that we have some depth at the running back position which is good."
LET'S PLAY TWO: Cox said that is exciting to see that his team loves to love to play. "They can't get enough," he said. " If I could let them play another game tonight, they would."
BIG NUMBERS: While Heber Springs has 43 players on the roster, Vilonia had 83 dressed out Tuesday night and that will be the most any team dresses out against the Panthers this season. Heber Springs has the third most players out in the 4A-2 with Southside Batesville leading the way with 51 and Bald Knob with 44. Other opponents by the numbers: Clinton (37), Greenbrier (61), Harding Academy (46), Lonoke (37), Stuttgart (37), Central Arkansas Christian (40), Riverview (33) and Little Rock Mills (20).
NO CONTACT: Both quarterbacks were off limits in regards to being tackled and were downed by touch. Martin and second-team quarterback John McBroome wore a red no contact jersey.
EXTRA POINT: Jackson Harrod connected on the lone extra point for Heber Springs. The Panthers will be looking to replace the graduate Julian Cameron, who connected on a state record 100 extra points. Cameron is battling for a starting position at Arkansas Tech.
NEW COACH: Will Cox was named interim head coach over the summer after former head coach Darren Gowen left at the end of the school year in the spring to pursue other opportunities in northwest Arkansas. Gowen has since been named the offensive coordinator at Gravette. Cox was co-defensive coordinator last season with E.G. Dew.
NEW ASSISTANTS: Former Greenbrier Panther Chase Roberts is the new junior high coach and will assist on the senior high team. Roberts was the head coach of the eight-man team at Pattonsburg (Missouri) High School last season. Roberts led his team to a 10-2 record last season. Also joining the staff is Hunter Davis. Davis coached at Star City last season. He will also be the head senior girls track coach.
NEXT YEAR: Heber Springs' 2020 schedule has been set. Riverview is moving down to Class 3A while Clinton will be moving back up to 4A. The Yellowjackets will replace Riverview in week 9 in conference. The Panthers will open at home in 2020 against Newport followed by a road date at Harding Academy before wrapping up nonconference play at home against Dover. Heber Springs athletic director Brad Reese said he attempted to schedule Riverview for a nonconference date but the Searcy school opted for a game with Bauxite instead.
GLOWING REVIEW: Former Heber Springs coach Bill Buckner made an appearance on the sidelines on Tuesday night to catch some of the action. Buckner, who has since retired after years of coaching in the area with stops at Quitman, Greenbrier and Vilonia among others, was impressed with what he saw from the Panthers. "Tell the people of Heber Springs that they have a good football team," he said.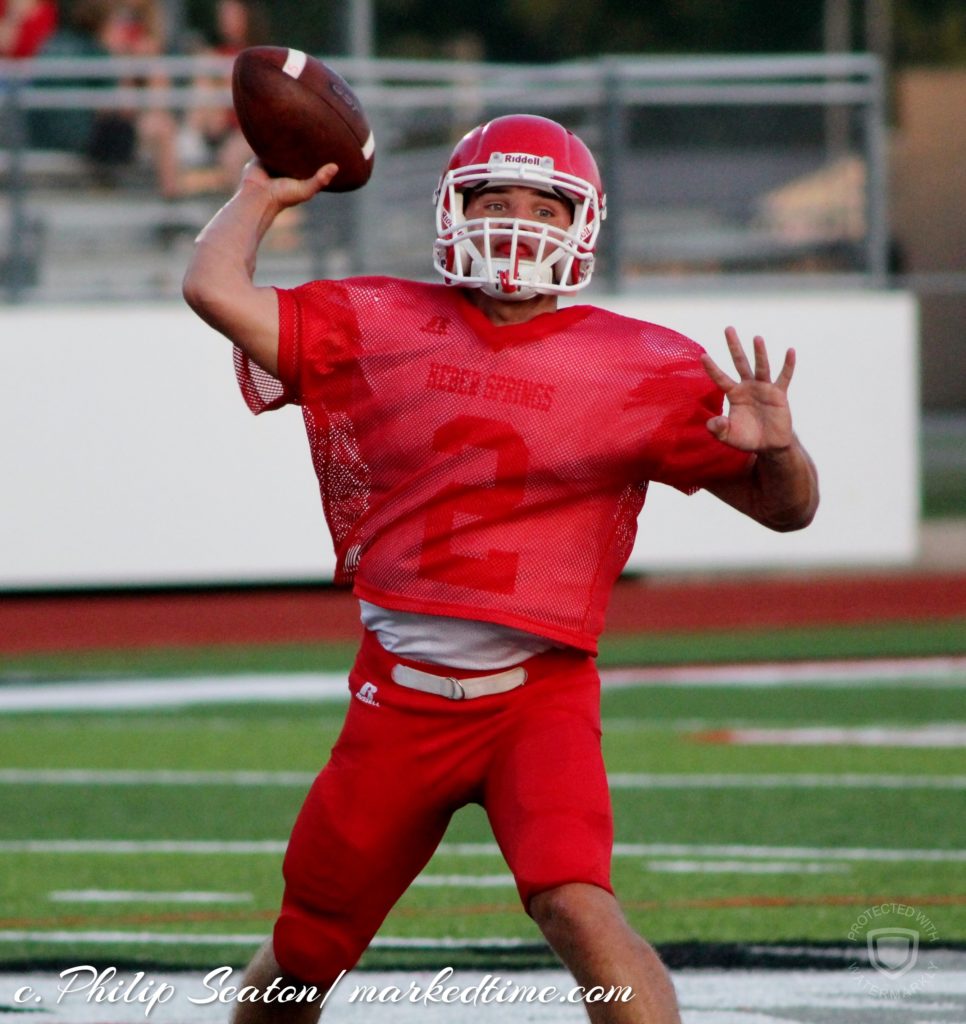 PANTHER DRIVES
OPENING DRIVE: 10 plays, 36 yards. Highlights: Adam Martin 10-yard run, Landon Johnson 14- and 13-yard runs. Result: Turnover on downs.
SECOND DRIVE: 10 plays, 68 yards. Highlights: Adam Martin to Tri Johnson for 34-yard completion. Result: Stopped on fourth-and-goal at the 1.
THIRD DRIVE: 5 plays, 20 yards. Result: Fictional punt.
FOURTH DRIVE: 10 plays, 70 yards: Highlights: Adam Martin to Landon Johnson for 12- and 25-yard pass completions. Result: Touchdown.
INDIVIDUAL STATS (First-half only)
Rushing: Heber Springs, Landon Johnson 8-40; Julie Rubio 5-5; Adam Martin 5-2. Vilonia, Draven Smith 7-43; Seth Kick 1-5; Austin Myers 1-3; Tyler Moran 1-2.
Passing: Heber Springs, Adam Martin 14-24-155-1-0. Vilonia, Austin Myers 9-10-266-3-0.
Receiving: Heber Springs, Tri Johnson 5-84; Landon Johnson 3-45; Matthew Cook 3-13-1; Landon Barbee 1-8; Nathan McKee 1-6; Hunter Kent 1-(-1). Vilonia, Tyler Moran 4-127-1; Jamison Hinsley 2-40-1; Kannon Bartlett 1-45; Draven Smith 1-38; Corbin Watson 1-24-1.
TEAM (First-half only)
Rushing: Heber Springs 18-47; Vilonia 10-53
Passing: Heber Springs, 14-24-155-1-0; Vilonia 9-10-266-3-0
Total Yards: Heber Springs 202, Vilonia 319
First Downs: Heber Springs 11, Vilonia 8
Turnovers: Heber Springs 0, Vilonia 1
Penalties: Heber Springs 1-5; Vilonia 4-50