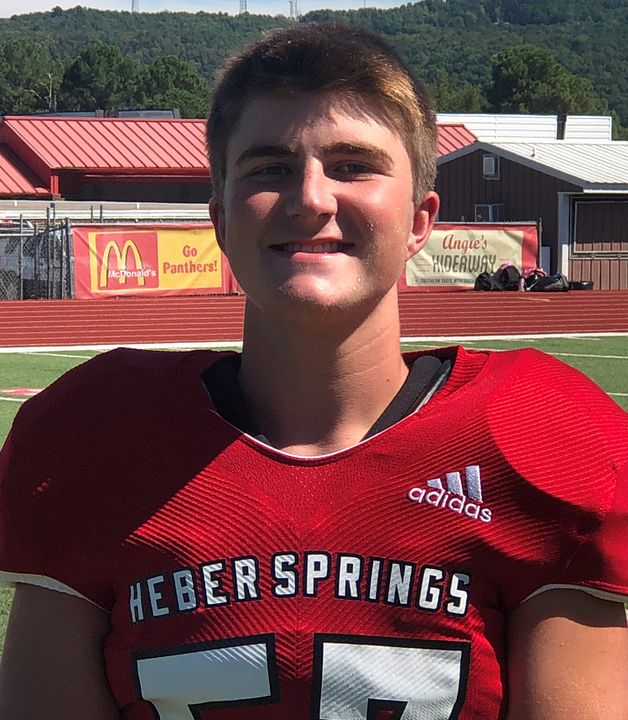 By LARRY "SCOOP" McCARTY
Zach Thomas grew up a Panther and never doubted he would wear the uniform one day.
Thomas, a returning starter at center, battled mono and missed most of the preseason, plus two nonconference games. He survived the setback and returned against Lonoke in the 2-4A Conference opener.
It's homecoming weekend, and Thomas is excited about playing Friday night against Southside Batesville as the Panthers continue the quest for a state playoff berth.
"It was difficult in my first game back because of conditioning, but we don't have much depth, and I knew we needed more healthy players," Thomas said. "I tired quickly early against Lonoke and messed up on plays. But I knew that I had to correct that and move forward."
Thomas said he looked forward to the 100th year of Panther football, and it was special for many reasons.
"The 100th year is very special," Thomas said. "I know a lot of the former players. We are playing for a lot of generations of Panthers. It's an honor to do that."
Heber Springs has won back-to-back games and challenging for the postseason. Thomas said he and his teammates plan to push forward and achieve their goal.
"Southside is a very tough and physical team," Thomas said. "The offensive line has to start the game right. We played OK in the last two games, but we must do a much better job against Southside."
Thomas and his fellow seniors are looking forward to homecoming activities as well as the game.
"It's the final homecoming for the seniors," he said. "We want to make it count."