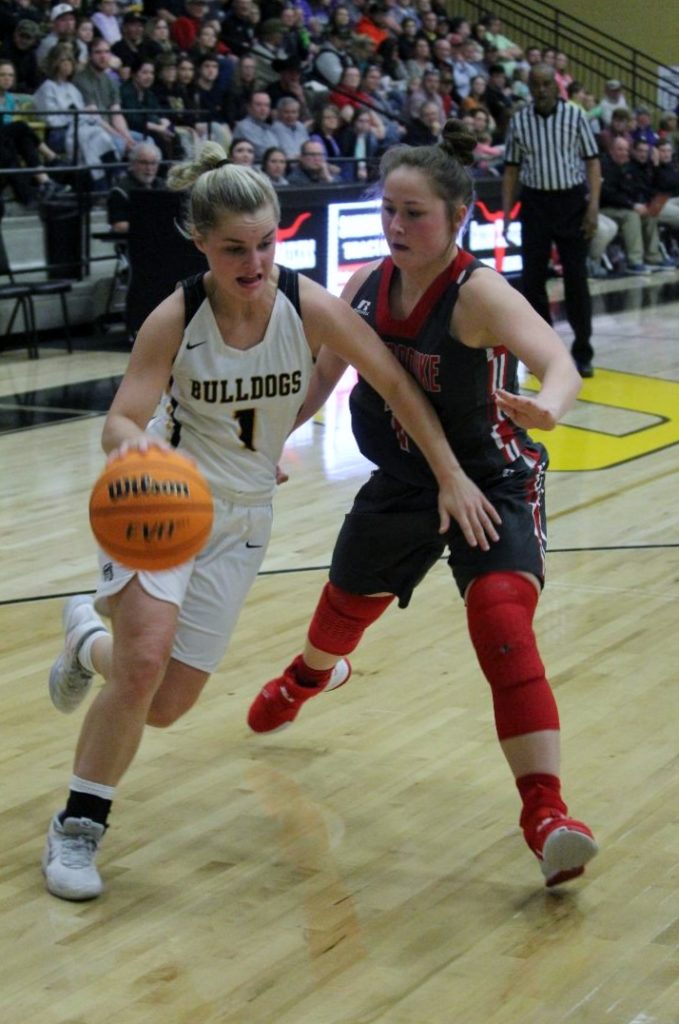 March 6, 2020
By LARRY "SCOOP" McCARTY
QUITMAN – Friday turned into another day at the office for the Quitman Lady Bulldogs.
The Lady Bulldogs controlled from start to finish and defeated the Marmaduke Lady Greyhounds 71-37 in the quarterfinals of the Class 2A state basketball tournament at the Bulldog Complex.
Quitman (29-3) will meet Earle (30-6) at 6 p.m. today with the winner advancing to the state championship game at the Hot Springs Convention Center next weekend. Earle defeated Conway Christian 59-41 in Friday's quarterfinals.
"It was nothing different than what we did in games during the entire season," Quitman coach Timothy Hooten said. "We were very accurate on shooting 3-pointers. Every game we play, I tell the girls to play like it is a championship game, so when we get to the championship game, it will be like another game."
Carson Rackley was one of four Quitman players scoring in double figures with 17 points. Autumn Johnson had 15 points, while Taylor Hooten and Lucy Hooten each finished with 13 and 12 points, respectively.
The Lady Bulldogs made nine 3-pointers, led by Johnson and Hooten, who each had three. Halle Bennett, Gracie Smith and Rackley each made a 3-pointer.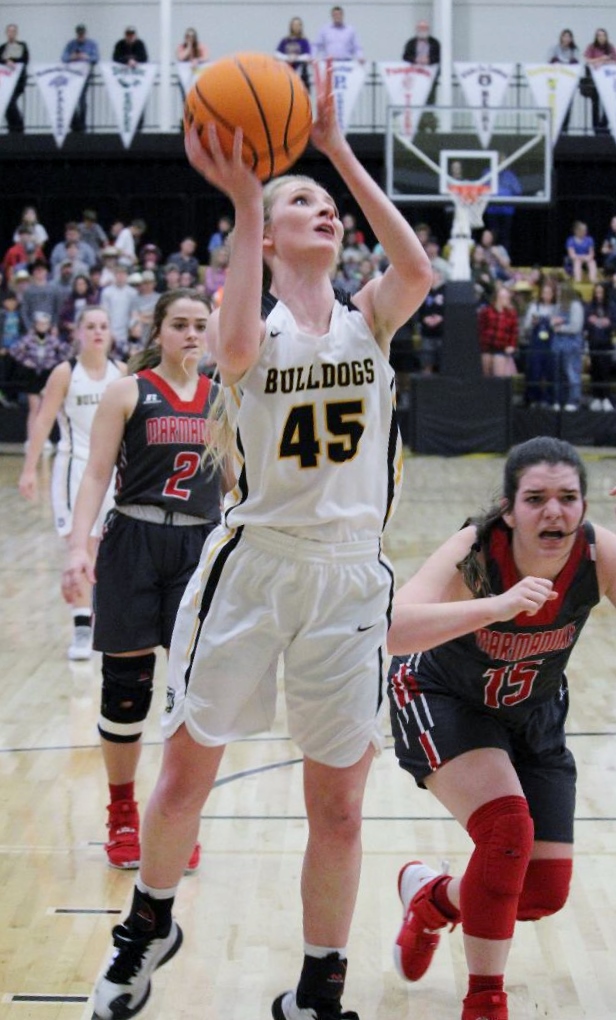 Reesa Hampton, who made four 3-pointers, led Marmaduke with 16 points. Heidi Robinson, one of the team's leading scorers on the season, was held to five points no 3-pointers.
"I told the girls to challenge Robinson to shoot 3-pointers," Hooten said. "We didn't want Hampton shooting 3-pointers, but she did. When Robinson picked up her fourth foul, they put a smaller girl into the game, and we took advantage of the mismatch inside."
Holland made a jumper to break a 2-2 tie early in the first quarter. Quitman increased its lead and took an 18-9 advantage going into the second quarter.
Smith's 3-pointer gave the Lady Bulldogs a double-digit lead at 24-11 with less than six minutes left in the first half. The two teams played even for the remainder of the quarter as Quitman led 33-20 at halftime.
Quitman outscored Marmaduke 22-15 during the third quarter and held a 55-35 lead going into the fourth quarter.
"The third quarter has been a big quarter most of the season," Hooten said. "We came out and played at a higher level of intensity."
Quitman finished the game on a 16-2 scoring run.
The Lady Bulldogs will get a familiar state tournament opponent in Earle, also the Lady Bulldogs. Earle ended Quitman's season last year in the state quarterfinals with a 70-58 decision, cost Quitman a chance to repeat as state champions in 2018 with a 48-43 setback in the 2A finals while the Cleburne County Lady Bulldogs downed Earle 49-44 in the semifinals before going on to win the 2A state title in 2017
"Saturday is going to be a great game," Hooten said. "We don't have the size like recent seasons, but our posts still play good defense and know how to take charges. We will be ready to play Earle."
QUITMAN-MARMADUKE BOXSCORE
Marmaduke  9 11 15  2 - 37
Quitman   18 15 22 16 - 71
MARMADUKE SCORING (37): Reesa Hampton 16, Karlin Gilliam 5, Heidi Robinson 5, Angel Johnson 5, Maranda Bear 3, Tori Sutherland 2, Zoe Massey 1.
QUITMAN SCORING (71): Carson Rackley 17, Autumn Johnson 15, Taylor Hooten 13, Lucy Holland 12, Halle Bennett 7, Gracie Smith 3, Erin Stephens 2, Haley Trawick 2.