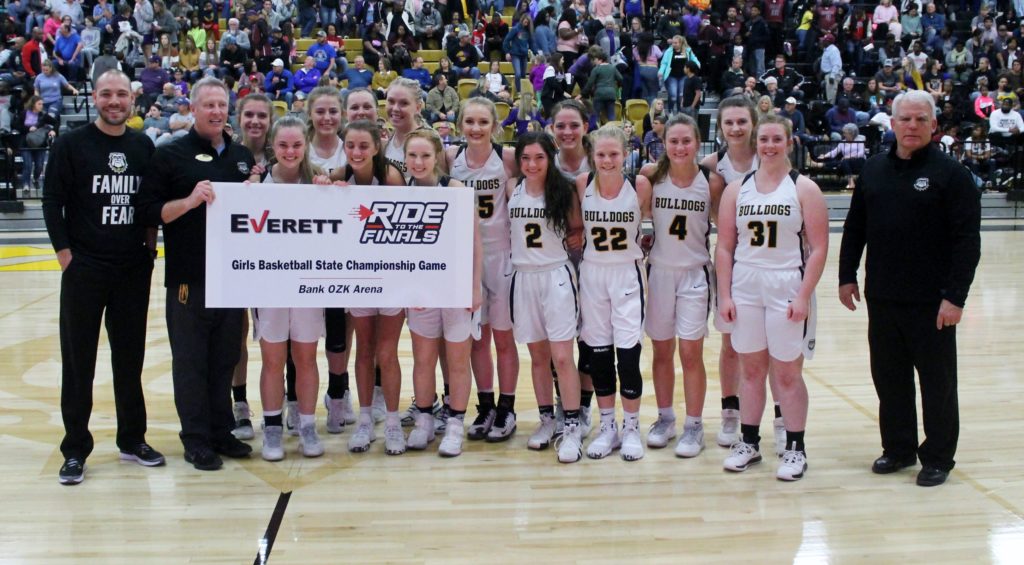 March 7, 2020
By LARRY "SCOOP" McCARTY
QUITMAN – Defense, not a high-scoring offense, opened the door for a return to the Class 2A state championship basketball game for the Quitman Lady Bulldogs.
Earle was held to single digit in three of four quarters as Quitman advanced to the state final for the third time in four seasons with a 40-28 win at the Bulldog Complex Saturday.
Quitman (30-3) will meet Melbourne (33-2) at Bank OZK Arena in Hot Springs at 6 p.m. Thursday. The Bearkats punched their ticket with a 68-54 win against Des Arc in the other semifinal on Saturday at Quitman.
"It was a defensive game between two good teams," Quitman coach Tim Hooten said. "Both teams reacted against the physical play. We did a good job of getting into defensive position and drew charges. That slowed down Earle. It is a defensive accomplishment to hold Earle to 28 points.
"We got good play off the bench when we got into foul trouble during the second half. They may have been out of positions at times, but they got the rebounds and took good care of the ball. They played their roles."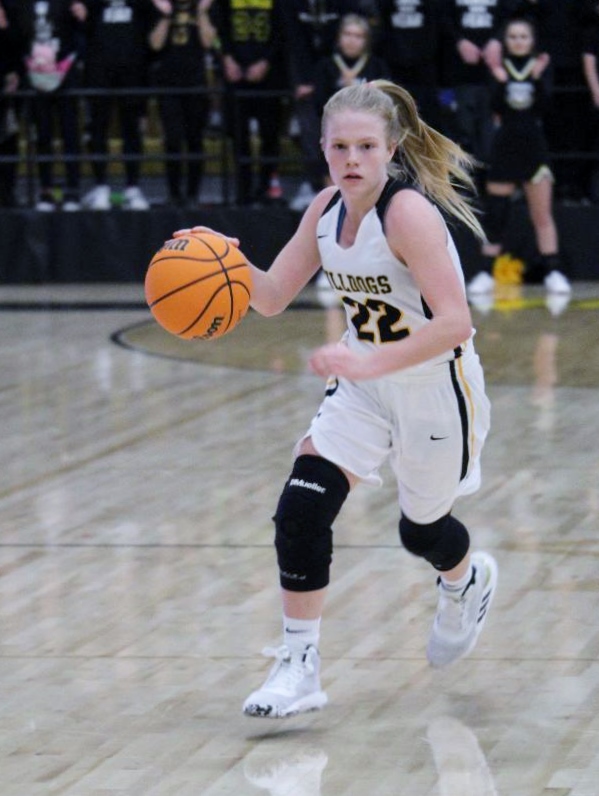 Hooten hinted after Friday's quarterfinal win against Marmaduke how defense would be a key against Earle. He also said scoring back-to-back field goals in the final seconds of the first half was important.
"The girls did it on their own," said Hooten when asked about that sequence. "We jumped passes and scored. I told the girls earlier to play a little off Earle's players because of their speed. Those two field goals gave us a big lift at halftime."
Taylor Hooten led Quitman in scoring with 11 points while post player Lucy Holland also finished in double figures with 10. Carson Rackley had nine points but her play was limited because of foul trouble during the second half, but Holland shouldered part of the load during Rackley's absence.
"Our defense pulled us through," Rackley said. "I was in foul trouble, but my teammates picked it up. I never care about how many points I score, but my only concern is getting the win. I try to be a good cheerleader from the bench when that happens."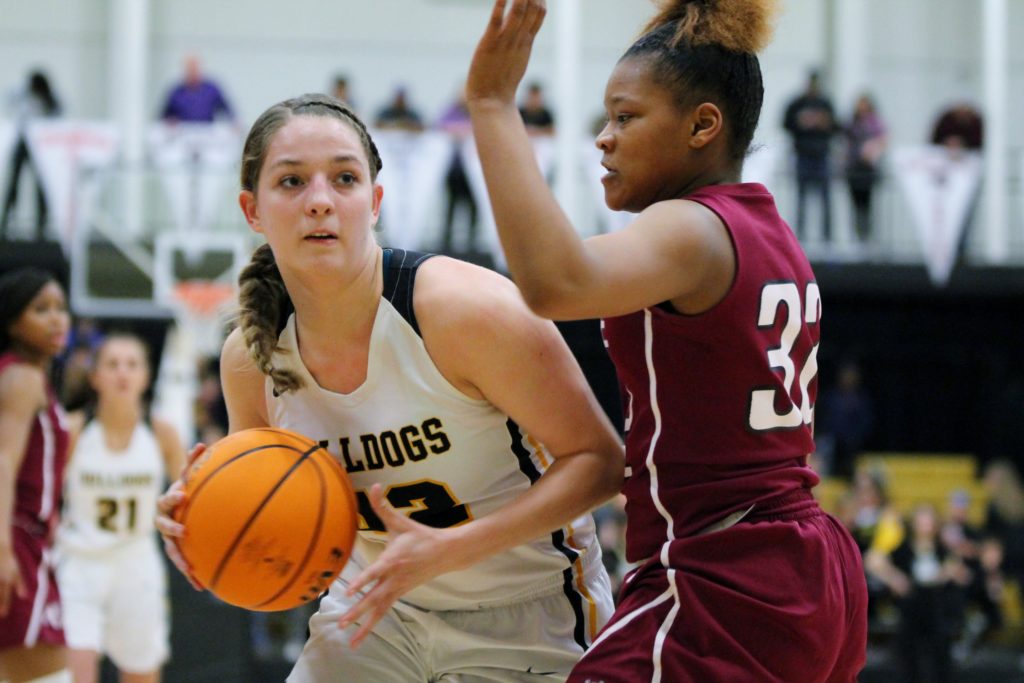 Holland downplayed her role during the second half and credited her teammates for their performance.
"Someone has to step in when that happens," she said. "We can't rely on just one player to do it all."
Rackley and Holland said the team welcomed an opportunity to play in the state tournament at home. They also said part of the motivation was getting redemption from last year's performance against Earle at the state tournament in Carlisle.
"We came into the tournament confident and knew Earle was there," Rackley said. "We benefited from playing at home and in front of our fans."
Holland agreed.
"I knew it would be Earle and us in the semifinals," she said. "The seniors realized every game could be our last one. Our crowd and community are the best around. Our fans had a great effect on us. It will be great to play our final game on the biggest stage. It will be the greatest feeling in the world."
Earle took a 2-0 lead early in the first quarter, but Quitman answered by scoring seven consecutive points and led 7-2 going into the second quarter.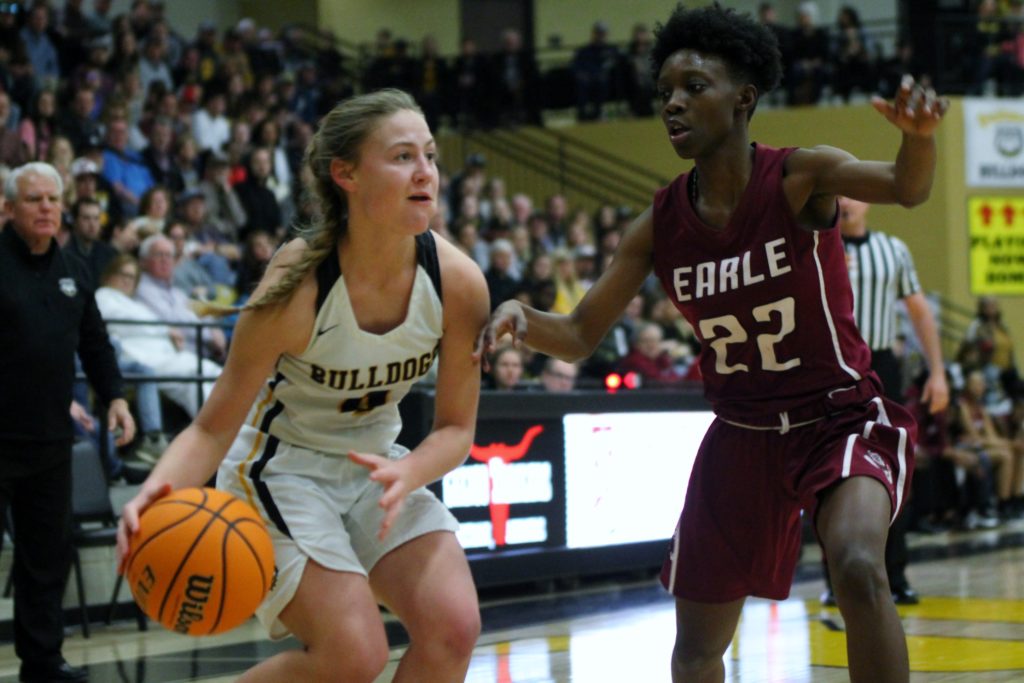 The Lady Bulldogs maintained the lead and struck quickly in the final 10 seconds for a momentum lift. Rackley scored on an inside move and then Taylor Hooten intercepted the inbound pass and made a shot at the buzzer for the 20-14 halftime lead.
Tim Hooten said the message to his players during halftime was simple.
"We were missing too many shots and taking too many shots in a panic," he said. "We needed to relax, so we could shoot better. We did that in the third quarter."
Quitman controlled the second half. The Lady Bulldogs built a 29-22 lead by the end of the third quarter and never challenged for the remainder of the game.
Hooten said preparation for Melbourne will begin on Monday.
"We lost to them early in the season," he said. "We are a different team now."
EARLE VS. QUITMAN 
Class 2A Semifinals at Quitman
March 7, 2020
Earle (30-7)   2  12  8   6 - 28
Quitman (30-3) 7  13  9  11 - 40
EARLE SCORING (28): Colbi Maples 12, Elaijha Brown 8, T'asja Hughey 6, Tiara Rogers 2
QUITMAN SCORING (40): Taylor Hooten 11, Lucy Holland 10, Carson Rackley 7, Halle Bennett 7, Gracie Smith 2, Haley Trawick 2, Autumn Johnson 1