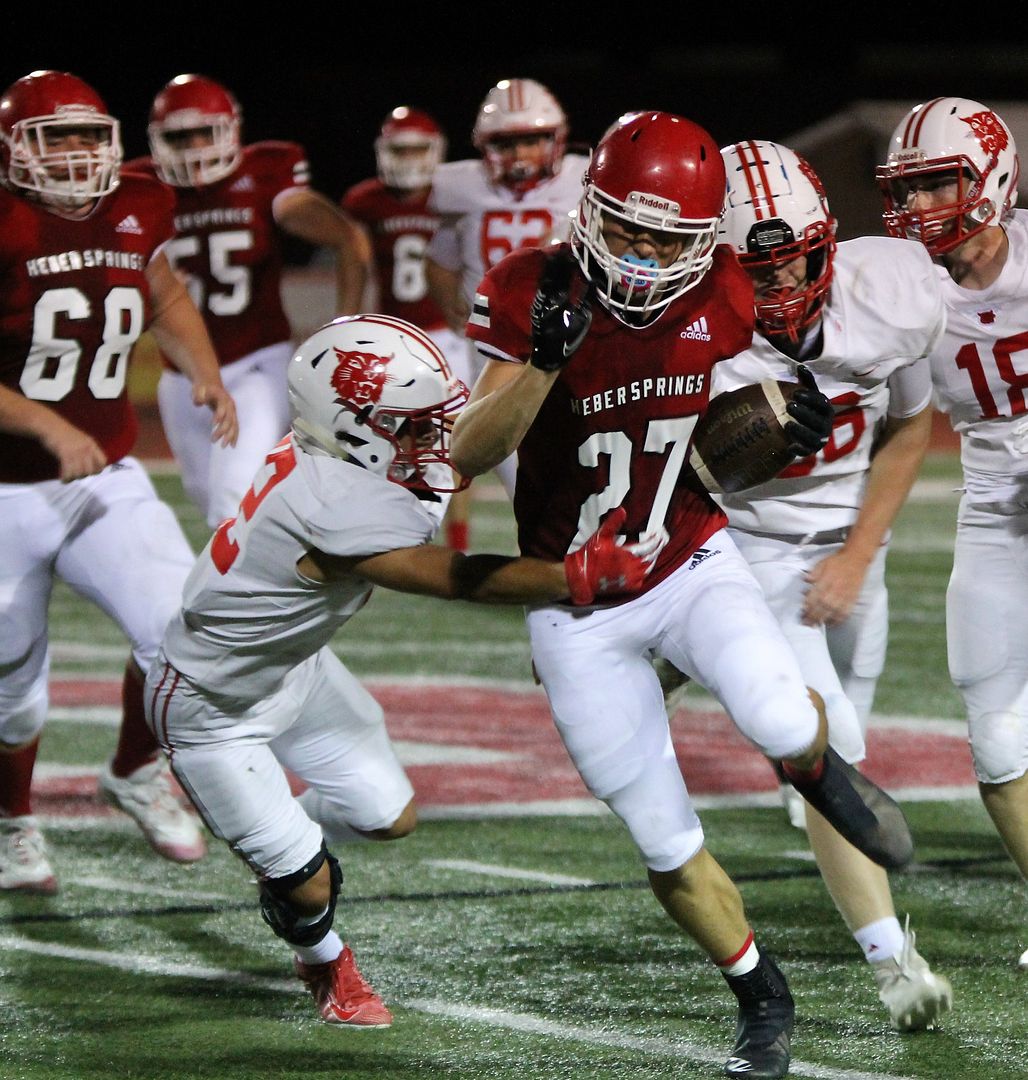 By LARRY "SCOOP" McCARTY
Harding Academy scored on 6-of-7 first-half possessions and defeated the Heber Springs Panthers 42-7 at Panther Stadium Friday.
The Wildcats started their first five possessions in Heber Springs territory, a long touchdown on their sixth and took a knee heading into the half.
Harding Academy held the Panthers to 156 yards of offense, with 99 yards coming during the second half.
Heber Springs avoided a shutout on a four-play, 80-yard drive following the second-half kickoff.
"Harding (Academy) was really good and that's why they are two-time defending (Class 3A) state champions," Panther coach Todd Wood said. "We knew defense was their strength. The players learned a lot of things that will help during conference play. I'm very proud of this team. I never saw anyone quit, and they kept fighting until the end of the game."
Heber Springs quarterback Xander Lindley completed 5-of-10 passes for 24 yards and rushed 11 times for six yards, including sacks, in his first start.
"It was Xander's first game at quarterback since the eighth grade," Wood said. "He was going against an experienced defense. A quarterback will face adversity when playing against a defense of that caliber. He kept his head up and had faith in himself while learning."
Brown rushed 13 times for 108 yards and scored one touchdown in his first start at running back.
"Parker never quit or backed down," Wood said. "He will have great games in the future. We need to get him the ball more in the open field."
Harding Academy began the game by driving 48 yards on 10 plays for its first touchdown. Quarterback Kade Smith finished the drive by scoring on an 8-yard keeper with 8:25 left in the first quarter.
The Wildcats held Heber Springs on downs at the Panther 28-yard line and didn't wait long to put more points on the scoreboard. Landon Koch caught a scoring pass from Smith with 6:24 to go in the first quarter.
Harding Academy concluded the quarter by capitalizing on a Heber Springs fumble at the Panther 26-yard line. Two plays later, Smith ran 20 yards for a touchdown, giving the Wildcats a 21-0 lead going into the second quarter.
Harding Academy increased its lead on a six-play, 28-yard drive. Smith connected on a 14-yard touchdown pass to Jackson Fox with 9:59 left in the first half.
Smith and Fox hooked up on the next Wildcat possession. Harding Academy took advantage of a short punt and started its next series at the Heber Springs 32-yard line.
Fox caught an 11-yard scoring pass from Smith for a 35-0 lead with 7:06 to go until halftime.
The Wildcats reached the end zone one more time when Andrew Miller broke away on an 85-yard touchdown run with 2:38 left in the first half.
Kyle Ferrie kicked all of the extra points as Harding Academy led 42-0 at halftime.
"I challenged them before the game to continue fighting regardless of the score," Wood said. "I told them at halftime that I knew we were down, but we need to keep fighting and learning, and they did that. we were going against backups, but we still had the effort and showed the ability to turn up our game during the second half."
On the opening series of the second half, Brown rushed twice for 11 yards for a first down at the Harding Academy 31-yard line. Gus Hannah caught a 13-yard pass from Lindley and a first down at the Wildcat 44-yard line.
Brown put the Panthers on the scoreboard on a 56-yard run with 9:21 left in the third quarter. Gideon Tate kicked the extra point.
"We will be looking at Dover immediately and start the process of fixing things," Wood said.
Heber Springs will conclude the nonconference schedule at Dover on Friday.
HARDING ACADEMY AT HEBER SPRINGS
SEPTEMBER 10, 2021 
Harding Academy (2-1)   21  21   0   0 - 42 
Heber Springs (0-1)      0   0   7   0 -  7 
FIRST QUARTER 
HA - Kade Smith 8-yard run (Kyle Ferrie kick), 8:25
HA - Andrew Miller to Landon Koch 28-yard pass (Ferrie kick), 6:29 
HA - Smith 22-yard run (Ferrie kick), 3:48
SECOND QUARTER 
HA - Smith to Jackson Fox 14-yard pass (Ferrie kick), 9:59
HA - Smith to Fox 11-yard pass (Ferrie kick), 6:50
HA - Miller 85-yard run (Ferrie kick), 2:38
THIRD QUARTER
HS - Parker Brown 57-yard run (Gideon Tate kick), 9:01
TEAM STATISTICS 
FIRST DOWNS: HA 14, HS 8
RUSHES-YARDS: HA 24/202, HS 29/132
PASSING YARDS: HA 132, HS 24
COMP-ATT-INT: HA 8-12-0, HS 6-13-0
FUMBLES: HA 0, HS 1
PENALITIES-YARDS: HA 9/75, HS 2/10
PUNTS-AVERAGE: HA 2/49.5, HS 5/22.4
INDIVIDUAL STATISTICS 
RUSHING: HS, Parker Brown 13/108, Gideon Tate 5/18, Xander Lindley 11/6. HA, Andrew Miller 13/161, Kade Smith 5/36, Jadyn White 1/11, Jack Citty 1/7, Lawson Brooks 1/(-1), Team 1/(-5), Jackson Fox 1/(-7). 
PASSING: HS, Xander Lindley 5/10-24-0/0, Easton Cusick 1/3-0-0/0. HA, Kade Smith 7/10-104-2/0, Andrew Miller 1/1-28-1/0, Jackson Fox 0/1-0-0/0.
RECEVING: HS, Gus Hannah 3/16, Kenan Sneed 1/7, Parker Brown 1/1, Dalton Yancey 1/0. HA, Landon Koch 2/55, Andrew Miller 1/29, Jackson Fox 2/25, Ryan Mcgaha 2/18, Luv Patel 1/15.
KICKOFF RETURNS: HA, Jackson Fox 1/12. 
PUNT RETURNS: None
PUNTS: HS, Xander Lindley 5/112/22.4. HA, Kyle Ferrie 2/99/49.5