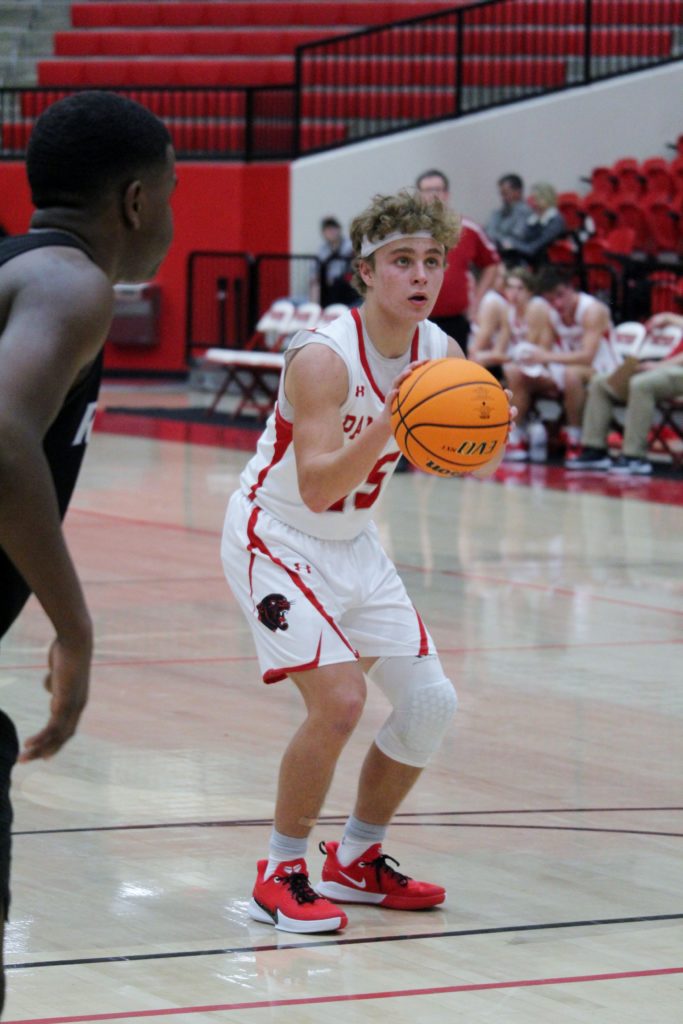 November 21, 2019
By LARRY "SCOOP" McCARTY
Only positives came from Heber Springs head coach Chad Johnson following Thursday's 68-36 loss to Riverview in the basketball season opener at the Panther Den.
"They were only four days out of football, but practiced hard to prepare for the first game," Johnson said. "The result was larger than the final score. We battled throughout the game. We are not in basketball shape yet and ran out of gas in the fourth quarter."
Heber Springs trailed 16-10 after the first quarter. Riverview increased its lead to 26-15 with a 10-5 scoring run. The two teams battled almost even for the remainder of the second quarter as the Raiders led 38-25 at halftime.
The Panthers went cold in the third quarter as Riverview capitalized. The Raiders blew the game open with a 10-0 scoring run and led 51-32 going into the fourth quarter.
Adam Martin led the Panthers with 15 points, followed by Dalton McCollum with eight points. Cahill Overstreet and Myles Arnett scored 15 points for Riverview. Kahlil Blackmon and R.J. McCall each added 11 points.
"Riverview got its running game going and that led to the gap in the final score," Johnson said. "I'm proud how the players performed. They battled and played with a lot of grit."
Johnson expects improvement with completion of the football season with the players concentrating on basketball.
"I love coaching players who want to be here and help the program," he said. "They want to make the program successful."
Clinton's football season ended Friday and all players are expected to be available for Tuesday's game.
"We will be playing a tough opponent for the second straight game," Johnson said. "The players and I look forward to the challenge."
The game will wrap up a four-game night, with the junior high girls starting the action at 4:30 p.m., followed by the junior boys and the two high school games.
Riverview 16 22 13 17 -68
Heber Springs 10 15 7 4 -36
RIVERVIEW SCORING (68): Cahill Overstreet 15, Myles Arnett 15, Ashton Williams 11, Kahlil Blackmon 11, R.J. McCall 5, Montrell Chatmon 4, Isaac Jiles 4, Jackson Thomas 3.
HEBER SPRINGS SCORING (36): Adam Martin 15, Dalton McCollum 8, Wyatt Sanders 5, Garrett Hudspeth 4, Logan Monahan 2, Ryan Crocker 2.
HEBER SPRINGS SENIOR BOYS BASKETBALL
2019-2020 SCHEDULE RESULTS
RECORD: 0-1
November 21 - Riverview 68, Heber Springs 36
November 26 - at Clinton
December 2 - at Conway St. Joseph Tournament
December 10 - at Dover ^
December 13 - at Marshall
December 16 - at White County Central
December 20 - Ozark ^
December 26 - Cowboy Chevrolet Holiday Classic
December 27 - Cowboy Chevrolet Holiday Classic
December 28 - Cowboy Chevrolet Holiday Classic
January 7 - Pottsville ^
January 10 - at Subiaco Academy ^
January 14 - Dardanelle ^
January 17 - at Clarksville ^
January 21 - Morrilton ^
January 24 - Dover ^
January 28 - at Pottsville ^
January 31 - at Ozark ^
February 4 - at Dardanelle ^
February 7 - Subiaco Academy ^
February 11 - at Morrilton ^
February 14 - Clarksville (Senior Night) ^
February 17 - 4A-4 District at Dardanelle

(^ - Denotes 4A-4 conference contest)