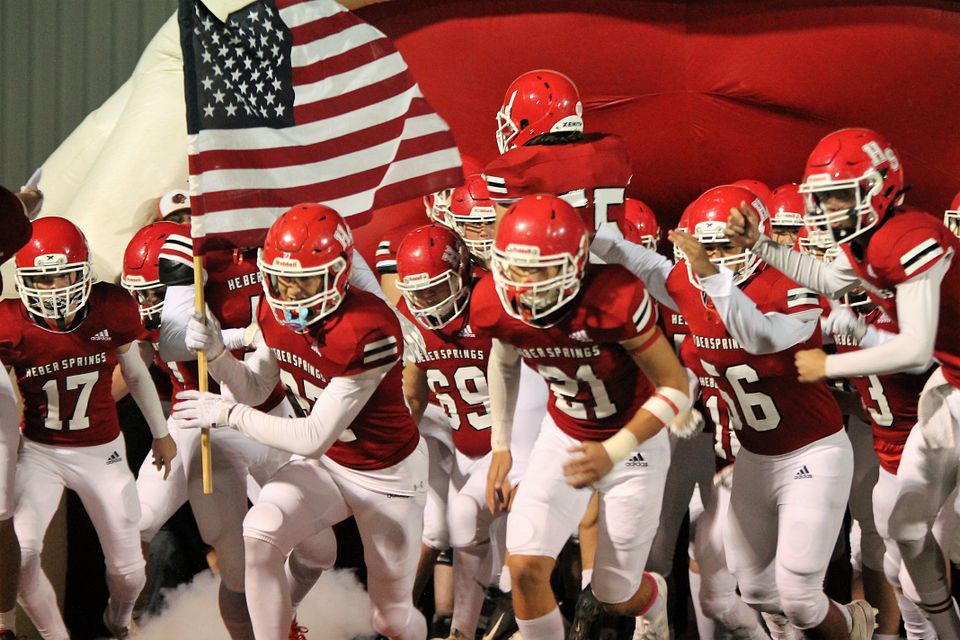 By LARRY "SCOOP" McCARTY
The Class 4A state football playoffs will start for the Heber Springs Panthers on Friday.
Heber Springs (2-4 in 2-4A Conference, 3-5 overall) will finish the regular season against Little Rock Mills (2-4 in 2-4A Conference, 5-4 overall) in a 2-4A Conference game at Comet Stadium in Little Rock. Kickoff is set for 7 p.m. The Panthers and Comets are tied for fifth place with Friday's winner advancing to play at Joe T. Robinson in the opening round of the playoffs next week.
"We are going into the game with the mindset this is the beginning of a playoff run," Heber Springs coach Todd Wood said. "Playing Mills will be a big challenge. We are 48 minutes from the playoffs. All I asked the players is to give it their all. If we do that, everything will be OK. The players know the task at hand."
Turnovers doomed the Panther offense in last week's 34-7 loss to Clinton. A lost fumble was one of the game's biggest plays early in the third quarter. A misconnection on the handoff gave the ball to the Yellowjackets at the Heber Springs 27.
Clinton held the Panthers to 207 yards of offense. Running back Parker Brown rushed six times for 69 yards and caught seven passes for 36 yards and scored one touchdown. Quarterback Easton Cusick completed 16-0f-33 passes for 99 yards with three interceptions.
"The key to the game on offense is not turning the ball over," Wood said. "We moved the ball against Clinton, but we would have one or two plays that took us out of rhythm or led to a turnover."
Heber Springs will welcome back sophomore outside linebacker Hayden Johnson, the team's second-leading tackler on the season. Johnson missed the Clinton game because of a concussion suffered against Southside Batesville.
"Hayden is ready to go," Wood said. "We're as healthy as we can be. Our defense played well most of the year. We started well against Southside before we got wore down. After playing two running-dominated teams (Southside and Clinton), we must adjust because Mills will throw the ball more. The big key on defense is to get more three-and-outs."
The Comets started the season with five consecutive wins, including two conferences games, before the current four-game losing streak.
Sophomore quarterback Achilles Ringo makes the Mills' offense goes. Ringo has completed 134-of-195 passes for 1,049 yards and 17 touchdowns. He connected on 20-of-24 passes for 295 yards and two touchdowns in last week's 64-20 loss to Southside.
Ringo triggered the Comets' second half comeback last year against the Panthers when he completed 8-of-10 passes for 105 yards. Mills trailed 24-12 early in the third quarter as the Comets rallied for a 34-24 win.
Juniors Jabrae Shaw and Daniel Brown are the major weapons in the running game. Shaw leads Mills with 61 carries for 785 yards and 12 touchdowns. He also has caught 29 passes for 486 yards and five touchdowns. Brown has ran for 587 yards on 50 attempts with five touchdowns. Senior fullback Boyce Mitchell has rushed for 417 yards on 55 carries and scored one touchdown.
Junior Anton Pierce is the Comets leading receiver with 32 catches for 649 yards and eight touchdowns. Pierce caught three passes for 80 yards against Southside. O.J. King, who started at quarterback last year against Heber Springs, caught 11 passes for 165 yards and one touchdown in last week's game.
"He (Ringo) throws well," Wood said. "Mills has speed and size, and it doesn't hide what they do. He gets the ball to the playmakers. Mills also will line up and try and run from the wishbone.
Wood said Mills plays a 4-3 defense with an aggressive front seven. The Comets have yielded 35 points per game.
"They rely on the guys up front and the linebackers," he said. "They are capable of putting a lot of pressure on an offense."
Ten freshmen moved to the high school team last week after completion of the junior high school season. Wood said the group helped to close some of the gap with the team's depth concern, especially on defense.
"Axley Davis (6-1, 260 pounds) is a big lineman that can play on the offensive and defensive lines," he said. "Carter Julian will play at defensive back. Other freshmen also could see action."
Help support local and independent journalism by donating today.
2A-4 CONFERENCE STANDINGS
                            W L CP  W L PS  PA 
Stuttgart                   6 0 68  8 1 359 182 
Lonoke                      4 2 52  7 2 302 169
Southside Batesville        5 1 54  7 2 355 164                      
Clinton                     4 2 49  5 4 272 257
Little Rock Mills           2 4 26  5 4 320 313   
Heber Springs               2 4 20  3 5 140 222  
Bald Knob                   1 5 13  1 8 148 285
Central Arkansas Christian  0 6  0  2 7 211 418    

Friday, October 29
Clinton 34, Heber Springs 7
Southside Batesville 64, Little Rock Mills 20
Stuttgart 45, Lonoke 28
Bald Knob 39, Central Arkansas Christian 20
Friday, November 5
Heber Springs at Little Rock Mills
Southside Batesville at Bald Knob
Lonoke at Clinton
Central Arkansas Christian at Stuttgart
Kickoff: 7 p.m. at Mills
Radio/Streaming: Billy Morgan will handle the play-by-play while Lance Hamilton with handle the color on KSUG 101.9 The Lake. Panther Pregame begins at 6:45 p.m. followed by the game.  Listen Live Link
GAME NOTES
THE SERIES: Heber Springs leads the series 2-1.
SERIES HISTORY: Though this is the third time the Panthers have faced Little Rock Mills, Heber Springs did play the two of the schools that consolidated to form Mills University Studies. The Panthers went 0-4 from 1955 through 1959 against Little Rock Fuller, and 0-3-1 against Mabelvale from 1955 through 1958. Heber Springs won the first two in the series, 47-6 at Panther Stadium in 2018 and 28-14 at Mills in 2019, while the Comets won last season, 34-24.
MOVING UP: Mills will move back up to Class 5A for the next cycle so tonight's contest will be the last time the two teams meet for at least two years.
CONFERENCE SEEDING: Stuttgart has clinched the No. 1 seed and can clinch the outright 2-4A title with a win tonight against CAC. Southside Batesville will be the No. 2 seed and could earn a share of a conference title with a win and a Stuttgart loss. Clinton and Lonoke will meet tonight for the No. 3 seed with the loser getting the No. 4 seed. Heber Springs and Mills winner will be the No. 5 seed at play at Joe T. Robinson next week.