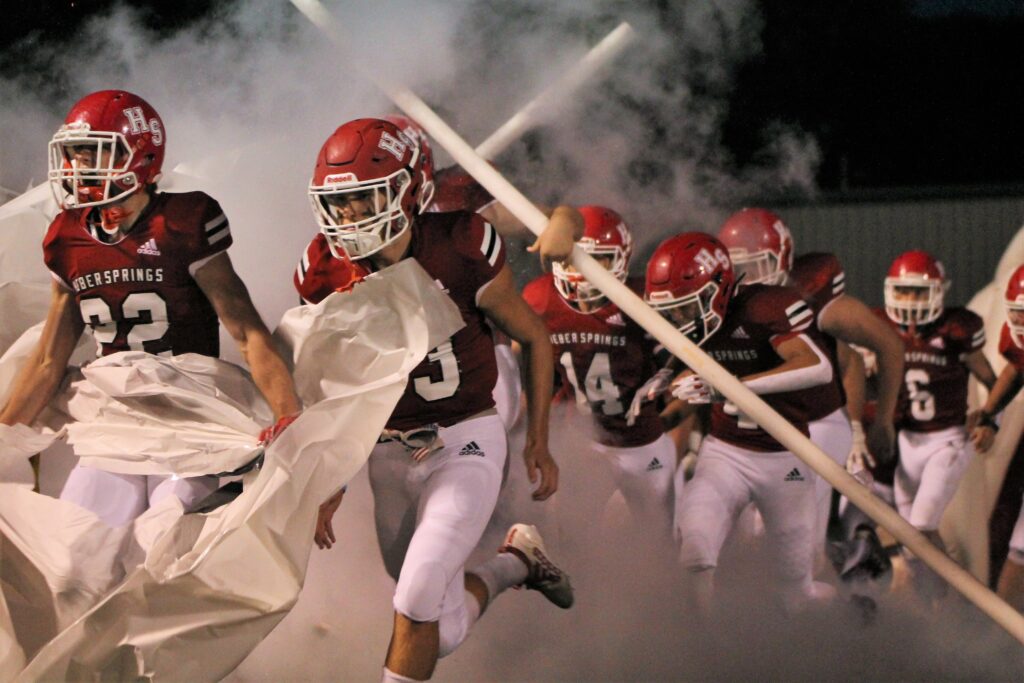 By LARRY "SCOOP" McCARTY
Heber Springs' approach against 2-4A Conference foe Southside Batesville will not change from the previous its two games.
The Panthers (0-4 conference, 1-6 overall) will focus on winning the battle at the line of scrimmage against  Southside (1-3 conference, 2-5 overall).
Kickoff is scheduled at 7 p.m. Friday at Stewart Field in Southside.
Heber Springs is coming off a 35-15 loss to Bald Knob, while the Southerners lost 21-14 at Central Arkansas Christian.
"We must win the battle up front," Heber Springs coach Todd Wood said. "That will be the biggest key. We need to play well, particularly on the defensive line. The team who can maintain control of the line of scrimmage will win."
The Panthers hope for a quick start against Southside.
Heber Springs had its best drive following the opening kickoff last week against Bald Knob. The Panthers drove 52 yards on 10 plays and took a 7-0 lead. Turnovers and field position shifted the momentum in the second half. Heber Springs has 24 turnovers in seven games.
Bald Knob had scoring drives of 39 and 20 yards following Panther turnovers and returned an onside kickoff for three of its five touchdowns.
Southside features a one-two running punch in quarterback Duncan Pierce and Brycen Sutton.
Sutton rushed for 121 yards on 23 attempts and scored one touchdown against CAC. Pierce ran for 84 yards on six carries and had one touchdown.
Wood said his team could benefit from playing the third consecutive team with a similar offensive philosophy — running the ball.
"We knew what areas that we needed work," he said. "Southside will take advantages of your mistakes. It's a tough offense to prepare for."
Heber Springs' offense gained new life when Wood inserted senior Matthew Cook, a starting wide receiver for most of his career, at quarterback in the third game of the season.
Cook has completed 83-of-150 passes for 953 yards and eight touchdowns. Senior Nathan McKee leads the Panthers in receiving with 31 catches for 374 yards and three touchdowns. Two sophomores have emerged as targets in the passing game. Isaac King has caught 17 passes for 168 yards and two touchdowns. Easton Cusick has 14 receptions for 160 yards.
Senior Diego Rubio is the leading rusher with 329 yards on 59 attempts and scored four touchdowns.
Wood expects the offense to perform at a higher level against the Southerners.
"Matthew (13-of-27 passing for 91 yards with four interceptions) had a tough game against Bald Knob," he said. "We tried to take the pressure off during practice in preparing for this game. Matthew tried too hard to make things happen. (Junior) Jackson West and (senior) Gus Hannah keep improving at receiver. All we need to do is do what we have been doing, but do it better."
Southside plays a 3-4 defense with linebacking the strength of the unit. Wood said it's a scheme that the team has faced in most of its games this season.
"Southside has two good linebackers," Wood said. "They can stop the run and also cover the pass. All we need to do is improve from what we did last week."
The defense continues to improve, even though statistics may not reveal that. Heber Springs is allowing 301 yards of offense per game — 146 rushing and 155 passing.
"Preston Roberson became a force after switching from linebacker to the defensive line," Wood said. "He does a good job of containing runners, has good instincts and makes plays. Jayden Bremmon has been playing well at nose guard and Diego Rubio at linebacker. Kenan Sneed has played steady at linebacker. Gus Hannah moved to cornerback and made several plays against Bald Knob."
Wood expects continued improvement from the defense.
"We were a little tired in the second half against Bald Knob," he said. "The defense continues to improve every game. We need to do a better job in sudden-change situations when momentum shifts. We got to make more defensive stops."
Heber Springs will be without the services of senior center Zach Thomas, who was injured last week against Bald Knob.
2-4A CONFERENCE STANDINGS
                            W L CP  W L PS  PA 
Stuttgart                   4 0 52  6 0 242  33 
Lonoke                      4 0 44  6 1 262 150
Central Arkansas Christian  4 0 38  7 0 223 125
Bald Knob                   2 2 19  4 3 179 151  
Southside Batesville        1 3 13  2 5 134 219   
Little Rock Mills           1 3 11  2 5 164 203  
Heber Springs               0 4  0  1 6 128 255
Clinton                     0 4  0  0 7 144 315 
 
Friday, October 16
Bald Knob 35, Heber Springs 15
Central Arkansas Christian 21, Southside Batesville 14
Lonoke 29, Little Rock Mills 18
Stuttgart 35, Clinton 7

Friday, October 23
Heber Springs at Southside Batesville
Lonoke at Central Arkansas Christian
Clinton at Bald Knob
Little Rock Mills at Stuttgart
NOTES
Kickoff: 7 p.m. at Southside Batesville
Admission: $5
Radio/Streaming: Billy Morgan with handle the play-by-play with Lance Hamilton providing color on KSUG 101.9 The Lake. Panther Pregame begins at 6:30 p.m. followed by the game. 
THE SERIES: Heber Springs lead 12-2
SERIES HISTORY: This will be the 15th time these two teams have meet on the football field since Southside Batesville started its football program in 2006. Heber Springs won the first 10 meetings in the series before the Southerners claimed a 24-20 victory at home in 2016 before the Panthers would win the next two. Southside Batesville won last season, 48-20, for the its only victory at Panther Stadium in the series.