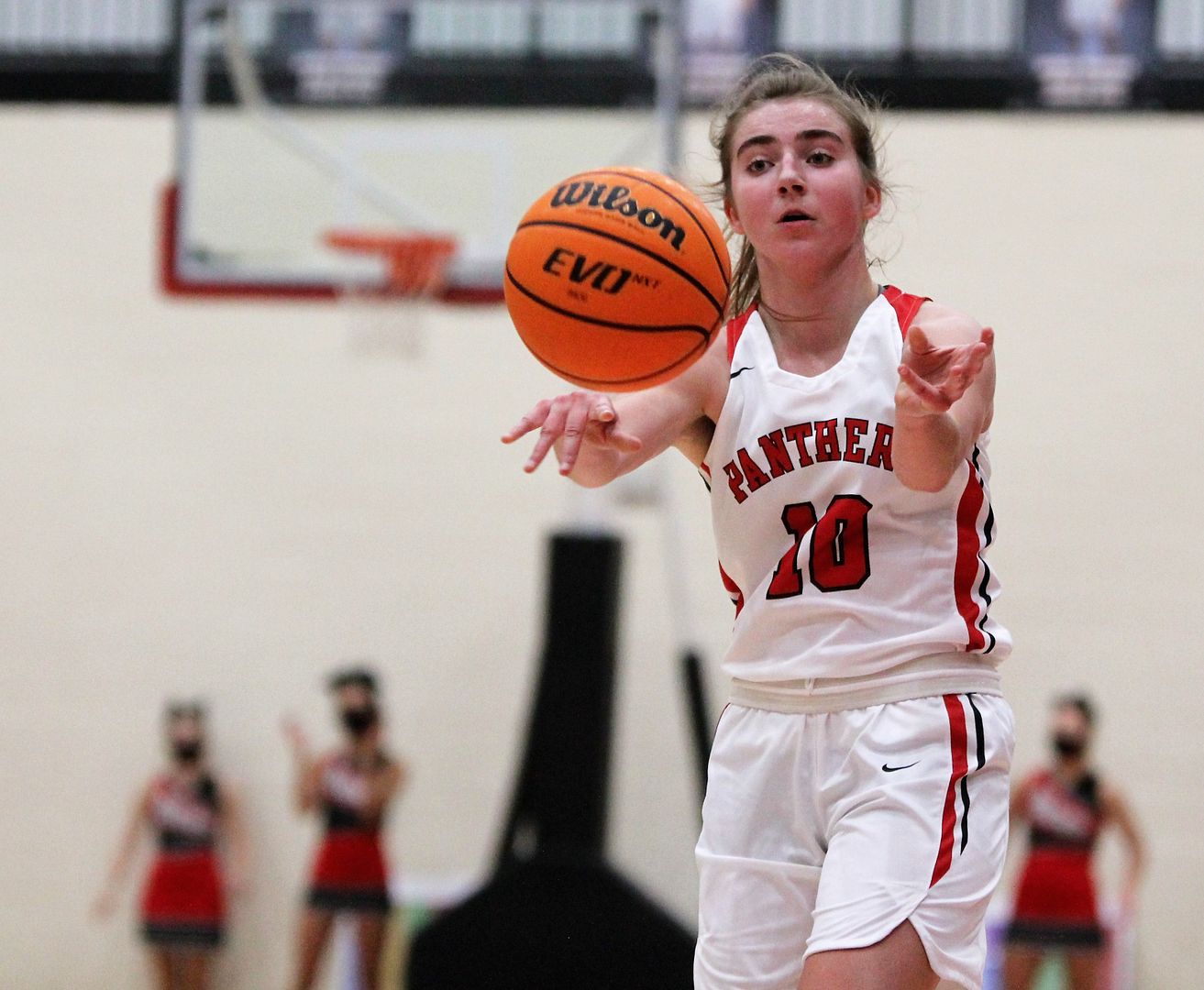 By LARRY "SCOOP" McCARTY
Playing back-to-back basketball games didn't slow down the Heber Springs Lady Panthers.
After Monday's double overtime win at Guy-Perkins, the Lady Panthers (4-3) moved above the .500 mark on the season with an 63-18 non-conference win against Shirley at the Panther Den Tuesday.
Sophomore Jaylee Hooten and senior Ellie Riddle combined for 33 points. Hooten led the Heber Springs' scoring with 19 points and Riddle contributed 14 points. Sophomore Hope Turney had nine points.
Alyssa Gatlin scored seven points for Shirley.
"I was curious to see how the players' legs were after playing the night before at Guy," Heber Springs coach Jamey Riddle said. "They played a lot of minutes. Sometimes, the more you play, a team can get into a better rhythm. We picked up where we finished the Guy game against Shirley. We were moving well, and our shots were falling better. It was good to see them playing consistency."
Riddle said the team's full-court press slowed Shirley down and created scoring opportunities.
"Our press confused and caused them to rush their shots," he said. "We got a lot of rebounds and into our transition game for easy buckets."
Coach Riddle also said Ellie Riddle and Hooten continued to lead the offense.
"Ellie is finding more of a groove with her shot," the coach said. "Jaylee is starting to play well and doing a better job of driving into the lane and making shots. Other players are playing their roles."
Riddle said Kylie Carr continues to play well. Carr scored 16 points at Guy after Ellie Riddle and Hooten fouled out.
"We need players to do that;," coach Riddle said. "Ellie and Jaylee will not score 20 or more every game. Kylie is an unselfish player. It was her time to shine. She plays that way all of the time in practice. If she hadn't, we might not have won the game (at Guy)."
Hooten and Riddle combined for 16 of Heber Springs' 21 points during the first quarter. The Lady Panthers led 21-6 going into the second quarter.
Heber Springs didn't slow down and went on a 18-4 scoring run and built a 39-10 lead by halftime. The Lady Panthers led 51-12 going into the fourth quarter.
"The two wins will give us momentum," Riddle said. "We lost games to tough teams (Batesville and Greenbrier)."
Heber Springs will host Conway St. Joseph at 6 p.m. Tuesday.
Shirley 6 4 2 6–18
Heber Springs 21 18 12 12–63
Shirley scorers — Alyssa Gatlin 7, Sidney Severn 3, Lilly Wymer 2, Ariana Bradford 2, Kayla Ginn 2, Hoydi Breedlove 2.
Heber Springs scorers — Jaylee Hooten 19, Ellie Riddle 14, Hope Turney 9, Hailey Bresnahan 8, Sophie Stone 4, Kylie Carr 4, Lili Chaney 3, Olivia Norton 2.