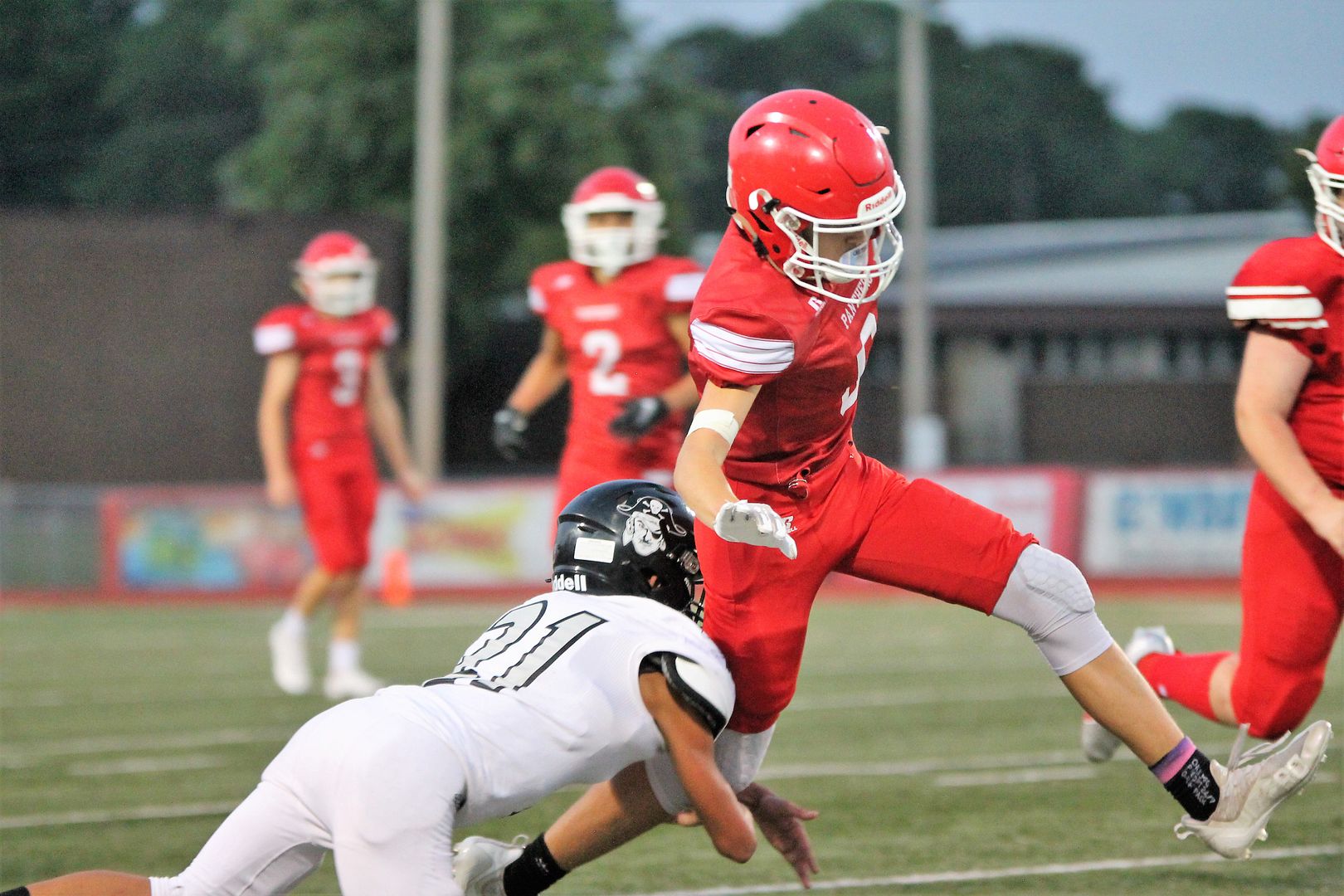 Heber Springs' Weston Warden finished with 126 all-purpose yards and a pair of touchdowns as the junior Panthers wrapped up nonconference play with a 26-12 victory over Dover Thursday night at Panther Stadium.
Ninth-grader Liam Buffalo rushed nine times for 102 yards and a 43-yard touchdown that opened the scoring with 5:24 to play in the first half.
Buffalo's run came after the Panther defense forced a three-and-out on Dover's first possession.
On the Pirates second possession, Dover picked up a pair of first downs and reached the Panther 43, but a Buffalo recovered a Pirate fumble at the 50-yard line.
Heber Springs was flagged eight times for 52 yards on the night, including three on the Panthers next drive that stalled on their own 46.
Dover pushed the ball out to midfield, but Heber Springs' defense stiffened forcing a punt attempt, but a high snap sailed over the punters head and Jacob McMullin recovered the loose football at the Dover 26.
Four plays later, Buffalo connected with Carter Julian for a 4-yard touchdown and a 2-point conversion with 3:13 left in the half.
Dover responded with a seven-play, 55-yard drive to get on the board with 37.5 seconds left in the half.
Heber Springs came out of the half and scored on a 12-play, 69-yard drive that Warden capped off with a 2-yard touchdown reception from Buffalo to make it 20-6 with 4:20 left in the third quarter.
The score would remain that way until late in the contest when Warden picked off a Talvin Leavell pass attempt and raced 83 yards for a score with just under a minute to play.
On the ensuing kickoff, Masters would race 85-yards to set the final score at 26-12.
Heber Springs will open conference play next week at Lonoke.
DOVER AT HEBER SPRINGS
SEPTEMBER 16, 2021 
Dover           0   6   0   6 - 12 
Heber Springs   6   8   6   6 - 26 
FIRST QUARTER 
HS - Liam Buffalo 43-yard run (pass failed), 5:24 
SECOND QUARTER 
HS - Buffalo to Carter Julian 4-yard pass (Buffalo to Julian), 3:13
D - Drew Masters 2-yard run (run failed), 37.5
THIRD QUARTER 
HS - Buffalo to Weston Warden 14-yard pass (pass failed), 4:20
FOURTH QUARTER 
HS - Warden 83-yard interception return (pass failed), 57.6
D - Masters 85-yard kickoff return (run failed), 43.8
TEAM STATISTICS 
FIRST DOWNS: HS 9, D 13
RUSHES-YARDS: HS 14/108, D 33/116
PASSING YARDS: HS 72, D 31
COMP-ATT-INT: HS 9-16-0, D 4-8-1
FUMBLES: HS 1, D 2
PENALITIES-YARDS: HS 8-52, D 5-40
PUNTS-AVERAGE: HS 2-14.5, D 1-19
INDIVIDUAL STATISTICS 
RUSHING: HS, Liam Buffalo 9/102, Weston Warden 4/20, Team 1/(-4). Dover, Drew Masters 21/86, Talvin Leavell 7/29, Ty George 3/36, Timmy Callans 1/(-7), Team 1/(-28)
PASSING: HS, Buffalo 9/16-72-2/0. D, Talvin Leavell 4/8-31-0/1
RECEVING: HS, Carter Julian 3/16, Warden 2/21, Seth Dudeck 2/15, Logan Rutledge 2/20 
KICKOFF RETURNS: D, Masters 1/85, George 2/29, Chayner Owen 1/3 
PUNT RETURNS: None
INT RETURNS: HS, Warden 1/85
FUMBLE RETURNS: D, Team 1/8
PUNTS: HS, Buffalo 1/29, Team 1/0. D, Leavell 1/19

HEBER SPRINGS JUNIOR HIGH SCHEDULE
(All Games Start at 7 p.m.)
Aug. 26 – Heber Springs 32, Clinton 28
Sep. 09 – Harding Academy 36, Heber Springs 16
Sep. 16 – Heber Springs 26, Dover 12
Sep. 23 – at Lonoke *
Sep. 28 – Stuttgart *
Oct. 07 – at Central Arkansas Christian *
Oct. 14 – Bald Knob *
Oct. 21 – at Southside Batesville *
Oct. 28 – at Clinton *
(* – Denotes conference contest)