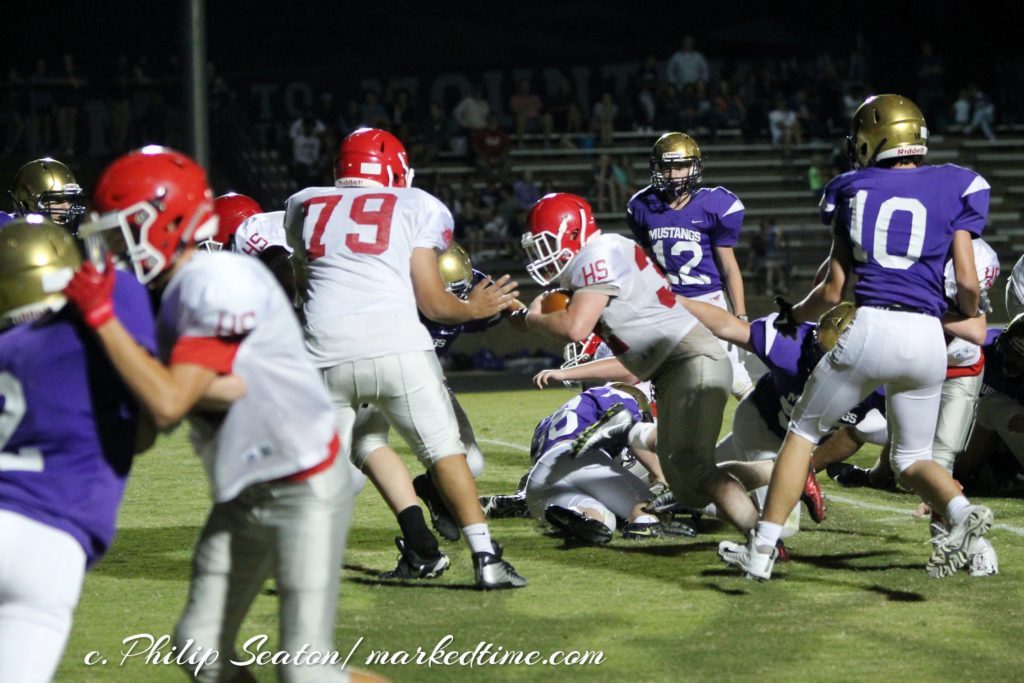 October 9, 2019
NORTH LITTLE ROCK – Ryan Bommarito rushed 24 times for 124 yards and accounted for all of the scoring as Heber Springs defeated Central Arkansas Christian, 22-12, in junior high football action.
Heber Springs (1-4 overall and 1-2 in the 4A-2) hosts Bald Knob on Thursday.
Against CAC, the Panthers took the opening kickoff and marched methodically down the field on their best drive of the season taking the ball and punching into the end zone on a 4-yard run by Bommarito with 1:01 left in the opening quarter — it was the first points the ninth-grade group had scored since youth football. The 11-play, 66-yard drive took almost seven minutes off the clock. The 2-point conversion failed. Bommarito picked up 56 of those yards on eight carries.
Heber Springs got the ball back with 5:55 to play in the half after Chris Benton sacked the Mustang quarterback on fourth down at the CAC 49.
The ensuing drive appeared to stall before Conner Riddle connected with Chris Roberts on a 36-yard pass to put the ball on the 2. Bommarito plunged over on the next play to put Heber Springs up 12-0. Bommarito added the 2-point run with 2:44 left in the second quarter.
Riddle intercepted the CAC quarterback on the Mustangs next drive and returned it 30 yards to the CAC 44 with 1:02 left in the half, but time ran out on the scoring opportunity.
On CAC's first drive of the second half, another interception, this time by Roberts, gave the Panthers the ball at the Mustang 27. Heber Springs pushed the ball to the 1, but a fumble stalled the drive short of the goal line. On the ensuing play, Bommarito sacked the Mustang quarterback in the end zone for a safety with 47 seconds left in the third quarter.
After the free kick by CAC and an eight-yard return by Roberts, Heber Springs took over on the Mustang 31. Five plays later Bommarito scored from the 5 to make it 22-0 with 6:28 left in the contest. The big play on the drive came on a 14-yard run by Riddle.
The Mustangs would add a pair of late touchdowns to make it interesting, but the Panthers would recover an onside kick and run out the clock to preserve the win.
HEBER SPRINGS COACH CHASE ROBERTS
PANTHER VIDEO CLIPS
Clips courtesy of Billy Smallwood