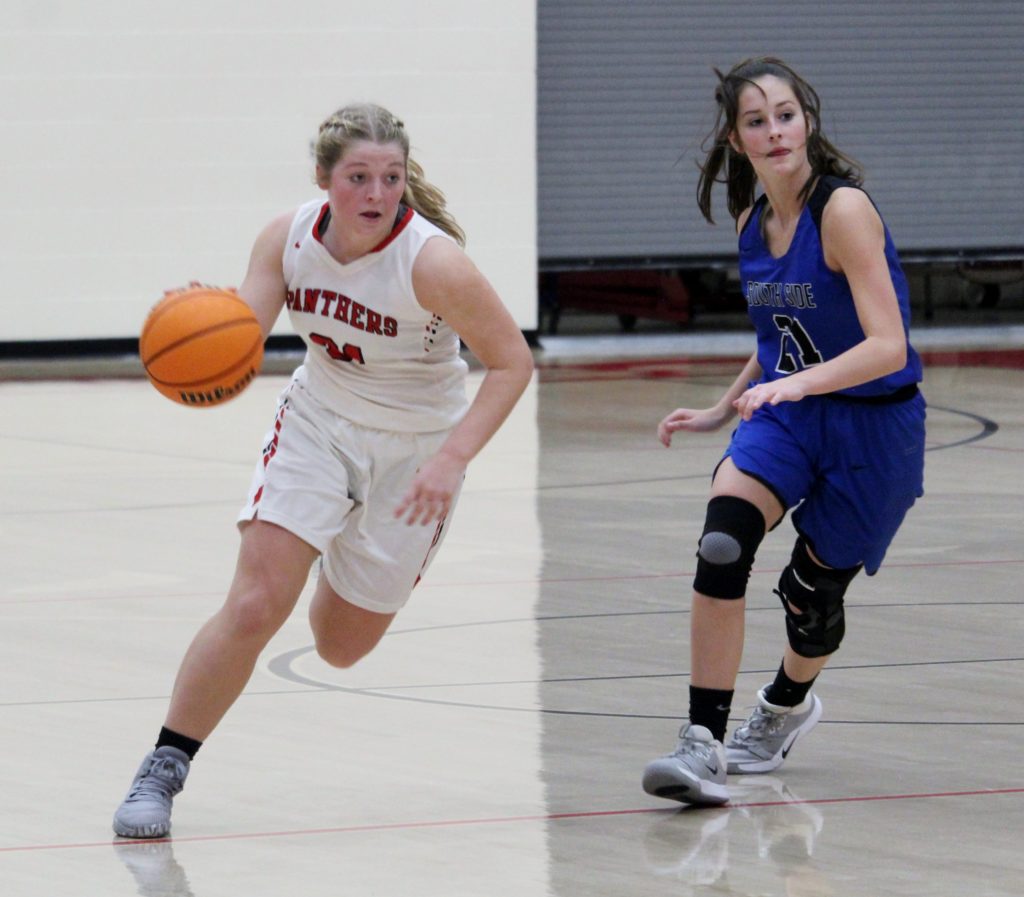 November 19, 2019
By LARRY "SCOOP" MCCARTY
A week between games temporarily slowed down the Heber Springs Lady Panthers against South Side Bee Branch at the Panther Den Tuesday.
Heber Springs (2-0) tied the game at 13-13 late in the first quarter, then took and lead before pulling away to a 70-45 non-conference basketball game.
The Lady Panthers gained the lead on Ashley Spanel's field goal with 49 seconds left in the first quarter. Ellie Riddle increased it to 17-13 before South Side connected on a 3-pointer and trailed 17-16 going into the second quarter.
Heber Springs went on a 25-7 scoring run during the second quarter and led 42-23 at halftime. The Lady Panthers took a 61-34 lead into the fourth quarter.
Claudia Newberry was one of four Heber Springs players who scored in double figures with 16 points. Hailey Bresnahan had 11 points, while Libby Stutts and Spanel each chipped in 10 points.
"That is why it's important to practice with consistency," Heber Springs coach Jamey Riddle said. "We worked on what was needed during practice, so we will play well in the next game. South Side played well in the first quarter."
Riddle liked how his team recovered from its slow start.
"We played fine and consistent and I liked how the players responded," he said. "It changed late in the first quarter when we changed our defense to put more pressure on South Side's 3-point shooters. Ellie came off the bench and gave the team a spark, and we also picked up our tempo."
Riddle praised Newberry for her performance.
"Claudia performed well and I hope that will continue," Riddle said. "She has improved her offensive moves and did a good job of finishing drives to the basket."
Heber Springs will host Riverview on Thursday  in four games starting with the junior high girls at 4 p.m., followed by the junior high boys. The senior girls' game is scheduled to start at 6 p.m., followed by the Panthers' home opener.
"We need to come out and play with the same intensity and fire," Riddle said. "Riverview will be a good team and a new challenge."
South Side 16 7 11 11 – 45
Heber Springs 17 25 19 9 – 70
HEBER SPRINGS SCORING: Claudia Newberry 16, Hailey Bresnahan 11, Libby Stutts 10, Ashley Spanel 10, Ellie Riddle 9, Mary Shearer 7, Jillian Herring 5, Kylie Carr 2.
HEBER SPRINGS 2019-2020 SENIOR GIRLS SCHEDULE
RECORD: 2-0
November 12 - Heber Springs 55, Nemo Vista 31
November 19 - Heber Springs 70, South Side Bee Branch 45
November 21 - at Riverview
November 26 - at Clinton
December 2 - at Conway St. Joseph Tournament
December 10 - at Dover ^
December 13 - at Marshall
December 16 - at White County Central
December 20 - Ozark ^
December 26 - Cowboy Chevrolet Holiday Classic
December 27 - Cowboy Chevrolet Holiday Classic
December 28 - Cowboy Chevrolet Holiday Classic
January 7 - Pottsville ^
January 9 - at Newport
January 14 - Dardanelle ^
January 17 - at Clarksville ^
January 21 - Morrilton ^
January 24 - Dover ^
January 28 - at Pottsville ^
January 31 - at Ozark ^
February 4 - at Dardanelle ^
February 11 - at Morrilton ^
February 14 - Clarksville (Senior Night) ^
February 17 - 4A-4 District at Dardanelle

(^ - Denotes 4A-4 conference contest)