HEBER SPRINGS — Jovie Smithson finished with 10 points and Ada Choate added a pair of 3-pointers in lifting Heber Springs to 32-15 victory over Guy-Perkins Monday night at the Panther Den in junior girls play.
The victory improved the Panthers to 1-4 on the season.
With the game tied at 8-all at the half, Heber Springs outscored the Thunderbirds 15-4 in the third quarter to pull away as Choate had five points, including a 3-pointers; and Smithson and Taylor Parker each had four.
HEBER SPRINGS SCORING (32): Taylor Parker 4, Jovie Smithson 10, Zoey Hendrix 1, Mya Foster 3, Kensley Sneed 2, Ella Williams 2, Ada Choate 8, Haven Downs 2.
GUY-PERKINS SCORING (15): K. Henry 4, R. Passmore 3, J. Blaylock 8.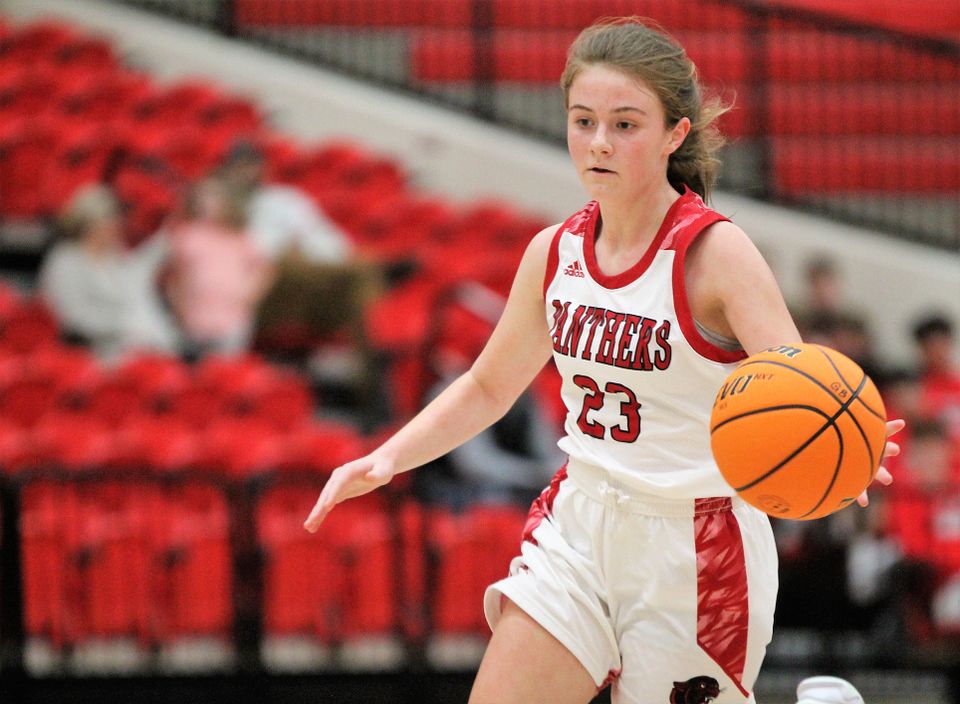 Help support local and independent journalism by donating today.
HEBER SPRINGS JUNIOR GIRLS
2021-2022 SCHEDULE AND RESULTS
OVERALL RECORD: 1-4 
4A-4 CONFERENCE: 0-0
(For past write-up click on game)
Nov. 09   Mount St. Mary 21, Heber Springs 16
Nov. 11   Mount Vernon-Enola 37, Heber Springs 21
Nov. 15   Newport 35, Heber Springs 16
Nov. 18   Bald Knob 37, Heber Springs 19
Nov. 22   Heber Springs 32, Guy-Perkins 15
Nov. 23   at Shirley
Nov. 30   Southside Batesville
Dec. 02   Pangburn
Dec. 06   at Cedar Ridge
Dec. 07   at Benton Harmony Grove
Dec. 09   at Rose Bud
Dec. 14   South Side Bee Branch
Dec. 17   at Ozark *
Dec. 20   at Lonoke
Dec. 21   at Des Arc
Jan. 07   at Dardanelle *
Jan. 13   White County Central
Jan. 14   Pottsville *
Jan. 21   Ozark *
Jan. 24   at Mayflower
Jan. 27   Bradford
Feb. 01   Dardanelle *
Feb. 03   at Pottsville *
Feb. 05   District Tournament at Dardanelle
(* - Denotes conference contest)