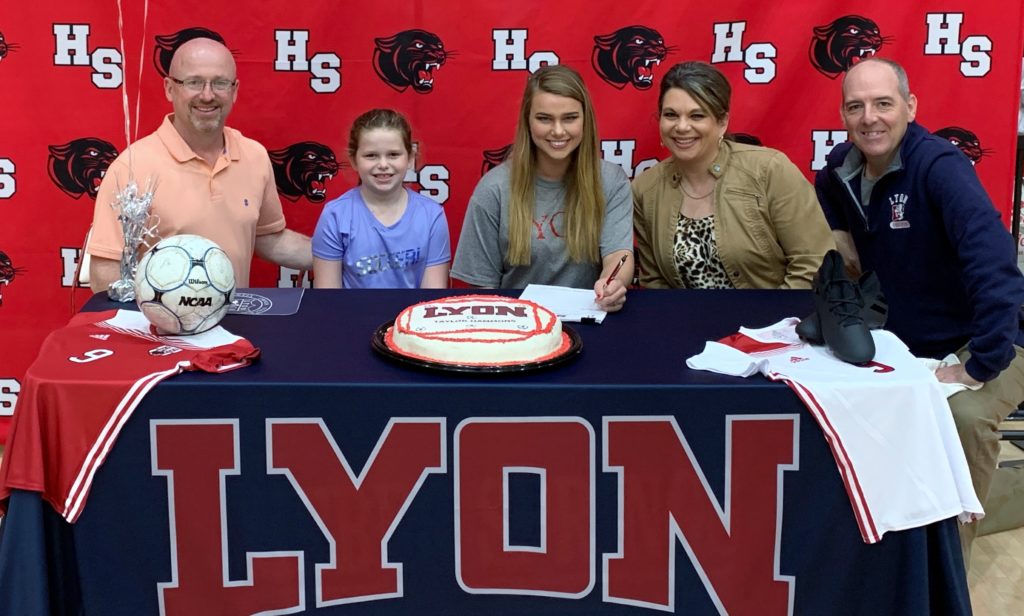 February 10, 2020
By LARRY "SCOOP" McCARTY
Heber Springs senior Taylor Hammons signed a National Association of Intercollegiate Athletics soccer letter-of-intent with Lyon College at the Panther Den Monday.
Hammons will start for the fourth consecutive year when the Lady Panthers open the season at Harding Academy on Feb. 24.
"I was looking at Harding University two years ago before everything changed," Hammons said. "I've decided not to play in college. I visited Lyon College and it was a positive experience. The visit helped to change my mind. It was a calling for me to go there."
Hammons scored 17 goals last season and average one goal per game during her career with 11 assists. She earned all-conference honors twice and named to the all-state team in 2018.
"Taylor has meant a lot to our program," Heber Springs coach Drew Lawrence said. "She is our senior leader and helps in guiding the younger players. Taylor is a hard work. You need that type of a player on a team."
Hammons began soccer on a third grade team in a youth league. Later, she played at Greenbrier in a fall league before high school.
Hammons said she looks forward to her senior season and expects the team to have success.
"We will have ups and downs, but I always know my teammates will back everyone up," she said. "We lost two starters from last year's team, but we will have a good team. We have a lot of senior starters returning."
After the season, Hammons plans to switch her focus to Lyon College.
"One of my goals will be to improve my overall soccer skills," she said. "I need to improve my footwork and working on that."
Hammons is fourth Panther athlete to sign with the Batesville school in the past two seasons. She joins soccer teammate Libby Stutts (who signed to play basketball at Lyon) earlier this spring and Blaze Nelson (football) and Nicholas Chaney (baseball) who signed last year.