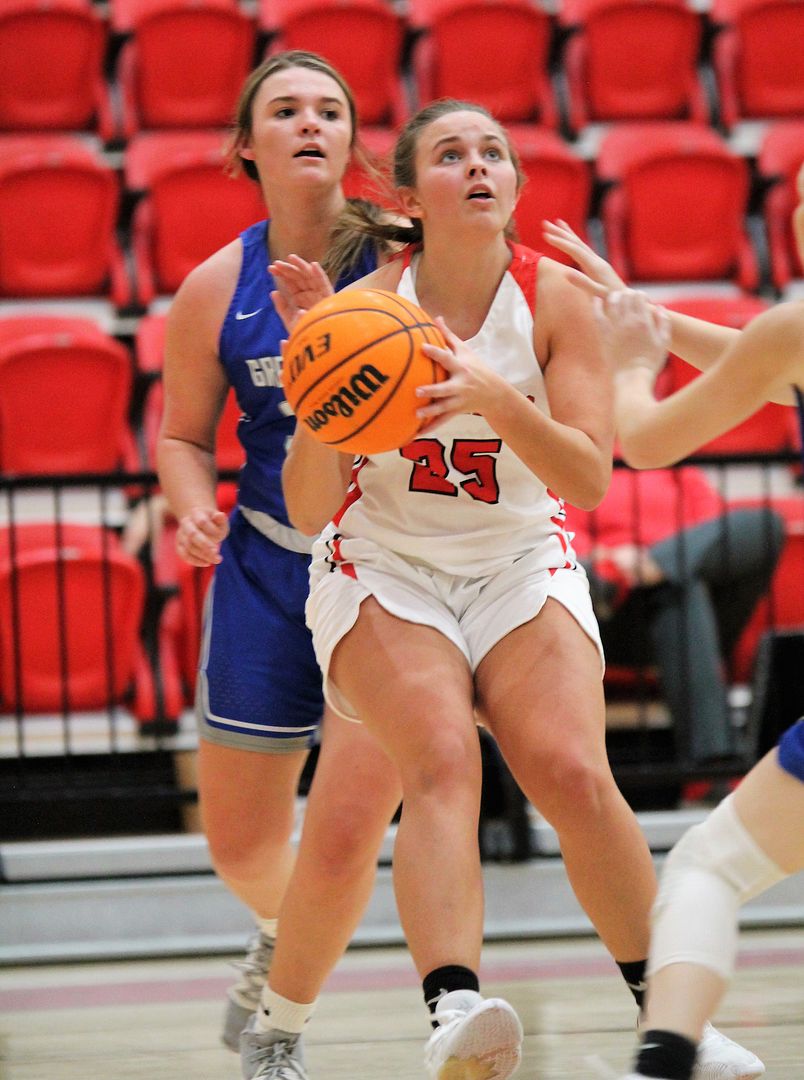 By LARRY "SCOOP" McCARTY
Greenbrier post Alexandria Newland proved too much for the Heber Springs defense to contain during Thursday's non-conference basketball game at the Panther Den.
Newland scored 12 of her game-high 22 points during the second half in Greenbrier's 48-40 win against Heber Springs.
"You can't lose where No. 44 (Newland) is on the floor when she puts up shots because she will go after the rebound," Heber Springs coach Jamey Riddle said. "We lost her a couple of times. She posts up well and has a good touch on her shot."
Sophomore post Jaylee Hooten and senior guard Ellie Riddle combined to score 33 of Heber Springs' 40 points. Hooten had 10 of her 18 points during the first half. Riddle contributed 15 points, eight points coming during the first two quarters.
"Jaylee played more aggressively, and we need her to do that every game," coach Riddle said. "Ellie had a good game, handled the ball well and made a few shots. She is doing what a senior should do and a good team leader."
Greenbrier took a 5-2 lead early in the first quarter. Hooten scored back-to-back field goals as Heber Springs pulled ahead, 6-5. Heber Springs maintained control during the remainder of the quarter and led 14-7 going into the second quarter.
Greenbrier seized the momentum and went on a 9-2 scoring run and tied the game at 16-16 midway through the second quarter. The lead changed five times during the next four minutes as Greenbrier emerged with a 22-20 advantage at halftime.
Heber Springs trailed by 11 points late in the third quarter. Sophie Stone and Hooten scored field goals as Greenbrier's lead was reduced to 40-31 going into the fourth quarter.
"We played a great first quarter," Riddle said. "Greenbrier turned it on during the second quarter and evened the score. Greenbrier began hitting its shots in the third quarter that it had missed earlier in the game."
Riddle said Greenbrier's conditioning and stronger physical play were determining factors, especially during the fourth quarter.
"Kylie (Carr) started because she is more of a physical player," Riddle said. "She helped on the inside. Lili (Chaney), Brandi (Meredith) and Hope (Turney) came off the bench and played well. That is what we are going to need this season to be more successful."
Riddle said playing more physical will be one of the areas that the team needs improvement before starting conference play.
"You got to play physical and not get tired," Riddle said. "We didn't do that or enough to win the game. We need to get in better physical condition."
Heber Springs (2-3) is scheduled to play at Guy-Perkins on Monday and will host Shirley on Tuesday in nonconference games. Both games are set to start at 5 p.m.
"We need a bounce-back week," Riddle said. "We played better against Greenbrier, and I hope that momentum will carry over to those games going into Thanksgiving."
Greenbrier 7 15 18 8–48
Heber Springs 14 6 11 9–40
Greenbrier scorers — Alexandria Newland 22, Kylie Griffin 7, Riley Myatt 5, McKayla Betts 5, Carlie Reynolds 4, Brooklyn Jerry 3, Ashton Hopper 2.
Heber Springs scorers — Jaylee Hooten 18, Ellie Riddle 15, Hailey Bresnahan 3, Sophie Stone 2, Kylie Carr 2.