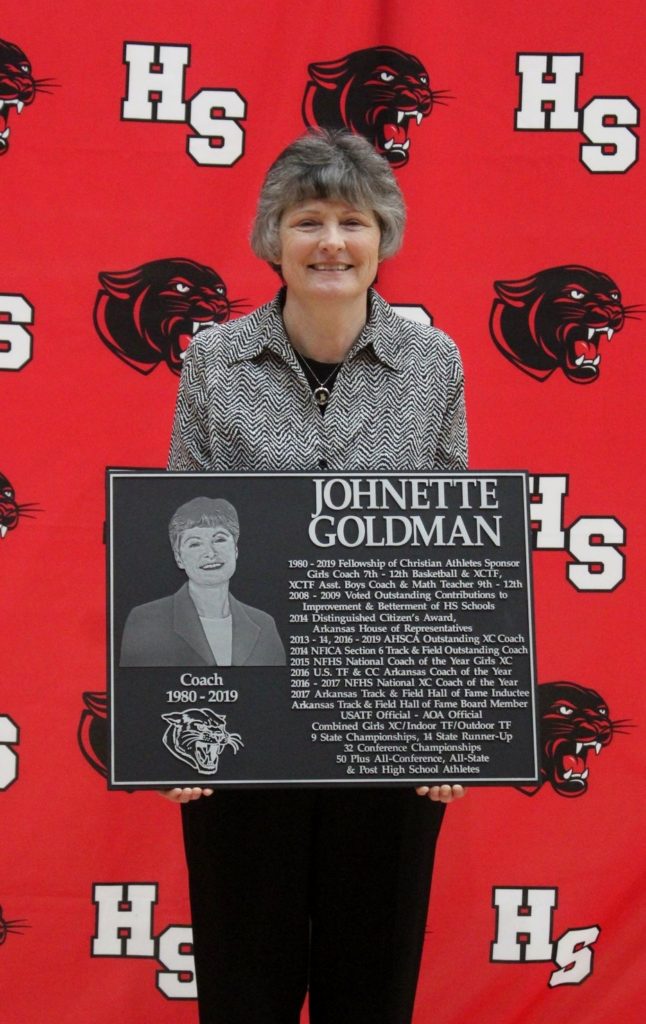 February 28, 2020
By LARRY "SCOOP" McCARTY
Johnette Goldman arrived on the Heber Springs High School campus 39 years ago with little fanfare.
But it was a different atmosphere at the Panther Den Friday when Goldman was inducted into the Panther Den of Honor on Friday.
Goldman, who coached girls' basketball, cross country and track and field, led the Lady Panthers to nine state championships and state runner-up 14 times in cross country and track and field.
Heber Springs won 32 conference championships during Goldman's tenure. She retired at the end of the 2019-20 school year.
"I appreciate the Panther Den of Honor award and induction," Goldman said. "I appreciate Heber Springs giving me 39 years of great memories. I appreciate (the late and retired superintendent) Dr. (John) Vandiver and (retired athletic director) coach (Dennis) DeBusk for hiring two gals (Goldman and former girls' basketball coach Joni Hamby in 1980)."
Head boys' track and field coach Dale Cresswell was a freshman when she arrived. She didn't coach the boys' athletes at that time, but left an influence on Cresswell.
"I always looked up to her and proud that she is going into the Den of Honor," Cresswell said. "When competing as an athlete here, I noticed what her team did and learned from it. I respected her for everything she did."
Goldman said all of the success was not just her, but others who helped to make it happen.
"It was all of the athletes," Goldman said. "They made the difference. Jade asked me to marry him in 1985, and he always supported me. He stayed in the background for a long time. Coach (Harold) Wilson was father of the track program of Heber Springs and taught me everything. He made a difference in students' lives, just like coach Cresswell does today."
Goldman's list of accomplishments is long. She, along with Wilson and Cresswell, are members of the Arkansas Track and Field Hall of Fame.
"All of the people made Heber a great place," Goldman said. "I've been blessed with athletes who would do the extra. I remember Susie Storm was one of the best in the two-mile and she sacrificed one year for the team. She was willing to help in another event for us to get a higher state ranking. Susie finished second, but she went on and competed at the Air Force Academy and protected our nation for 20 years."
Goldman was more than a coach. She received the 2014 Distinguished Citizens Award from the Arkansas House of Representatives.
"When you talk about Johnette, she is a legend of track in Heber Springs," Cresswell always tries to the best for the kids, not only on the track, but in the real world."
With all of the athletic accomplishments, she remembers the team when preparing for the classroom. Goldman was a mathematics teacher.
"Christy Thomas and I first became buddies in college," Goldman said. "We were been buddies in math for a long time. We spent many nights doing lesson plans. She kept me going many times."