September 9, 2019
CONWAY – After incredible performance Saturday in the Warriors' season opener versus Lyon College, sophomore defensive back Jacob Bremmon has been honored as the Southern Athletic Association Defensive Player of the Week, announced by the conference office Monday afternoon.
Bremmon, a graduate of Heber Springs High School, picked off the Scots' quarterback Isaiah Bradford in the second period Saturday and returned it 39 yards to the house. In addition to the defensive touchdown, Bremmon registered a second-best eight tackles in Hendrix's 28-20 victory over the in-state rival Scots.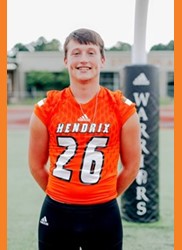 Bremmon played in 10 games last season as a true freshman, starting nine of them at safety. He recorded 26 solo tackles and 12 assisted tackles for a total of 38 tackles. He also had two interceptions and a forced fumble.
Bremmon wasn't the only former Panther on the field on Saturday. Former Heber Springs Panther Blaze Nelson, who is playing linebacker for the Scots (1-1), played but did not record any stats during the contest.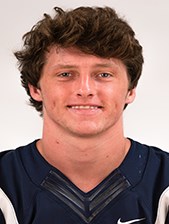 Sitting at 1-0 on the year, Bremmon and the rest of the Warriors will head west to Seguin, Texas, to battle Texas Lutheran at 6 p.m. Saturday. Nelson and the rest of the Lyon College Scots have the weekend off before traveling to Tyler, Texas, on September 21 for an 11 a.m. contest with Texas College.
Information provided by Hendrix College Sports Information and Lyon College Sports Information