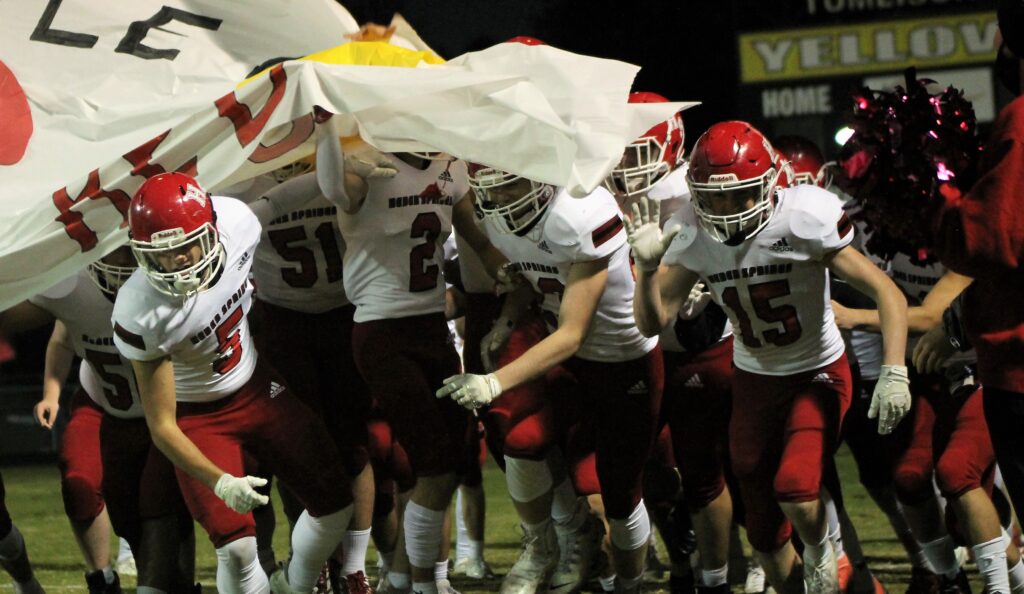 By LARRY "SCOOP" McCARTY
Heber Springs, like other Arkansas high schools, didn't know in August if Friday night football would happen in 2020.
COVID-19 changed the game, but teams received the go–ahead in early September to start the season.
The Panthers accomplished a goal of completing the regular season by hosting Little Rock Mills in a 2-4A Conference game at 7 p.m. Friday.
Heber Springs (1-5 conference, 2-7 overall) will seek to rebound from last week's 32-26 loss at Clinton. Mills (2-4 conference, 3-6 overall) is coming off a 14-6 win against Southside Batesville at home.
"We were looking in the beginning to get three nonconference games in," Heber Springs coach Todd Wood said. "After that, we wanted to make it through the conference season. We are ready to finish the conference season."
Under normal circumstances, Heber Springs would be fighting for a playoff berth. The Arkansas Activities Association is allowing all teams an option of playing in the postseason because of games statewide being canceled during the season because of COVID-19.
Wood said the plan is to participate in the new postseason format with a win against the Comets. He said if the Panthers lose, the decision to continue playing would be re-evaluated
Schools will have until 8 a.m. Saturday to notify the AAA if they want to opt out of the playoffs. The AAA is expected to announce the complete postseason field by late Saturday.
"It was a tough situation this week for the players, but they understand they need to come back and play well," Wood said. "Our focus has been to fix our mistakes from the Clinton game and prepare for Mills. It's probably the final home game for the seniors. They want to leave something good for their teammates and can do that by playing well against Mills."
The Panthers can earn a No. 5 seed with a win and if Clinton loses at Lonoke and Southside defeats Bald Knob. If that occurs, it would come down to the point system.
Wood explained to his players not to worry about any playoff game, just focus on defeating Mills.
"Mills will be big and physical with a fast quarterback and speedy running backs," he said. "We need to get every guy to the ball and make tackles. Mills wants to run the ball first, but they will pass. We are preparing to stop the running game."
Heber Springs and the Comets have wins against a common opponent — Southside. Mills' other conference win was against Clinton.
Wood said consistency on offense will be one of the keys for a victory. Nathan McKee, the Panthers' leading receiver on the season, left with an ankle injury during the third quarter of the Clinton game. Wood said McKee returned to practice Wednesday and expected to play on Friday. McKee has caught 42 catches for 546 yards and three touchdowns.
Senior quarterback Matthew Cook will be one of the players to watch. Cook has completed 107-of-194 passes for 1,265 yards and nine touchdowns. He also is a threat in the running game with 415 yards on 105 carries and scored four touchdowns.
Senior Diego Rubio has rushed for 383 yards on 81 attempts and scored eight touchdowns.
"We hope Nathan will be ready to go on Friday," Wood said. "It is important that we execute well in all areas on offense. We need to get into a good rhythm and do a good job of holding onto the ball."
Wood said it's important for the running game to become more productive against Mills, which plays a four-man front.
"Our running game will be important," Wood said. "Mills will play a four-man front and the players are strong. We need to execute the little things better and put them in bad situations. We plan to spread out Mills' defense and take advantage of its weaknesses.
"We want to end the regular season with a win."
2A-4 CONFERENCE STANDINGS
                            W L CP  W L PS  PA 
Stuttgart                   6 0 78  8 0 323  47 
Central Arkansas Christian  5 1 51  8 1 266 194
Lonoke                      4 2 44  6 3 310 252
Bald Knob                   3 3 32  5 4 226 186  
Little Rock Mills           2 4 19  3 6 178 237  
Clinton                     2 4 12  2 7 197 356 
Heber Springs               1 5  5  2 7 176 304
Southside Batesville        1 5 13  2 7 157 255   
 
 
Friday, October 30
Clinton 32, Heber Springs 26
Bald Knob 35, Central Arkansas Christian 14
Little Rock Mills 14, Southside Batesville 6
Stuttgart 53, Lonoke 14

Friday, November 6
Little Rock Mills at Heber Springs
Clinton at Lonoke
Stuttgart at Central Arkansas Christian
Bald Knob at Southside Batesville
Kickoff: 7 p.m. at Panther Stadium
Admission: $5
Radio/Streaming: Billy Morgan will handle the play-by-play while Lance Hamilton with handle the color on KSUG 101.9 The Lake. Panther Pregame begins at 6:45 p.m. followed by the game. Listen Live Link
GAME NOTES
THE SERIES: Heber Springs leads the series 2-0.
SERIES HISTORY: Though this is the third time the Panthers have faced Little Rock Mills, Heber Springs did play the two of the schools that consolidated to form Mills University Studies. The Panthers went 0-4 from 1955 through 1959 against Little Rock Fuller, and 0-3-1 against Mabelvale from 1955 through 1958. Heber Springs won last season, 28-14 at Mills, and 47-6 in 2018 at Panther Stadium.
CONFERENCE SEEDING: Stuttgart has clinched at least the No. 2 seed, a win gives the Ricebirds the No. 2 seed. CAC gets the No. 1 seed with a win and the No. 2 seed with a loss. Lonoke and Bald Knob have clinched the No. 3 and No. 4 seeds regardless of tonight's outcomes. The No. 5 seed goes to Mills with a win tonight in Panther Stadium otherwise the No. 5 seed will go to conference points with either Clinton, Mills or Heber Springs getting the fifth seed. Heber Springs would get the No. 5 seed with a win by at least 8 points and a Clinton loss. Clinton would get the No. 5 seed with a win and a Mills loss. Mills could still get the No. 5 seed with a loss if Clinton losses to Lonoke and the Panthers win by 7 or less. The sixth- through eighth-seeded teams can opt-in into the playoffs (because of Covid) this season, but have to declare their intentions tomorrow to the Arkansas Activities Association.