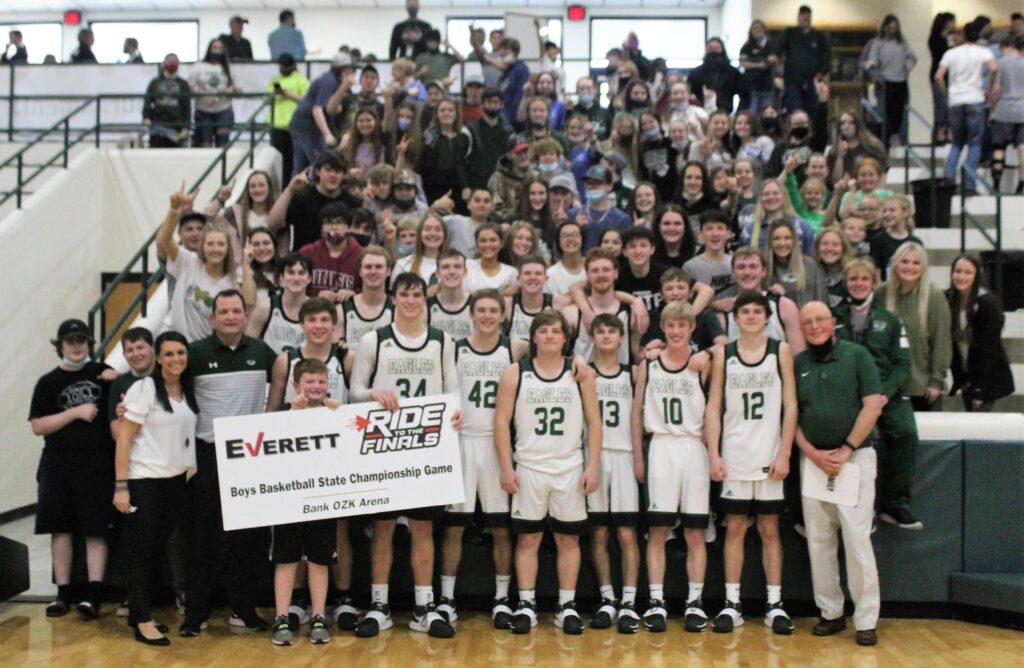 By LARRY "SCOOP" McCARTY
GREERS FERRY — The West Side Eagles didn't take the easy path back to the Class 1A state championship game. West Side, which will make its return to the finals for the first time since 1983, trailed by nine points after three quarters, but rallied to force overtime.
The Eagles made 8-of-11 free throws during overtime and emerged with a 66-62 win against conference rival Izard County at Brady-Hipp Arena Monday. The win was the third this season against the Cougars, all close games.
West Side (28-6) will play Viola, another conference rival, at 7 p.m. Thursday for the state championship at the Hot Springs Convention Center.
Malachi Miller, who led all scorers with 25 points, made 3-of-4 free throws for the Eagles during overtime. Travis Gentry, Jake Ballard and Zach Birmingham each hit 2-of-2 attempts and Ashton Klepko connected on 1-of-2 at the free-throw line.
Birmingham's two free throws with less than 10 seconds remaining made it a two-possession for a 66-62 lead.
West Side Greers Ferry coach Keith Brown said the Eagles also won the rebounding battle, particularly during the second half.
"A big key in the second half was keeping them from getting an offensive rebound," he said. "We did a good job of rebounding."
Ballard followed Miller with 14 points. Caleb Faulkner led Izard County with 23 points, while Coby Everett scored 11 points and Chase Orf had 10 points.
"Ballard hit big shots throughout the game," Brown said. "Miller also scored well. It was a team win, but those two players were battling and came through for us."
Brown also credited the team's mental toughness as another determining factor.
"Our mental toughness was a difference in the game," he said. "The players have answered the bell all year and are as tough as nails. Nothing fazes them."
West Side started the game with an 8-2 scoring run, but Izard County quickly answered. The Cougars rallied for an 12-11 lead and held a one-point lead until the final seconds of the first quarter. Miller scored on an inside move as the Eagles took a 16-15 lead going into the second quarter.
Izard County regained the lead midway through the second quarter and increased it later to eight points, 30-22. West Side closed the gap, but the Cougars scored the final five points for a 33-26 halftime lead.
West Side failed to make ground on Izard County during the third quarter and trailed 46-37 going into the fourth quarter.
The Eagles made through move by outscoring the Cougars 19-10 and forced overtime.
Miller made 1-of-2 free throws with 1:56 to go in overtime for a 61-60 lead and never trailed again.
"I'm very proud of this team," Brown, who is in his third season at West Side, said. "I'm usually a man of many words, but speechless after the game inside the dressing room. The players deserve all of the credit. I thought three years ago they could reach the state finals if I didn't mess them up too much."
Izard County 15 18 13 10 6 –62
West Side 16 10 11 19 10–66
Izard County scorers — Caleb Faulkner 23, Coby Everett 11, Chase Orf 10, Noah Everett 9, Denton Reiley 6, Landon McBride 3.
West Side scorers — Malachi Miller 25, Jake Ballard 14, Travis Gentry 8, Nate Bittle 7, Zach Birmingham 4, Brenton Knapp 4, Ashton Klepko 4.