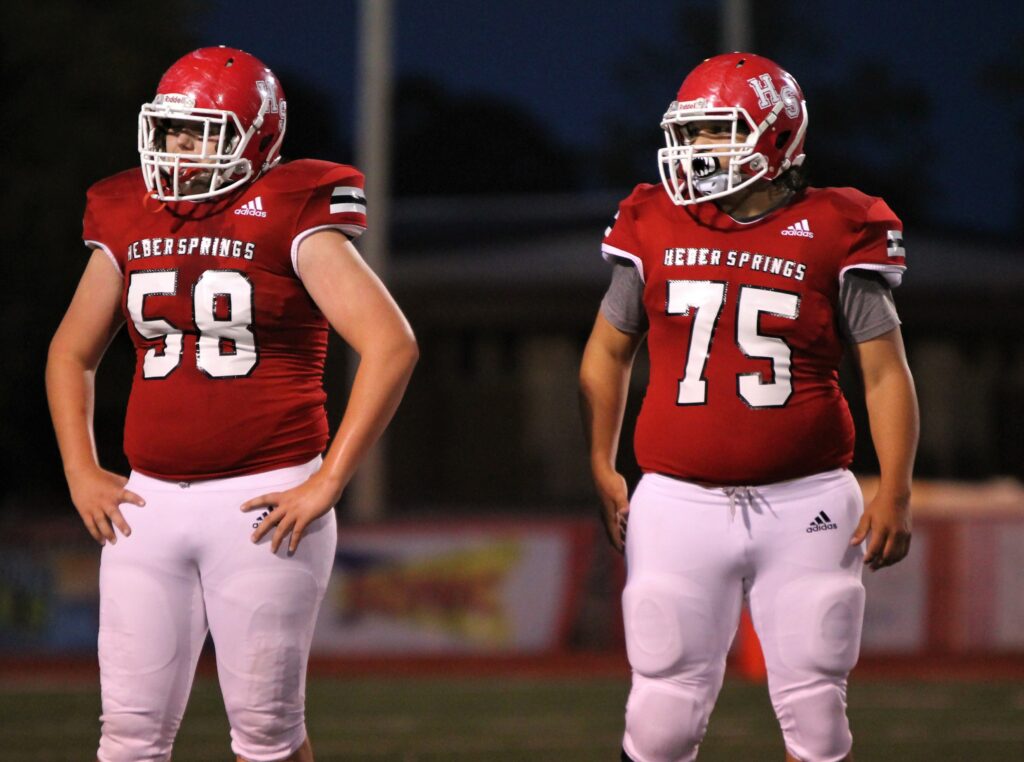 By LARRY "SCOOP" McCARTY
Heber Springs spent most of the week adjusting its defense.
The Panthers faced pass-oriented teams in the first five games, but that will change in Friday's 2-4A Conference matchup against run-oriented Central Arkansas Christian at Mustang Mountain in North Little Rock. Kickoff is scheduled at 7 p.m.
Tyler Williams, who rushed for 149 yards and two touchdowns on 26 carries last season against Heber Springs, leads the Mustangs' run game with 757 yards on 116 carries and 13 touchdowns. Williams rushed for 120 yards and one touchdown in last week's 20-14 win against Little Rock Mills.
But Williams is not the only threat. Quarterback Palmer Gilbrech has rushed for 169 yards and reached the end zone once. Gilbrech ran for 37 yards on seven carries against Mills.
"CAC has a good tailback (Williams) and a big offensive line," Heber Springs head coach Todd Wood said. "Williams is a powerful runner and capable of bouncing to the outside. We intend to put CAC's running game in a bad situation."
CAC also has an effective passing game. Gilbrech, who rushed for 31 yards against Mills, has completed 62-of-96 passes for 915 yards and five touchdowns. He connected on 15-of-31 passes for 240 yards and one touchdown against Mills.
Jackson Richmond is the leading receiver with 26 catches for 535 yards and four touchdowns. Richmond caught six passes for 98 yards against Mills.
Wood said Williams and Gilbrech were talented players, but the game will be decided at the line of scrimmage.
"The battle will be on the front line," Wood said. "We must be in the right spots and execute our coverages in the secondary. We match up well. CAC doesn't have the speed of Lonoke or Stuttgart, but it will make up for it by playing with discipline."
Seniors Nathan McKee and Hunter Kent, two-way starters for the Panthers, were injured against Stuttgart. Wood said both players returned to practice this week, and he expects McKee to play against CAC. Kent is listed as questionable for the game.
Matthew Cook will start at quarterback for the fourth straight game. Cook has completed 50-of-84 passes for 703 yards and seven touchdowns in the last three games.
Diego Rubio remains the starting running back, but Kenan Sneed may become more involved with the offense.
"CAC has not played a team that plays our type of offense, so we may need to adjust early in the game, depending on how the Mustangs play us," Wood said. "CAC is strong on the defensive line and has played a 3-4 scheme. The linebackers will pressure you. We plan to try and spread the field against them."
Wood said Dakota Farmer, who has been a starter on defense, and Jackson West will play more at receiver.
"I'm happy about how the younger guys who are picking up the pace," Wood said. "I've seen a lot of growth from those players."
Wood said containing CAC's running game is one of the keys for success.
"We must contain him (Williams)," he said. "We need more production from the offense. Execution will be very important. If we execute, we will do well."
2-4A STANDINGS
                            W L CP  W L PS  PA 
Stuttgart                   2 0 26  4 0 162  18 
Lonoke                      2 0 20  4 1 181 111
Central Arkansas Christian  2 0 18  5 0 167  97
Southside Batesville        1 1 13  2 3  99 146   
Bald Knob                   1 1  6  3 2 136  91  
Little Rock Mills           0 2  0  1 4 100 139  
Heber Springs               0 2  0  1 4  91 185
Clinton                     0 2  0  0 5  91 239 
 
Friday, October 2 
Central Arkansas Christian 20, Little Rock Mills 14
Stuttgart 42, Heber Springs 6
Southside Batesville 38, Clinton 21
Lonoke 13, Bald Knob 6

Friday, October 9
Heber Springs at Central Arkansas Christian
Clinton at Little Rock Mills
Southside Batesville at Lonoke
Bald Knob at Stuttgart

NOTES
Kickoff: 7 p.m. at Mustang Mountain, North Little Rock
Admission: All vouchers claimed (No tickets available to attend)
Radio/Streaming: Billy Morgan with handle the play-by-play with Lance Hamilton providing color on KSUG 101.9 The Lake. Panther Pregame begins at 6:30 p.m. followed by the game.
THE SERIES: Series tied at 4-4
SERIES HISTORY: The two teams first meet in the 2000 season when the Panthers and Mustangs played nonconference games, both won by CAC. The two teams would not face each other again until CAC was paired with Heber Springs in the 4A-2 conference in 2014. Since then, the Panthers have won four out of six meetings. CAC's only conference wins against Heber Springs came in 2015 with a 48-12 win and last season, 24-6.
CONCORD CONNECTION: Central Arkansas Christian was in the same conference with Concord during its only two seasons of varsity football action (1975 and 1976). The Panthers defeated Concord, 48-12, in 1975, and 47-12 in 1976.
PALMER THE FORMER PANTHER: Central Arkansas Christian senior quarterback Palmer Gilbrech played junior high football at Heber Springs before transferring to CAC.
FORMER HOG: Former University of Arkansas and NFL receiver Joe Adams is an assistant coach at Central Arkansas Christian.